PKL II di Dairi, Mahasiswa Polbangtan Kementan Identifikasi Potensi Wilayah
Millennial Farmers Development are the Target of Indonesia`s Polbangtan Medan
Editor : Cahyani Harzi
Translator : Novita Cahyadi

PUBLISHED: Jum'at, 29 Juli 2022 , 01:35:00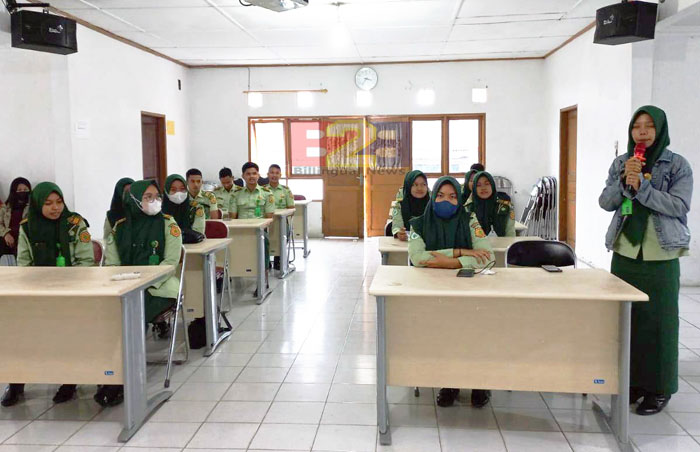 POLBANGTAN MEDAN: Mahasiswa Polbangtan Medan antusias mengikuti kegiatan PKL II di Kabupaten Dairi, aktif bertanya dan diskusi pada saat diterima oleh Kepala Dinas Pertanian Ketahanan Pangan dan Perikanan Pemkab Dairi, Robot Simanulang.
Dairi, Sumut [B2B] - Mahasiswa Politeknik Pembangunan Pertanian [Polbangtan] melaksanakan kegiatan Praktik Kerja Lapangan [PKL] di Kabupaten Dairi, Sumatera Utara mulai 25 Juli hingga 10 September 2022. Mahasiswa PKL Polbangtan Medan sebanyak 16 orang dari Program Studi Penyuluhan Pertanian Berkelanjutan [PPB].

Dalam kegiatan pengantaran dan penyampaian mahasiswa pada Pemerintah Kabupaten [Pemkab] Dairi, mereka diterima oleh Kepala Dinas Pertanian Ketahanan Pangan dan Perikanan Pemkab Dairi, Robot Simanulang pada Senin [25/7] didampingi dosen pengantar Retmono Agung Winarno dan Hamdan.

Kegiatan PKL mahasiswa Polbangtan Medan sejalan harapan Menteri Pertanian RI Syahrul Yasin Limpo terhadap Polbangtan sebagai perguruan tinggi vokasi menerapkan sistem pembelajaran 30% dan 70% praktik lapangan pada DuDi.

"Pertanian Indonesia akan jauh lebih baik jika pendidikan vokasi kita dapat menumbuhkan lulusan yang berjiwa agrosociopreneur dibekali teknologi terbarukan, pengetahuan dan praktik lapangan," katanya.

Sementara Kepala Badan Penyuluhan dan Pengembangan SDM Pertanian Kementan [BPPSDMP] Dedi Nursyamsi mengatakan bahwa lulusan Polbangtan harus dapat menjadi penggerak, bahkan mampu memberikan peluang usaha ekonomi dengan membuka lapangan usaha khususnya di bidang pertanian.

"Lulusan Polbangtan harus mampu menjadi motor penggerak dan agrosociopreneur sektor pertanian. Mentalnya tangguh dalam membangun kelembagaan dan jaringan usaha, sehingga punya daya saing dan responsif terhadap perubahan lingkungan," katanya.

Direktur Polbangtan Medan, Yuliana Kansrini mengatakan bahwa pihaknya berupaya meningkatkan kualitas praktik lapangan bagi mahasiswa, dengan menjalin kerjasama dengan stakeholders di antaranya kegiatan PKL.

Dosen Retmono Agung Winarno mengatakan bahwa mahasiswa yang melaksanakan PKL II akan melakukan identifikasi potensi wilayah di Kabupaten Dairi.

Kemudian mahasiswa akan menyusun programa penyuluhan sebagai pendukung dari kompetensi mahasiswa sebagai penyuluh pertanian," katanya.

Kepala Dinas Pertanian Kabupaten Dairi menyampaikan arahannya mahasiswa yang melaksanakan PKL II ini dapat mengikuti kegiatan dari penyuluh setempat, guna mendukung terwujudnya pertanian Agro Unggul Kabupaten Dairi.

"Mahasiswa harus proaktif dan turut serta dalam kemajuan pertanian, khususnya di Kabupaten Dairi," katanya. [timhumaspolbangtanmedan]
Dairi of North Sumatera [B2B] - The role of agricultural vocational education in Indonesia such as the the Agricultural Development Polytechnic or the Polbangtan, to support Indonesian Agriculture Ministry seeks to maximize its efforts to produce millennial entrepreneur.
Youth Enterpreneurship And Employment Support Services Program or the YESS, to support Indonesian Agriculture Ministry seeks to maximize its efforts for the millennial entrepreneur.
Indonesian Agriculture Minister Syahrul Indonesia Yasin Limpo stated that the government´s commitment to developing agriculture, especially in the development of advanced, independent and modern agricultural human resources.
"The goal is to increase the income of farming families and ensure national food security. Farmer regeneration is a commitment that we must immediately realize," Minister Limpo said.
He reminded about the important role of vocational education, to produce millennial farmers who have an entrepreneurial spirit.
"Through vocational education, we connect campuses with industry so that Polbangtan graduates meet their needs and are ready for new things," Limpo said.