Kementan Terjunkan 65 Mahasiswa Polbangtan Tangani PMK di Tulungagung
Millennial Farmers Development are the Target of Indonesia`s Polbangtan Malang
Editor : M. Achsan Atjo
Translator : Dhelia Gani

PUBLISHED: Minggu, 31 Juli 2022 , 15:52:00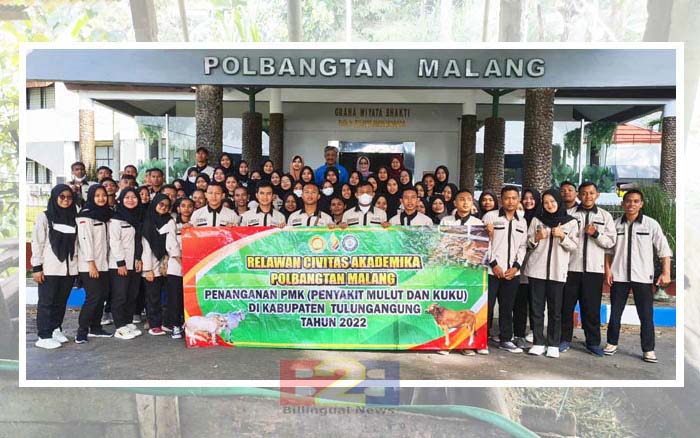 POLBANGTAN MALANG: Direktur Polbangtan Malang, Setya Budhi Udrayana [kaos biru] bersama 65 mahasiswanya sebelum bertolak ke Tulungagung didampingi Ketua Jurusan Peternakan Dr Wahyu Windari, Kaprodi dan dokter hewan
Malang, Jatim [B2B] - Sebanyak 65 mahasiswa relawan dari Politeknik Pembangunan Pertanian [Polbangtan] di Jawa Timur diterjunkan lagi oleh Polbangtan Malang, untuk memenuhi permintaan bantuan penanganan Penyakit Mulut dan Kuku PMK di wilayah kerja Dinas Peternakan Kabupaten Tulungagung, Provinsi Jawa Timur.
Tim yang didampingi oleh Ketua dan Sekretaris Jurusan, Kaprodi dan dokter hewan diberangkatkan oleh Direktur Polbangtan Malang, Setya Budhi Udrayana pada Minggu [31/7] di Kampus I Bedali Lawang, Kabupaten Malang.
Dr Wahyu Windari, Ketua Jurusan Peternakan mengatakan bahwa mahasiswa tingkat II tersebut akan berada di lapangan selama 15 hari dengan target 82.000 dosis vaksin.
"Peran mereka sebagai vaksinator, recorder, petugas pelaporan online, serta handling dan penandaan ternak. Mahasiswa telah diberikan pembekalan baik teknis maupun non teknis untuk bekerja di lapangan, oleh tim medik veteriner Polbangtan Malang di bawah koordinasi Dr drh Iswati.
Dalam pesannya, Direktur Polbangtan menyampaikan arahan Kepala Badan PPSDMP Prof Dedi Nursyamsi agar seluruh jajarannya terus berupaya keras dalam membantu peternak dan petugas dalam menangani PMK.
Instruksi Menteri Pertanian RI Prof Dr Syahrul Yasin Limpo sangat jelas bagi insan Kementan untuk melaksanakan berbagai upaya penanganan PMK.
"Mulai dari sosialisasi, pelatihan, edukasi melalui penyuluhan hingga aksi turun langsung ke lapangan melalui sinergi dan kolaborasi dengan pemerintah daerah," kata Dedi Nursyamsi pada berbagai kesempatan.
Selama berada di lapangan, tambahnya, mahasiswa harus tetap menjaga kondisi serta membawa nama baik institusi, baik dari sisi kompetensi kinerja maupun karakter positif menghadapi peternak yang memiliki latar belakang bervariasi.
"Kalian harus menunjukkan bahwa mahasiswa Polbangtan tidak hanya menguasai ilmu peternakan sebagai wujud hard skill, juga harus menunjukkan soft skill yang baik, sehingga layak disebut sebagai mahasiswa yang ´qualified´ atau memiliki ´kualifikasi lebih´ dari yang lain," kata Dedi Nursyamsi yang dikutip Direktur Setya Budhi Udrayana.
Dalam akhir sambutannya, Uud panggilan akrab Direktur Polbangtan Malang juga mengajak semua mahasiswa agar aktivitas diluar kampus dikerjakan dengan ikhlas, sebagai bentuk pengabdian tulus kepada masyarakat petani ataupun peternak, sehingga apa yang kita lakukan senantiasa bernilai ibadah.
Malang of East Java [B2B] - The role of agricultural vocational education in Indonesia such as the the Agricultural Development Polytechnic or the Polbangtan, to support Indonesian Agriculture Ministry seeks to maximize its efforts to produce millennial entrepreneur.
Youth Enterpreneurship And Employment Support Services Program or the YESS, to support Indonesian Agriculture Ministry seeks to maximize its efforts for the millennial entrepreneur.
Indonesian Agriculture Minister Syahrul Indonesia Yasin Limpo stated that the government´s commitment to developing agriculture, especially in the development of advanced, independent and modern agricultural human resources.
"The goal is to increase the income of farming families and ensure national food security. Farmer regeneration is a commitment that we must immediately realize," Minister Limpo said.
He reminded about the important role of vocational education, to produce millennial farmers who have an entrepreneurial spirit.
"Through vocational education, we connect campuses with industry so that Polbangtan graduates meet their needs and are ready for new things," Limpo said.