Pendidikan Vokasional, Komitmen STPP Yogyakarta 2018 Dukung Target BPPSDM Kementan
Indonesia`s Agricultural Extension College Support Agricultural Development
Editor : M. Achsan Atjo
Translator : Dhelia Gani

PUBLISHED: Kamis, 08 Februari 2018 , 15:53:00 WIB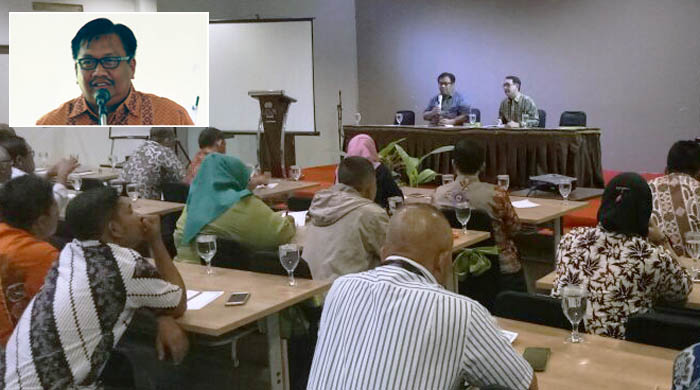 RAKER STPP YOGYAKARTA: Ketua STPP Yogyakarta, Ali Rachman memberikan arahan pada evaluasi kegiatan 2017 dan rencana strategis 2018 didampingi Kabag Administrasi Umum, Irwan Johan Sumarno (Foto2: Humas STPP Yogyakarta)
Yogyakarta (B2B) - Sekolah Tinggi Penyuluhan Pertanian - STPP Magelang Jurusan Penyuluhan Pertanian (Jurluhtan) di Yogyakarta diharapkan mendukung revitalisasi pendidikan pertanian dan transformasi pendidikan di STPP menjadi politeknik pertanian dan peternakan, dengan mengembangkan ilmu pertanian terapan seperti perbenihan, agribisnis peternakan dan hortikultura, dan mekanisasi pertanian.

Hal itu dikemukakan Ketua STPP Magelang Ali Rachman pada pengarahan evaluasi kegiatan 2017 dan rencana kegiatan 2018 di Yogyakarta, belum lama ini, untuk menindaklanjuti rapat pimpinan (Rapim) Badan Penyuluhan dan Pengembangan SDM Pertanian (BPPSDMP) yang dibuka oleh Kepala BPPSDMP Kementan, Momon Rusmono di Depok, Jawa Barat pada Selasa (16/1).

"Kegiatan utama STPP Yogyakarta sebagai unit pelaksana teknis atau UPT eselon satu Kementerian Pertanian pada 2018 adalah lebih berorientasi pada kegiatan petani, regenerasi petani, dan peningkatan profesionalisme SDM pertanian," kata Ali Rachman didampingi Kepala Bagian (Kabag) Administrasi Umum, Irwan Johan Sumarno dalam arahannya di depan jajaran STPP Yogyakarta.

Terkait transformasi pendidikan di STPP menjadi politeknik pertanian untuk STPP Yogyakarta - Jurluhtan, Ali Rachman mengingatkan bahwa program studi tidak hanya menitikberatkan pada penyuluhan pertanian, juga ilmu pertanian terapan untuk pengembangan wirausahawan muda bagi lulusan Jurluhtan.

"Ilmu pertanian terapan yang dikembangkan antara lain perbenihan, agribisnis peternakan dan hortikultura, dan mekanisasi pertanian," kata Ali Rachman.

Dia mengingatkan STPP Yogyakarta Jurluhtan tetap melaksanakan kegiatan penelitian terapan agar hasilnya dapat digunakan oleh petani selaku sasaran utama pembangunan pertanian, untuk kepentingan institusi dan kerjasama penelitian yang mendukung program pembangunan pertanian.

Pendidikan Kedinasan
Dalam implementasi kegiatan tersebut, diperlukan tenaga pendamping yang energik untuk berpartisipasi aktif membantu peningkatan kinerja penyuluh pertanian, STPP Yogyakarta sebagai institusi yang ditunjuk untuk melakukan kegiatan pendampingan program swadaya padi, jagung, dan kedelai dengan sebaik-baiknya bersama mahasiswa.

"Ada tiga kabupaten di Provinsi Jawa Tengah yang menjadi tanggung jawab kita yakni Kebumen, Banyumas, dan Cilacap," kata Irwan Johan Sumarno.

Dia menambahkan, STPP Yogyakarta diharapkan dapat meningkatkan kemampuan masyarakat pertanian melalui kegiatan pemberdayaan masyarakat, pembinaan dan kemitraan kelompok tani, membangun jejaring kerjasama pertanian di wilayahnya, mendesiminasi dan penyebaran informasi teknologi sebagai kegiatan penyuluhan pertanian.

Sebelumnya diberitakan, Momon Rusmono mengapresiasi realisasi anggaran oleh UPT pendidikan dan pelatihan sebagai yang tertinggi di lingkup BPPSDMP Kementan yang mencapai 93% pada 2017, dan diharapkan dapat meningkat lagi pada 2018.
Yogyakarta (B2B) - Magelang´s Agricultural Extension College - STPP Magelang are expected to support the revitalization and transformation of vocational education into into agricultural and livestock polytechnics, by applied agricultural sciences such as seedling, livestock and horticulture agribusiness, and agricultural mechanization, according to senior official.

It was stated by the Rector of STPP Magelang Ali Rachman, here recently, at the 2017 evaluation coordination meeting and the 2018 activity plan to follow up on coordination meetings of Agricultural Extension and HR Development agency or the BPPSDMP of Indonesia´s agriculture ministry, Momon Rusmono in Depok city of West Java province on Tuesday (January 16).

"The main activities of STPP Magelang as the technical implementation unit of the agriculture ministry in 2018 oriented to farmers, regeneration of farmers, and improvement professionalism of agricultural human resources," said Ali Rachman was accompanied by the Head of General Affairs, Irwan Johan Sumarno.

Related to transformation of education into agricultural polytechnic for STPP Yogyakarta, Ali Rachman reminded that the program of study not only focuses on agricultural extension, also applied agricultural science for development of young entrepreneurs.

"The STPP Yogyakarta will development applied agricultural sciences such as seedling, livestock and horticulture agribusiness, and agricultural mechanization," he said.

He reminded STPP Yogyakarta to continue to carry out applied agricultural research for the benefit of farmers as the main target of agricultural development, related institutions and research cooperation that support agricultural development program.

Education Services
In its implementation will be required co-workers to support the performance of agricultural extension, STPP Magelang as a designated institution to carry out the assistance activities of strategic food self-sufficiency program with students.

"There are three districts in Central Java Province that are our responsibility namely Kebumen, Banyumas, and Cilacap," said Irwan Johan Sumarno.

He said that the STPP Yogyakarta is expected to improve the ability of agricultural communities through community empowerment activities, farmer group partnerships, networking of agricultural cooperation, dissemination and utilization of information technology as agricultural extension activities.

Previously reported, Momon Rusmono appreciate the realization of budget by education and training as the highest in BPPSDMP with 93% achievement in 2017, and is expected to increase in 2018.