Stand Kopi Polbangtan Kementan Pikat Pengunjung International Coffee Day Sumut
Millennial Farmers Development are the Target of Indonesia`s Polbangtan Medan
Editor : Taswin Bahar
Translator : Dhelia Gani

PUBLISHED: Sabtu, 11 November 2023 , 15:56:00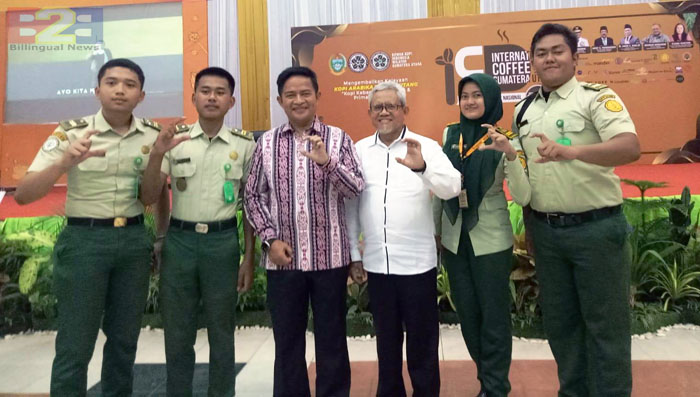 POLBANGTAN MEDAN: Direktur Yuliana Kansrini mengatakan partisipasi mahasiswanya pada International Coffee Day di Pekan Raya Sumut untuk mendukung kegiatan pemerintah provinsi sekaligus promosi kafe kampus, Agricafelab.
Medan, Sumut [B2B] - Mesin roasting kopi modern dan promo Agricafelab memikat perhatian pengunjung International Coffee Day untuk menyambangi dan mencicipi cita rasa kopi racikan mahasiswa Polbangtan Medan pada Pekan Raya Sumatera Utara [Sumut] di Kota Medan, yang dibuka oleh Pj Gubernur Sumut, Hasanuddin pada Jumat pekan lalu [3/11] didampingi sejumlah pejabat tinggi pemerintah provinsi.

Mahasiswa Polbangtan Medan yang mengikuti kegiatan tersebut adalah mahasiswa semester tiga Prodi Penyuluhan Perkebunan Presisi yakni Dara Fitri Chania dan Ananda Rully dan mahasiswa semester lima Prodi Teknologi Produksi Tanaman Perkebunan yakni Josua Marcelino Simanjuntak didampingi Aan Afriza dan Calista Ayuningtias [semester tiga] dan Samuel Satya Wicaksono [semester satu].

Peran serta mahasiswa Politeknik Pembangunan Pertanian [Polbangtan] khususnya Polbangtan Medan sejalan instruksi Presiden RI Joko Widodo yang mendorong pengembangan hilirisasi produk pertanian antara lain kopi olahan.

Kebijakan Presiden Jokowi didorong dan didukung oleh Menteri Pertanian RI Andi Amran Sulaiman pada petani untuk mengolah hasil panennya sebelum dipasarkan.

Sementara Kepala Badan Penyuluhan dan Pengembangan SDM Pertanian Kementan [BPPSDMP] Dedi Nursyamsi menyoroti keunggulan Polbangtan Medan yang memiliki Laboratorium Teaching Factory [TeFa] pada Miniplant Industry dan Coffee Nursery di lingkungan kampus Polbangtan Medan.

Dedi Nursyamsi mengapresiasi Polbangtan Medan atas keberhasilan membangun laboratorium TeFa yang menjadi tempat pembelajaran bagi mahasiswa, dosen dan masyarakat maupun stakeholders, yang ingin memperdalam hilirisasi kopi.

'Saya apresiasi Polbangtan Medan atas keberhasilannya membangun TeFa miniplant kopi ini, untuk mencetak mahasiswa dan alumni yang bisa menjadi job seeker dan job creator," katanya.

Direktur Polbangtan Medan, Yuliana Kansrini mengatakan partisipasi mahasiswanya pada International Coffee Day di Pekan Raya Sumut untuk mendukung kegiatan tersebut sekaligus mempromosikan kafe kampus yang dinamai Agricafelab.

"Antusiasme pengunjung mendatangi stand kopi Polbangtan Medan sangat tinggi, karena didukung mesin roasting kopi modern, yang memicu ingin tahu pengunjung terhadap cita rasa kopi sajian barista Polbangtan Medan," katanya.

Yuliana Kansrini menambahkan, mahasiswa Polbangtan Medan mengikuti lomba Latte Art, untuk bersaing dengan sejumlah barista berpengalaman di Kota Medan.

Mahasiswa Polbangtan Medan juga berpartisipasi pada lomba V-60 yang diikuti oleh beberapa barista dari sejumlah kedai kopi terkemuka di seantero Sumatera Utara.

"Lomba tersebut menarik perhatian pengunjung untuk mendapatkan cita rasa kopi terbaik maupun cara mengolah kopi hingga membuka usaha kedai kopi," kata Yuliana.
[ira/timhumas polbangtanmedan]
Medan of North Sumatera [B2B] - The role of agricultural vocational education in Indonesia such as the the Agricultural Development Polytechnic or the Polbangtan, to support Indonesian Agriculture Ministry seeks to maximize its efforts to produce millennial entrepreneur.

Indonesian Agriculture Ministry, Andi Amran Sulaiman stated that the government´s commitment to developing agriculture, especially in the development of advanced, independent and modern agricultural human resources.

The goal is to increase the income of farming families and ensure national food security. Farmer regeneration is a commitment that we must immediately realize.

He reminded about the important role of vocational education, to produce millennial farmers who have an entrepreneurial spirit.

Through vocational education, we connect campuses with industry so that Polbangtan graduates meet their needs and are ready for new things.