Ujian Doktor Undip, Kepala BPPSDMP Apresiasi Pesantren Dukung Pertanian
The Strategic Position of Indonesian´s Islamic Boarding Schools Supports Agricultural Development
Editor : M. Achsan Atjo
Translator : Dhelia Gani

PUBLISHED: Rabu, 13 Februari 2019 , 16:19:00 WIB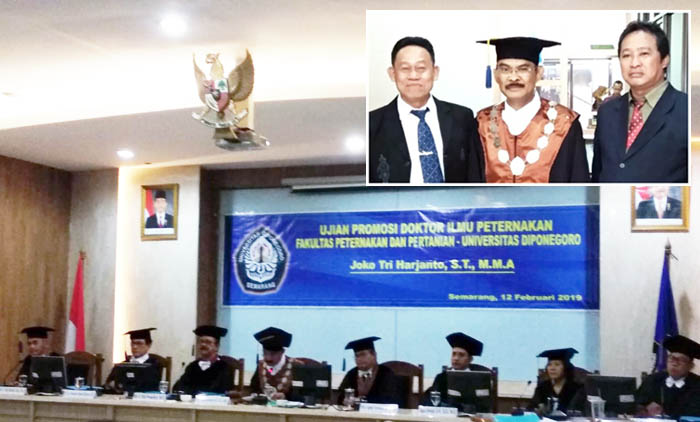 PROMOSI DOKTOR: Ujian promosi doktor Undip Semarang, (inset foto) Kepala BPPSDMP Kementan, Momon Rusmono (kiri) bersama dosen penguji dan promovendus Joko Triharjanto (kanan) Foto2: Pribadi
Semarang, Jateng (B2B) - Eksistensi 28.000 pondok pesantren di seluruh RI berperan strategis mendukung pembangunan pertanian, sejalan dengan kebijakan Kementerian Pertanian RI menggandeng pondok pesantren sebagai lembaga dakwah yang menjalankan nilai-nilai Islam secara detail, khusus, dan intensif, namun juga menjalankan aktifitas pertanian untuk penghidupannya.
Hal itu dikemukakan oleh Kepala Badan Penyuluhan dan Pengembangan SDM Pertanian - Kementerian Pertanian RI (BPPSDMP) Momon Rusmono saat hadir sebagai penguji ujian promosi doktor atas nama Joko Triharjanto di ´ruang sidang utama sekolah pascasarjana´ Universitas Diponegoro, Selasa (12/2).
"Mayoritas pondok pesantren tetap mempertahankan cara hidup dengan bercocok tanam sebagai kegiatan bertani yang sudah menjadi kebiasaan turun temurun. Awalnya, bercocok tanam dilakukan pesantren untuk memenuhi kebutuhan terutama pangan bagi warga pesantren, dan berkembang untuk kegiatan agribisnis bagi masyarakat di luar pesantren," katanya.
Momon R menambahkan, pondok pesantren sebagai salah satu lembaga sosial yang berbasis agama, memiliki potensi dan kekuatan yang diharapkan mampu menjadi penggerak nilai-nilai luhur santri tani dalam kehidupan termasuk menjaga tradisi pertanian. Pondok pesantren sebagai lembaga keagamaan tidak hanya membangun karakter manusia tetapi juga berpartisipasi dalam pembangunan, termasuk pembangunan pertanian khususnya keberlanjutan pangan.
"Pondok pesantren juga dapat menjadi wadah strategis bagi pengembangan teknologi pertanian di daerah pedesaan melalui kemampuan para santri tani melakukan olah inovasi yang kemudian disosialisasikan kepada masyarakat sekitarnya," kata Kepala Badan SDM Pertanian.
Momon R mengapresiasi kebiasaan yang diajarkan para pimpinan pondok pesantren yang mengajarkan cara-cara bertani dengan benar. Pengetahuan bertani yang tidak menimbulkan kerusakan dan tidak merugikan mahluk hidup lainnya.
"Santri tani menanam dengan benih yang bagus, menggunakan pupuk yang yang aman untuk tanah dan tanaman, menghilangkan gulma dan hama dengan cara yang alami dan aman, menggunakan air yang bersih tidak tercemar zat berbahaya, mengolahnya pun harus dengan cara yang baik dan benar," ungkapnya. (Lin)
Semarang of Central Java (B2B) - The existence of 28,000 Islamic boarding schools or pesantren across the country has a strategic role to support Indonesia agricultural development, in line with agriculture ministry´s policy of cooperate with pesantren missionary institution that carries out Islamic values in detail, specifically and intensively, it also runs agricultural activities for its livelihood.
It was stated by the Directorate General of Extension and Agricultural HR Development or the BPPSDMP, Momon Rusmono while attending as a doctoral promotion examination examiner on behalf of Joko Triharjanto in Semarang´s Diponegoro University or the Undip, Tuesday (February 12).
"The majority of pesantren still maintain way of life by farming as farming activities that have become a hereditary habit. Initially, farming was carried out by pesantren to meet the food needs of pesantren students, and to developing agribusiness activities for people outside of pesantren," he said.
Rusmono added, the pesantren as one of religious institutions has the potential that is expected to be a driver of the noble values of pesantren students including maintain agricultural traditions. The pesantren as the religious institutions not only build human character but also participate in development, including agricultural development, especially food sustainability.
"The pesantren can also be a strategic place for developing agricultural technology in rural areas through the ability of pesantren students to carry out innovations which are then socialized to surrounding community," he said.
Rusmono appreciated the habits taught by the ulema in pesantren that taught the right methods of farming. Farming knowledge that does not cause damage and does not harm other living beings.
"The pesantren students grow plants with good seeds, use fertilizers that are safe for soil and plants, remove weeds and pests in a natural and safe way, use clean water not polluted with harmful substances, process it must be in a good and correct way," he said.