Optimalisasi Alsintan Sumsel, PJ Opsin Nasional Pimpin Rakor di Palembang
Indonesian Govt Supports Agricultural Machinery for South Sumatra Farmers
Editor : M. Achsan Atjo
Translator : Dhelia Gani

PUBLISHED: Kamis, 13 Desember 2018 , 16:29:00 WIB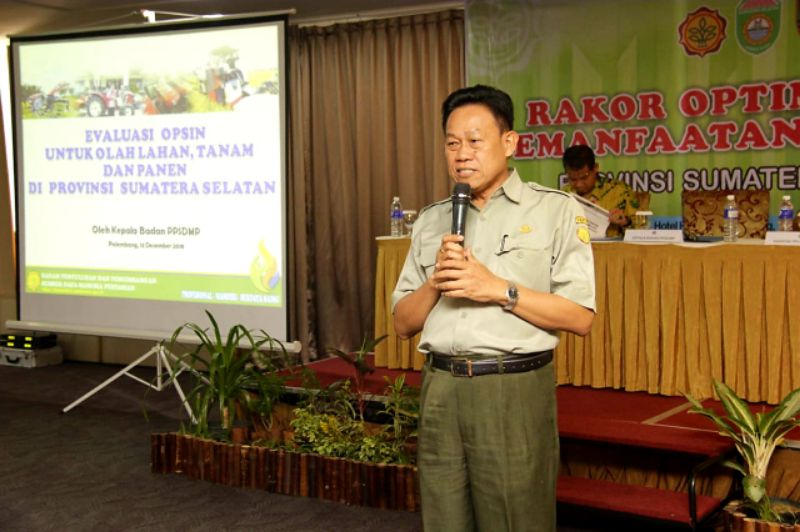 OPSIN SUMSEL: PJ Opsin Nasional, Momon Rusmono (Foto: Humas BPPSDMP/Eko Saputra)
Palembang, Sumsel (B2B) - Sedikitnya 90 peserta mengikuti rapat koordinasi optimalisasi pemanfaatan alat mesin pertanian (Alsintan) di Provinsi Sumatera Selatan yang dihadiri oleh para kepala dinas pertanian dan tanaman pangan, Kodim dan Koramil, perwakilan penyuluh pertanian dan koordinator balai penyuluhan pertanian (BPP) dan pihak-pihak terkait dari seluruh kabupaten/kota di Sumsel.
Rakor dipimpin oleh Penanggung Jawab Optimalisasi Alsintan - PJ Opsin Nasional, Momon Rusmono yang mengingatkan instruksi Menteri Pertanian RI Andi Amran Sulaiman bahwa seluruh Alsintan yang diberikan kepada Poktan/Gapoktan maupun Unit Pelayanan Jasa Alsintan (UPJA) untuk diidentifikasi pemanfaatannya, apabila tidak maksimal maka segera dilakukan mobilisasi untuk meningkatkan pemanfaatannya, atau direalokasi ke Poktan lain yang lebih membutuhkan.
"Tidak boleh ada alsintan yang menganggur, kerja minimal 10 jam per hari, sehingga bermanfaat bagi petani. Kami harapkan petani dapat memanfaatkan Alsintan secara tepat guna untuk mendukung peningkatan produksi pangan strategis khususnya padi," kata Momon Rusmono yang juga menjabat Kepala BPPSDMP Kementan di Palembang, Kamis siang (13/12).
Data Kementerian Pertanian RI menyebutkan bantuan Alsintan pra panen dan pasca panen kumulatif 2014 - 2017 disalurkan sebanyak 23.401 unit pada 2014, meningkat menjadi 62.744 pada 2015, meningkat hampir tiga kali lipat pada 2016 menjadi 174.487 unit, pada 2017 mencapai 92.256 unit, dan tahun ini mencapai 70.309 unit. Totalnya 423.197 unit atau meningkat 1,526% seperti dilansir Direktorat Alsintan Ditjen PSP pada buku ´4 Tahun Kinerja Pertanian era Jokowi - JK´.
Dia mengingatkan tentang kapasitas kerja Alsintan per hari, diketahui untuk TR2 sekitar 0,5 hektar, TR4 sekitar 3 hektar, combine harvester kecil atau CHK 0,6 hektar, combine harvester sedang (CHS) mencapai 1,2 hektar, dan combine harvester besar (CHB) CHB sekitar 2 hektar.
"Pemanfaatan Alsintan sebagai bagian penting dari program mekanisasi pertanian diharapkan dapat meningkatkan efisiensi tenaga manusia, derajat dan taraf hidup petani, kuantitas dan kualitas produksi pangan," katanya didampingi Sekretaris BPPSDMP Kementan, Andriko Noto Susanto.
Tampak hadir sejumlah pejabat BPPSDMP Kementan antara lain Kabag Evaluasi dan Pelaporan, Titin Gartini; Kabid Penyelenggaraan Penyuluhan, Zahron Helmy; Kasubbag Perbendaharaan, Herlin Nurlela; Kasubbid Kelembagaan Petani, Yoyon Haryanto; Kasubbag Evaluasi, Acep Hariri, Kasubbag Pelaporan, Revo Abdul Muis, dan para penyuluh pertanian pusat di antaranya Ali Nurdin, Siti Nurjanah, Suwarna, dan Sri Mulyani.
Palembang of South Sumatera (B2B) - At least 90 participants attended a coordination meeting of mobilization and optimization of utilization of agricultural machinery in South Sumatra province, which was attended by representatives farmer groups, agricultural extensionist, the heads of agricultural offices, and related parties of districts/cities across the province.
The coordination meeting is led by the Person in Charge of National´s Optimization of Agricultural Machinery or PJ Opsin, Momon Rusmono who reminded the instructions of Indonesian Agriculture Minister Andi Amran Sulaiman for the identification of utilization, if not maximized then immediately carried out mobilization to improve its utilization, or reallocated to other Poktan more need.
"No agricultural machinery is not used, use at least 10 hours per day, so it is beneficial to farmers. We hope that farmers can utilize Alsintan properly to support the increase of strategic food production, especially rice," Mr Rusmono cited Minister Sulaiman.
Data of the Agriculture Ministry states that 2014 - 2017 agricultural machinery pre-harvest and post-harvest harvests were distributed to 23,401 units in 2014, increasing to 62,744 in 2015, nearly tripling in 2016 to 174,487 units, in 2017 reaching 92,256 units, and this year reached 70,309 units. Total of 423,197 units, an increase of 1.526 percent, as reported by the Directorate General of Agriculture Infrastructure.
Mr Rusmono elaborated about agricultural machinery working capacity per day, it is known for two-wheeled tractors of about 0.3 hectares, four-wheeled tractor 2 hectares, 0.6 hectares for small combine harvester, 1.2 hectares for medium combine harvester, and 2 hectare for big combine harvester.
"Agricultural machinery as an important part of agricultural mechanization is expected to increase human labor efficiency, farmer welfare, quantity and quality of food production," he said.