Gandeng Puslitkoka, Kementan Pacu Kapasitas Produksi Kakao Petani Milenial
Millennial Farmers are the Target of Indonesia East Java`s Grant Program
Editor : M. Achsan Atjo
Translator : Dhelia Gani

PUBLISHED: Kamis, 16 November 2023 , 16:48:00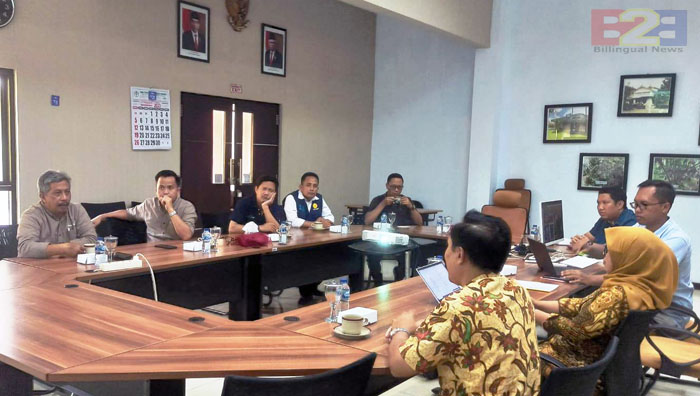 PROGRAM YESS JATIM: Direktur Polbangtan Malang, Setya Budhi Udrayana [kiri] didampingi Project Manager PPIU YESS Jatim, Acep Hariri [ke-3 kanan] dalam upaya kolaborasi petani milenial binaan Kementan dan Program YESS dengan Puslitkoka Jember.
Jember, Jatim [B2B] - Sebagai langkah strategis untuk mendorong pertumbuhan petani milenial, Kementerian Pertanian RI berkomitmen untuk terus memberikan fasilitas bagi generasi milenial yang terjun menjadi petani dan berwirausaha di sektor pertanian.

Menteri Pertanian RI Andi Amran Sulaiman meyakini bahwa pertanian bukan hanya sebuah bisnis yang menjanjikan namun juga sebagai fondasi utama keberlanjutan ekonomi.

Mentan mengajak generasi muda untuk mengubah paradigma pertanian sebagai sektor yang menjanjikan.

"Generasi muda juga harus bisa mengikuti perkembangan zaman. Harus berani menjadi petani modern maupun mendirikan start-up pertanian," kata Mentan Amran.

Kepala Badan Penyuluhan dan Pengembangan SDM Pertanian Kementan [BPPSDMP] Dedi Nursyamsi menuturkan bahwa saat ini dibutuhkan sekelompok anak muda yang memiliki loyalitas dan integritas tinggi untuk memajukan sektor pertanian Indonesia.

"Sudah saatnya pertanian dikelola oleh generasi milenial yang menggunakan kreativitas dan inovasinya, sehingga ke depan menjadi pertanian modern, tak hanya untuk memenuhi kebutuhan dalam negeri juga berorientasi ekspor," katanya.

Politeknik Pembangunan Pertanian [Polbangtan] yakni Polbangtan Malang yang merupakan unit pelaksana teknis [UPT] lingkup Kementan selaku Provincial Project Implementation Unit [PPIU] Jawa Timur dari Program Youth Entrepreneur and Employment Support Services [YESS] di Jawa Timur berkomitmen kuat meningkatkan kompetensi dan pengembangan SDM pertanian milenial.

Hal ini tercermin pada kunjungan Direktur Polbangtan Malang, Setya Budhi Udrayana didampingi Project Manager PPIU Jatim, Acep Hariri dan Pengarah YESS Kabupaten Banyuwangi, Ugik Romadi beserta tim mengunjungi Pusat Penelitian Kopi dan Kakao Indonesia [Puslitkoka] di Kabupaten Jember, Jawa Timur.

Udrayana menyampaikan maksud dan tujuan Polbangtan Malang untuk mengembangkan petani milenial dengan fokus pada komoditi kopi dan kakao.

"Salah satu fokus PPIU YESS Jatim adalah pengembangan korporasi bagi petani milenial kopi dan kakao, untuk dapat menghasilkan produk unggul yang bisa dikomersialkan," kata Udrayana yang akrab disapa Uud.

Kunjungan tersebut mendapat sambutan positif dari pihak Puslitkoka diwakili Kabag Penelitian, Indah Anita Sari yang menyatakan kesiapan Puslitkoka Jember mendukung dan menjembatani petani milenial binaan Program YESS Jatim terkoneksi dengan stakeholder kopi dan kakao.

Project Manager PPIU Jatim, Acep Hariri menegaskan, kendati Program YESS telah mengoneksikan para petani milenial Jatim yang bergelut pada komoditi kakao dengan PT Cargill Indonesia sebagai offtaker.

"Upaya peningkatan kapasitas produksi masih membutuhkan bantuan dan kerjasama dari lembaga yang kompeten seperti halnya Puslitkoka," katanya. [didit/timhumas yessjatim]
Jember of West Java [B2B] - The role of agricultural training in Indonesia such as the Agricultural Training Center of Indonesia Agriculture Ministry across the country such as the BBPP Binuang so the ministry seeks to maximize its efforts to produce millennial entrepreneur.

Indonesian Agriculture Ministry, Andi Amran Sulaiman stated that the government´s commitment to developing agriculture, especially in the development of advanced, independent and modern agricultural human resources.

The goal is to increase the income of farming families and ensure national food security. Farmer regeneration is a commitment that we must immediately realize.

He reminded about the important role of agricultural training, to produce millennial farmers who have an entrepreneurial spirit.

Through agricultural training, we connect farmers with technology and innovation so that BBPP meet their needs and are ready for new things.