SimpulPadi, Aplikasi Online `Pemersatu` Tiga Pilar Badan SDM Kementan
Indonesian Govt Synchronizes Agricultural HR Data Across the Country
Editor : M. Achsan Atjo
Translator : Dhelia Gani

PUBLISHED: Selasa, 18 Desember 2018 , 17:08:00 WIB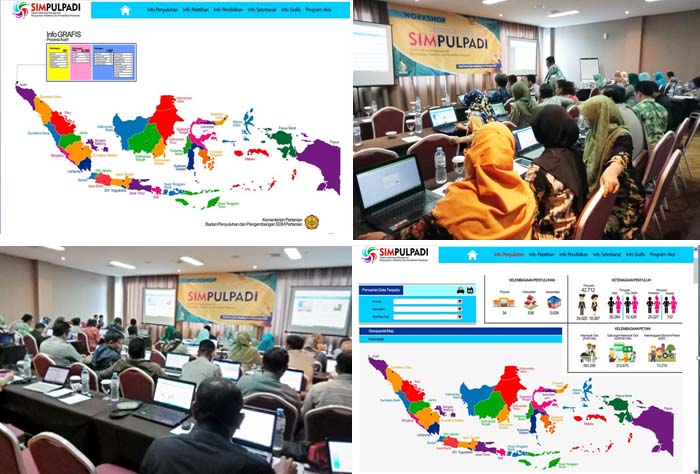 SINKRONISASI DATA: Peserta workshop Simpul Padi di Bandung melakukan sinkronisasi data (Tabel: Evalap BPPSDMP Kementan & Foto: Pusluhtan/Iwan Mularso)
Bandung, Jabar (B2B) - Sekitar 50 peserta mengikuti ´workshop rekonsiliasi dan konsolidasi´ Sistem Informasi Manajemen Penyuluhan, Pelatihan, dan Pendidikan Pertanian disingkat SimpulPadi di Bandung, Jabar selama tiga hari, untuk menyamakan kerangka fikir integrasi data dan informasi di Badan Penyuluhan dan Pengembangan SDM Pertanian (BPPSDMP) Kementerian Pertanian RI.
Workshop SimpulPadi di Bandung pada 12 - 14 Desember diikuti para Admin dari seluruh unit pelaksana teknis (UPT) BPPSDMP Kementan dari seluruh Indonesia dipimpin oleh Kasubbag Data dan Evaluasi, Acep Hariri; yang hadir mewakili Kabag Evaluasi dan Pelaporan, Titin Gartini dan dihadiri oleh Bambang Sugianto, programmer dari Pusat Data dan Informasi Pertanian (Pusdatin) Kementan.
"Workshop di Bandung bertujuan rekonsiliasi dan konsolidasi data penyuluhan, pelatihan, dan data pendidikan serta memperkuat peran petugas Admin yang menangani sistem informasi manajemen dari berbagai aplikasi database di pusat untuk melakukan pemantauan, validasi, dan evaluasi serta memberikan informasi pelaksanaan program dan kegiatan secara cepat melalui aplikasi SimpulPadi," kata Acep Hariri melalui pernyataan tertulis dari Pusat Penyuluhan Pertanian (Pusluhtan).
Metode sampling data dengan melakukan cross check data dasar Sekolah Tinggi Penyuluhan Pertanian (STPP) melalui aplikasi Feeder - Forlap Dikti - RistekDikti, cross check data dasar SMKPP melalui aplikasi Dapodik, juga diskusi dan verifikasi data dasar dengan Admin pengelola aplikasi Feeder - Forlap Dikti dan Dapodik. Tak kalah penting adalah klarifikasi dan verifikasi data dasar maupun back-up data dan copy file data dasar dari aplikasi SimpulPadi dengan data dasar dari aplikasi Feeder - Forlap Dikti dan Dapodik.
"SimpulPadi mencakup data dasar pendidikan dari STPP tentang jumlah mahasiswa aktif, jumlah dosen, dan jumlah alumni, begitu pula dengan SMKPP," kata Acep H.
Data dasar penyuluhan pertanian terkait jumlah kelembagaan penyuluh di tingkat provinsi/kabupaten/kota hingga kecamatan. Kelembagaan petani meliputi jumlah kelompok tani (Poktan), gabungan kelompok tani (Gapoktan), dan kelembagaan ekonomi petani (KEP); dan ketenagaan penyuluh dari tingkat provinsi/kabupaten hingga kecamatan.
Mengacu pada data di Simluhtan sebagai supplay data SimpulPadi, staf pada Bidang Penyelenggaraan Penyuluhan - Pusluhtan, Iwan Mularso menyampaikan bahwa jumlah ketenagaan penyuluh tercatat sekitar 42.712 orang terdiri atas PNS, THL-TBPP, swadaya dan swasta. Sementara kelembagaan petani terdiri atas 583.289 Poktan, 312.675 Gapoktan, dan 13.215 KEP di seluruh Indonesia. (IwaN)
Bandung of West Java (B2B) - Around 50 participants attended the ´reconciliation and consolidation workshop´ The Extension Education, Training and Education Management Information System or the SimpulPadi here for three days, to equate the framework of thinking, integration of data and information at the Indonesian Agriculture Ministry´s Directorate General of Extention and Agricultural Human Resource Development or BPPSDMP Kementan.
The workshop of SimpulPadi in Bandung on December 12-14 attended by Admin of technical implementation unit the BPPSDMP Kementan across the country led by the Data and Evaluation Subdivision Head, Acep Hariri, who attended represented his boss, Titin Gartini as the Head of Evaluation and Reporting Division.
"The workshop in Bandung aims reconciliation and consolidation of extention, training and education of agriculture and strengthen the Admin role that handles management information systems from various database applications in the ministry," said Mr Hariri through the written statement.
Data sampling method by cross checking the basic data of the Agricultural Extension College or the STPP through the Feeder - Forlap Dikti - RistekDikti application, cross check SMKPP basic data through the Dapodik application, also discussion and verification of basic data with the Admin of Feeder - Forlap Dikti and Dapodik application.
"The SimpulPadi includes the basic education data of STPP about number of active students, lecturers, and alumni as well as of SMKPP," Mr Hariri said.
Basic data of agricultural extension related to the number of extensionist at the provincial/district/cities level to sub-districts. Institutional farmers include the number of farmer groups farmer groups combined, and farmers´ economic institutions.
Referred to SimpulPadi data, Iwan Mularso staff of the Agriculture Extention Center or Pusluhtan said the number of agricultural extensionist across the country reached 42,712.