Program Bekerja, BPPSDMP Kementan Serahkan 179.000 Ekor Ayam di Langkat
Indonesian Govt Giving Assistance for Underprivileged People in North Sumatra
Reporter : Gusmiati Waris
Editor : Cahyani Harzi
Translator : Dhelia Gani

PUBLISHED: Kamis, 29 November 2018 , 17:39:00 WIB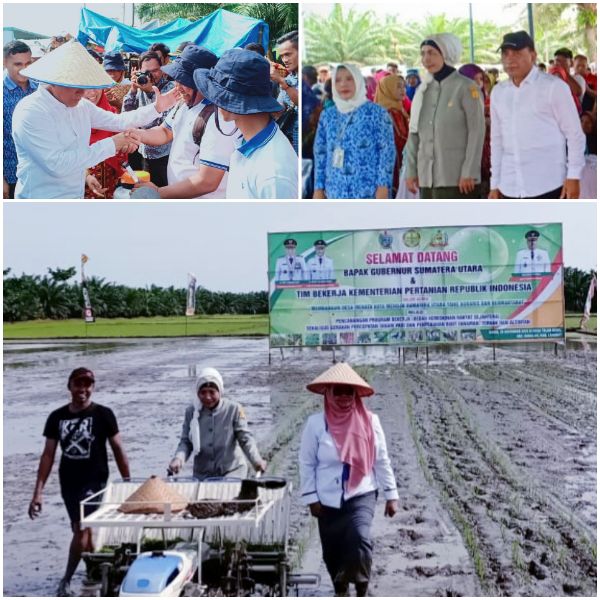 WARGA PRASEJAHTERA: Kapusdiktan BPPSDMP Kementan, Idha Widi Arsanti mencoba mesin tanam padi (rice transplanter) usai menyerahkan bantuan dari program Bekerja disaksikan Gubernur Sumut, Edy Rahmayadi (Foto2: B2B/Mya)
Langkat, Sumut (B2B) - Kementerian Pertanian RI siang ini, Kamis (29/11), mencanangkan program Bekerja di Kabupaten Langkat, Provinsi Sumatera Utara dengan menyerahkan bantuan 179.000 ekor ayam untuk petani dan warga pra sejahtera di Kecamatan Babalan dan Kecamatan Secanggang untuk mendukung pengentasan kemiskinan berbasis pertanian melalui program Bedah Kemiskinan Rakyat Sejahtera (Bekerja).
Bantuan 179.000 ekor ayam diserahkan oleh Kepala Badan Penyuluhan dan Pengembangan SDM Pertanian (BPPSDMP) Kementan, Momon Rusmono diwakili oleh Kepala Pusat Pendidikan Pertanian (Pusdiktan) Idha Widi Arsanti secara simbolis kepada warga pra sejahtera di Desa Teluk Meku, Kecamatan Babalan, yang disaksikan oleh Gubernur Sumatera Utara, Edy Rahmayadi dan Bupati Langkat, Ngogesa Sitepu dan Kepala Dinas Pertanian Pemprov Sumatera Utara, Azhar Harahap.
Kapusdiktan BPPSDMP Idha WA juga menyerahkan sejumlah benih tanaman pangan, dan alat mesin pertanian (Alsintan) kepada kelompok tani (Poktan) dan gabungan kelompok tani (Gapoktan) untuk mendukung gerakan percepatan tanam padi di Langkat.
Program Bekerja diluncurkan Menteri Pertanian RI Andi Amran Sulaiman pada 22 Mei 2018 di Kabupaten Bondowoso, Jawa Timur dan dilanjutkan sembilan provinsi dengan menyasar 200 ribu rumah tangga di 776 desa di seluruh Indonesia.
Mentan Amran Sulaiman menegaskan bahwa bantuan Kementan dalam Program Bekerja, komoditasnya diarahkan berdasarkan keunggulan komparatif tiap daerah yang menghasilkan nilai ekonomis tinggi. Sasarannya fokus pada satu wilayah penduduk miskin yang dikelompokkan dalam tiga klaster. Setiap klaster, penduduk miskin berjumlah 5 hingga 10 ribu dengan solusi jangka pendek dan menengah melalui bantuan sayur-sayuran dan bibit ayam petelur berumur dua bulan beserta kandang dan pakan.
"Untuk ayam, bantuan yang diberikan 50 ekor per rumah tangga prasejahtera. Saat usia enam bulan menghasilkan 50 butir telur per hari dengan masa produktif dua tahun, sehingga diperkirakan menghasilkan pendapatan Rp2,5 juta per bulan," kata Mentan dalam berbagai kesempatan kegiatan Bekerja.
Sejumlah pejabat BPPSDMP Kementan mendampingi kunjungan kerja Kapusdiktan Idha WA di Langkat, Sumut antara lain Kabag Perencanaan, Ranny Mutiara Chaidirsyah; Kabag Keuangan & Perlengkapan, Rodhi MM; Kasubbag Pembendaharaan, Herlin Nurlaela; Kasubbag Anggaran, Ridwan Santosa; dan Kasubbag Perlengkapan, Suprihadi MM; Direktur Polbangtan Medan, Yuliana Kansrini.
Langkat of North Sumatra (B2B) - Indonesian Agriculture Ministry this afternoon, Thursday (November 29) launched the Bekerja program in Langkat district of North Sumatra province by by providing 179 000 chickens for farmers aand underprivileged people in Babalan and Secanggang sub-districts through the Agriculture-Based Poverty Alleviation program or Bekerja.
Livestock assistance of 179,000 chickens handed over by Director General of Extension and Development of Agricultural HR, Momon Rusmono represented by the Director of Agricultural Education Center, Idha Widi Arsanti in Teluk Meku village of Babalan sub-district, witnessed by North Sumatra Governor, Edy Rahmayadi and Langkat Regent, Ngogesa Sitepu.
Mrs Arsanti also handed over a number of seeds of food crops, and agricultural machinery to farmer groups and joint farmer groups to support the movement to accelerate rice planting in Langkat.
The Bekerja program was launched by the Indonesian Minister of Agriculture, Andi Amran Sulaiman on May 22, 2018 in Bondowoso district, East Java province, and continued in nine provinces, target of 200 thousand households in 776 villages across the country.
Minister Sulaiman said that assistance of his ministry through the Bekerja program, the commodity is based on the comparative advantage of each region of economic value. The target is to focus on one poor population region grouped in three clusters. In each cluster, there are between 5 and 10 thousand poor people with short and medium term solutions through the help of vegetables and two-month-old laying hens with cages and feed.
"For chickens, assistance provided by 50 individuals per underprivileged household. Hens at the age of six months produce 50 eggs per day with a productive period of two years, so that it is estimated to provide an additional income of IDR 2.5 million per month," said Minister Sulaiman recently.