Produktivitas 10 Ton per Ha, Mentan Tawarkan Jagung NaSa pada Namibia
Indonesia Offers Namibia Cooperation in Agricultural Development
Reporter : Gusmiati Waris
Editor : Cahyani Harzi
Translator : Dhelia Gani

PUBLISHED: Sabtu, 01 September 2018 , 17:44:00 WIB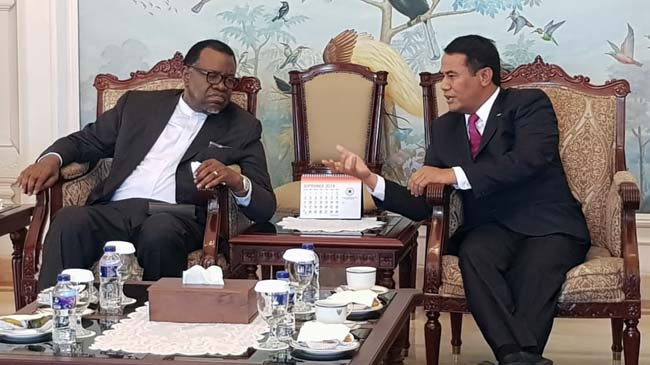 MEWAKILI JOKOWI: Mentan Andi Amran Sulaiman mengantar tamu negara Presiden Namibia Hage Gottfried Geingob kembali ke negaranya, mewakili Presiden Joko Widodo (Foto: Humas Kementan)
Jakarta (B2B) - Pemerintah RI menawarkan kepada Pemerintah Namibia untuk memanfaatkan bibit jagung NaSa atau Nakula Sadewa, yang menghasilkan 10 ton per hektar, sementara produktivitas jagung Namibia saat ini maksimal hanya empat ton per hektar. Tawaran tersebut sebagai bentuk komitmen kerjasama bilateral kedua negara yang bersahabat sejak era Presiden Soekarno.
Hal itu dikemukakan oleh Menteri Pertanian RI Andi Amran Sulaiman kepada Presiden Republik Namibia, Hage Gottfried Geingob saat mewakili Presiden RI Joko Widodo mengantar tamu negara tersebut kembali ke negaranya di Bandara Halim PK, Jakarta pada Sabtu pagi (1/9).
"Produksi jagung Indonesia saat ini sudah ada yang mampu mencapai 10 ton per hektar. Nama bibitnya NaSa. Kita akan menawarkan bibit NaSa kepada Namibia, karena produktivitas jagung Namibia hanya tiga sampai empat ton per hektar," kata Mentan Amran Sulaiman kepada pers.
Menurutnya, mekanisasi dan teknologi pertanian Indonesia juga akan ditawarkan kepada Namibia sehingga dapat meningkatkan produktivitas jagung Namibia. "Inshaa Allah ... kita segera sinergi dengan mereka."
Amran Sulaiman menambahkan, Presiden Geingob juga tertarik pada pengembangan lahan kering yang dinilai sudah maju melalui teknologi komprehensif dan berkelanjutan.
Namibia pun tertarik pada kemampuan Indonesia meningkatkan indeks pertanaman atau IP dari satu kali menjadi dua kali, dari dua menjadi tiga kali tanam, yang dikenal sebagai IP200 dan IP300.
Presiden Namibia juga menyatakan apresiasi kepada Indonesia yang mampu menjaga ketersediaan pangan untuk memenuhi kebutuhan 250 juta penduduk, sementara Namibia masih tergantung impor pangan padahal jumlah penduduknya hanya dua juta orang.
Jakarta (B2B) - The Indonesian government has offered the Namibian Government to utilize NaSa or Nakula Sadewa corn seeds, yield 10 tons per hectare, while Namibia´s corn productivity is currently a maximum of four tons per hectare. Indonesia´s offer as a commitment of bilateral cooperation between the countries that has been friendly since the era of President Soekarno.
It was stated by Indonesian Agriculture Minister, Andi Amran Sulaiman to the Namibian President, Hage Gottfried Geingob here on Saturday (September 1). Minister Sulaiman at Halim Airport to represent the Indonesia President Joko Widodo, escorted state guests, President Geingob returned to his country.
"Indonesia´s corn production currently reaches 10 tons per hectare. The name of the corn seed is NaSa. We will offer NaSa seeds to Namibia, because Namibia´s corn productivity is only four tons per hectare," Minister Sulaiman told the press.
According to him, Indonesian agricultural mechanization and technology will also be offered to Namibia. "Inshaa Allah ... we will soon synergize with Namibia."
Minister Sulaiman acknowledged that President Geingob was also interested in developing dry land, considered better because of the development of agricultural mechanization.
Namibia is also interested in Indonesia´s ability to increase the cropping index or IP from once to twice, from two to three times planting, known as IP200 and IP300, he said.
The Namibian President also appreciated Indonesia´s ability to meet the food needs of 250 million people, while Namibia still depends on food imports even though the population is only two million.