Presiden Jokowi Bahas Stategi Wujudkan Transisi Energi di Stanford University
President Jokowi Discusses Efforts to Realize the Energy Transition
Editor : Cahyani Harzi
Translator : Novita Cahyadi

PUBLISHED: Kamis, 16 November 2023 , 18:25:00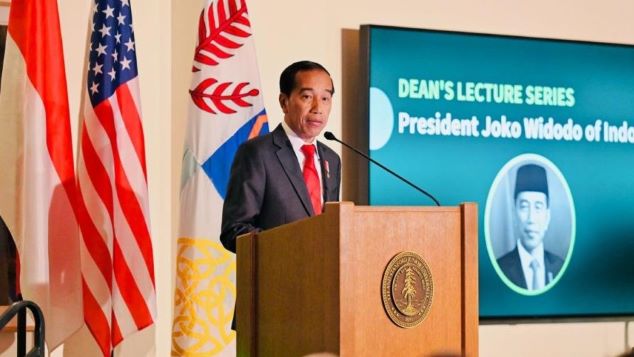 KULIAH UMUM: Presiden Jokowi menyampaikan kuliah umum di Stanford University, San Fransisco, Amerika Serikat. (Foto: Setkab RI)
Jakarta [B2B] - Presiden RI Joko Widodo [Jokowi] menyebutkan bahwa kolaborasi dan langkah strategis menjadi hal yang sangat penting dan dibutuhkan dalam menghadapi dampak perubahan iklim yang makin mengancam saat ini.
Hal tersebut disampaikan oleh Jokowi pada saat menyampaikan kuliah umum di Stanford University, San Fransisco, Amerika Serikat, pada Rabu [15/11].
"Dalam menghadapi dampak perubahan iklim yang makin mengancam saat ini, kolaborasi sangat penting dan langkah strategis konkret sangat dibutuhkan, tanpa itu tidak mungkin bagi kita untuk menjamin keberlanjutan dan satu-satunya bumi yang kita cintai," ucap Jokowi.
Jokowi menjelaskan bahwa perubahan iklim dan transisi energi merupakan hal yang sangat mendesak di tengah dunia yang sedang tidak baik-baik saja. Oleh karenanya, Jokowi secara tegas menyampaikan bahwa Indonesia telah mengambil peran dan berkomitmen untuk mengatasi hal tersebut.
"Untuk Indonesia, tidak perlu ragu dan tidak perlu dipertanyakan komitmen kami. Indonesia walks the talk, not talk the talk," imbuhnya.
Jokowi pun memaparkan bahwa hingga saat ini Indonesia telah berhasil menurunkan emisi sebesar 91,5 juta ton. Hal tersebut diikuti oleh laju deforestasi Indonesia hingga tahun 2022 telah ditekan hingga 104.000 hektare.
"Kemudian kawasan hutan juga direhabilitasi seluas 77.000 hektare, hutan bakau direstorasi seluas 34.000 hektare hanya dalam waktu satu tahun," sambungnya.
Namun, Jokowi menilai bahwa saat ini masih terdapat tantangan besar bagi Indonesia dan juga negara berkembang lainnya untuk melakukan tansisi energi utamanya dalam transfer teknologi dan pendanaan.
"Inilah yang menjadi tantangan dan sering menyulitkan negara-negara berkembang karena itu Indonesia ingin memastikan bahwa transisi energi juga menghasilkan energi yang bisa terjangkau oleh rakyat, bisa terjangkau oleh masyarakat," ungkap Jokowi.
Lebih lanjut, Jokowi menilai pendanaan iklim yang seharusnya diberikan kepada negara-negara berkembang untuk melaksanakan transisi energi tersebut seharusnya lebih bersifat membangun, tidak hanya membebani sebagai utang.
"Sampai saat ini yang namanya pendanaan iklim masih business as usual, masih seperti commercial banks. Padahal seharusnya lebih konstruktif, bukan dalam bentuk utang yang hanya akan menambah beban negara-negara miskin maupun negara-negara berkembang," ungkapnya.
Selain itu, dalam kesempatan tersebut, Jokowi juga memaparkan sejumlah upaya yang telah dilakukan oleh Indonesia dalam melakukan transisi energi. Presiden menyebut salah satunya adalah melalui pembangunan Pembangkit Listrik Tenaga Surya (PLTS) terapung yang baru saja diresmikan di Waduk Cirata, Provinsi Jawa Barat.
"Ini terbesar di Asia Tenggara, pembangkit listrik tenaga surya yang kita miliki baru saja kita buka dengan kapasitas 192 megawatt," ungkapnya.
Ke depan, Jokowi menyampaikan hal serupa akan terus Indonesia lakukan untuk menjaga lingkungan dan melakukan transisi energi. Seperti halnya yang akan diterapkan di Ibu Kota Nusantara [IKN] yang akan menjadi kota pintar berbasis hutan yang nantinya disebut akan menggunakan energi hijau dari matahari dan air.
"Dan supaya saudara-saudara tahu bahwa yang pertama kali kita bangun saat akan membangun Ibu Kota Nusantara ini adalah membangun nursery center, membangun botanical center yang berkapasitas 15 juta bibit pohon per tahunnya yang itu nanti akan kita tanam setiap tahunnya di Ibu Kota Nusantara dan di Pulau Kalimantan," tuturnya.
Oleh karenanya, Jokowi menyebut bahwa ke depan akan menjadi sebuah gagasan yang bagus jika mahasiswa Stanford University bisa berkesempatan untuk mengunjungi IKN dan melihat secara langsung proses serta perkembangan pembangunan di sana.
"Mungkin di sana bisa melakukan riset secara kilat dan belajar tentang sisi keberlanjutan dalam membangun sebuah green city," tandasnya.
Jakarta [B2B] - Indonesian President Joko Widodo (Jokowi) said that collaboration and strategic steps are very important and needed to face the impacts of climate change which are increasingly threatening at this time. This was conveyed by the President when delivering a public lecture at Stanford University, San Francisco, United States, on Wednesday (15/11/2023).
"In facing the impact of climate change which is increasingly threatening today, collaboration is very important and concrete strategic steps are needed, without which it is impossible for us to guarantee sustainability and the only earth we love," said the President.
The President explained that climate change and the energy transition are very urgent matters in a world that is not doing well. Therefore, the President firmly stated that Indonesia has taken a role and is committed to overcoming this problem.
"For Indonesia, there is no need to hesitate and there is no need to question our commitment. "Indonesia walks the talk, not talks the talk ," he added.
The Head of State also explained that to date Indonesia has succeeded in reducing emissions by 91.5 million tonnes. This was followed by Indonesia's deforestation rate until 2022 having been reduced to 104,000 hectares.
"Then the forest area was also rehabilitated covering an area of ​​77,000 hectares, mangrove forests were restored covering an area of ​​34,000 hectares in just one year," he continued.
However, President Jokowi considers that currently there are still big challenges for Indonesia and other developing countries to carry out energy transition, especially in technology transfer and funding.
"This is a challenge and often makes things difficult for developing countries, therefore Indonesia wants to ensure that the energy transition also produces energy that is affordable for the people," said the President.
Furthermore, the President assessed that the climate funding that should be provided to developing countries to implement the energy transition should be more constructive in nature, not just burdened as debt.
"Until now, what is called climate funding is still business as usual, still like commercial banks. "In fact, it should be more constructive, not in the form of debt which will only increase the burden on poor countries and developing countries," he said.
Apart from that, on this occasion, President Jokowi also explained a number of efforts that had been made by Indonesia in carrying out the energy transition. The President said one of them was through the construction of a floating Solar Power Plant (PLTS) which had just been inaugurated at the Cirata Reservoir, West Java Province.
"This is the largest in Southeast Asia, we have just opened a solar power plant with a capacity of 192 megawatts," he said.
In the future, the President said that Indonesia will continue to do similar things to protect the environment and carry out an energy transition. As will be implemented in the Indonesian Capital City (IKN), which will become a forest-based smart city which will later be said to use green energy from the sun and water.
"And so that you know that the first thing we build when we are going to build the capital city of the archipelago is to build a nursery center, build a botanical center with a capacity of 15 million tree seedlings per year, which we will later plant every year in the capital city of the archipelago and in "Kalimantan Island," he said.
Therefore, the Head of State said that in the future it would be a good idea if Stanford University students could have the opportunity to visit IKN and see firsthand the development process and progress there.
"Maybe there you can do quick research and learn about the sustainability side of building a green city ," he said.