Santri Tani Milenial, BPPSDMP Kementan Bentuk 850 Kelompok di Jabar
Indonesian Govt Support Agriculture in Islamic Boarding Schools
Editor : M. Achsan Atjo
Translator : Dhelia Gani

PUBLISHED: Minggu, 10 Maret 2019 , 18:53:00 WIB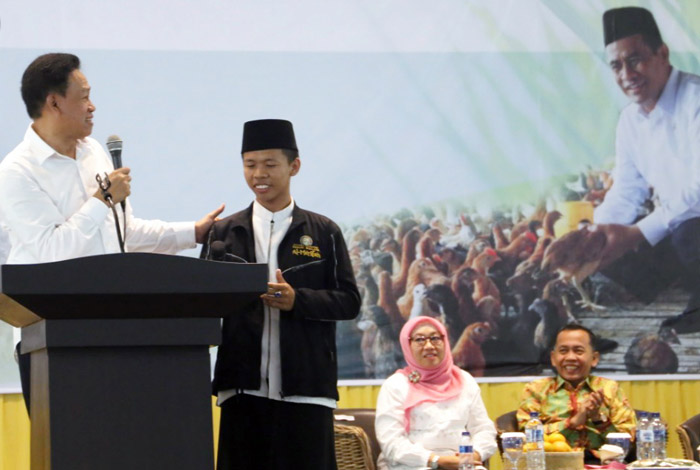 TERNAK AYAM: Kepala BPPSDMP Kementan, Momon Rusmono (dialog) dengan santri tani disaksikan Kepala Pusluhtan BPPSDMP, Siti Munifah (hijab pink) Foto: Humas Pusluhtan/Bima)
Cirebon, Jabar [B2B] - Sedikitnya 17.000 sampai 25.000 santri dari seluruh pondok pesantren di Provinsi Jawa Barat akan mendapat pelatihan agribisnis agar dapat menerapkan praktik usaha tani modern dari hulu ke hilir, yang diinisiasi oleh Menteri Pertanian RI Andi Amran Sulaiman, ditindaklanjuti oleh Badan Penyuluhan dan Pengembangan SDM Pertanian - Kementerian Pertanian RI [BPPSDMP] dengan membentuk 850 kelompok tani santri tani milenial disingkat KSTM.
"Tahun ini, Kementan menargetkan pengembangan 850 KSTM di seluruh Jabar, sebagai bagian dari upaya pemerintah membentuk santri berjiwa wirausaha agribisnis, khususnya budidaya ternak ayam, sehingga terbentuk santri yang ahli agama sekaligus wirausahawan muda," kata Kepala BPPSDMP Kementan, Momon Rusmono di Cirebon, Jabar pada Sabtu [9/3].
Menurutnya, setiap KSTM terdiri atas 20 hingga 30 santri yang akan mendapatkan bantuan ayam, kandang ayam, obat-obatan, dan pelatihan budidaya ternak ayam. Pondok pesantren sebagai lembaga sosial berbasis agama, memiliki potensi dan kekuatan yang diharapkan mampu menjadi penggerak nilai-nilai luhur santri tani dalam kehidupan termasuk menjaga tradisi pertanian.
"Pondok pesantren sebagai lembaga keagamaan tidak hanya membangun karakter manusia tetapi juga berpartisipasi dalam pembangunan, termasuk pembangunan pertanian khususnya keberlanjutan pangan. Pesantren dan pertanian saling melengkapi, baik nilai maupun kultur yang selama ini dibangun. Pengembangan KSTM diharapkan membuka akses pesantren mendapat bantuan pendidikan dan pelatihan pertanian akan lebih mudah," kata Momon R.
Tampak hadir Kepala Distan Pemkab Cirebon, Ali Efendi; Staf Khusus Mentan, Sam Herodian; Kepala Pusluhtan BPPSDMP Kementan, Siti Munifah; dan Kepala PPMKMP Ciawi, Heri Yulianto.
Dia menambahkan bahwa pemerintah mengakui eksistensi 28.000 pondok pesantren di seluruh RI berperan strategis mendukung pembangunan pertanian, sejalan dengan kebijakan Kementerian Pertanian RI menggandeng pondok pesantren sebagai lembaga dakwah yang menjalankan nilai-nilai Islam secara detail, khusus, dan intensif, namun juga menjalankan aktifitas pertanian untuk penghidupannya.
"Mayoritas pondok pesantren tetap mempertahankan cara hidup dengan bercocok tanam sebagai kegiatan bertani yang sudah menjadi kebiasaan turun temurun. Awalnya, bercocok tanam dilakukan pesantren untuk memenuhi kebutuhan terutama pangan bagi warga pesantren, dan berkembang untuk kegiatan agribisnis bagi masyarakat di luar pesantren," katanya.
Menurutnya, pondok pesantren juga dapat menjadi wadah strategis bagi pengembangan teknologi pertanian di daerah pedesaan melalui kemampuan para santri tani melakukan olah inovasi yang kemudian disosialisasikan kepada masyarakat sekitarnya. (Liene)
Cirebon of West Java [B2B] - At least 17,000 to 25,000 students of Islamic boarding schools or the santri in pesantren of West Java province will get agribusiness training to apply modern agriculture of upstream to downstream was initiated by Agriculture Minister Andi Amran Sulaiman, and followed up by Directorate General of Extension and Agricultural HR Development or the BPPSDMP by developing 850 santri farmer groups or the KSTM.
"This year, the agriculture ministry is target the development of 850 KSTM in West Java province as part of the government´s efforts to form santri with the spirit of agribusiness entrepreneurship, especially chicken farms, to form santri spirited young entrepreneurs," said the Director General of BPPSDMP, Momon Rusmono here on Saturday [March 9].
According to him, each KSTM consists of 20 to 30 santri will receive assistance of chickens, chicken coops, medicines, and chicken farming training. The pesantren as religious-based social institutions have the potential and driving force of agriculture in the countryside.
"The pesantren as the religious institutions not only build human character but also participate in development, including agricultural development, especially food sustainability. The pesantren and agriculture is expected to open access for pesantren to get education assistance and training in agriculture will be easier," Rusmono said.
He said, the government acknowledge existence of 28,000 Islamic boarding schools or pesantren across the country has a strategic role to support Indonesia agricultural development, in line with agriculture ministry´s policy of cooperate with pesantren missionary institution that carries out Islamic values in detail, specifically and intensively, it also runs agricultural activities for its livelihood.
"The majority of pesantren still maintain way of life by farming as farming activities that have become a hereditary habit. Initially, farming was carried out by pesantren to meet the food needs of pesantren students, and to developing agribusiness activities for people outside of pesantren," Rusmono said.
According to him, the pesantren can also be a strategic place for developing agricultural technology in rural areas through the ability of santri to carry out innovations which are then socialized to surrounding community.