Kementan Targetkan Produksi Pangan Tahun Depan Meningkat
Millennial Farmers Development are the Target of Indonesia`s Polbangtan Medan
Editor : Cahyani Harzi
Translator : Dhelia Gani

PUBLISHED: Minggu, 12 November 2023 , 19:30:00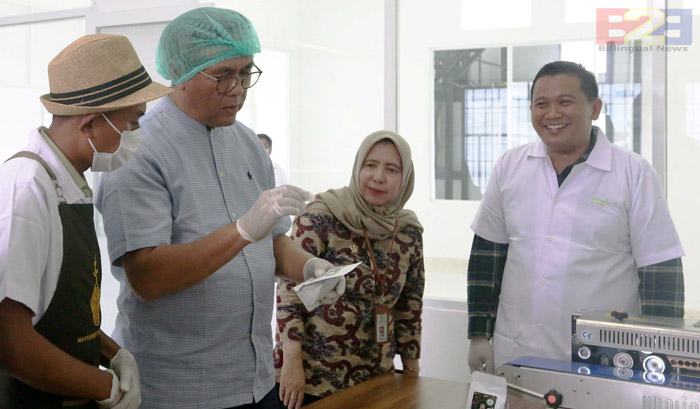 POLBANGTAN MEDAN: Direktur Polbangtan Medan, Yuliana Kansrini [ke-2 kanan] mendampingi Staf Khusus Mentan, Sam Herodian mengunjungi Miniplant Industry dan Coffee Nursery usai memberikan Kuliah Umum di Polbangtan Medan.
Medan, Sumut [B2B] - Kementerian Pertanian RI menargetkan produksi pangan pada 2024 akan meningkat hingga 35 juta ton beras, dan pada 2026, Indonesia akan kembali swasembada pangan, sehingga Indonesia tidak perlu lagi melakukan impor beras.

Demikian disampaikan oleh Staf Khusus Menteri Pertanian RI, Sam Herodian dalam kuliah umum di hadapan para dosen, mahasiswa Politeknik Pembangunan Pertanian (Polbangtan) Medan, Jumat (10/11/2023) di aula Polbangtan Medan.

Hal itu sejalan dengan arahan Menteri Pertanian RI Andi Arman yang melakukan pembenahan besar-besaran untuk meningkatkan produktivitas dan produksi pangan Indonesia sehingga menjadi lumbung pangan dunia di 2033.

Sam menambahkan, target swasembada pangan didukung adanya program akselerasi yang dilakukan Kementan untuk mempercepat swasembada. Selain itu dukungan teknologi mekanisasi juga dilakukan.

"Jika kita tidak bergerak cepat untuk melakukan swasembada pangan, bisa saja kita akan mengalami krisis pangan. Untuk itu kita harus berupaya terlepas dari ketergantungan negara lain dalam hal penyediaan pangan," ujarnya.

Seperti diketahui, saat ini Indonesia terpaksa melakukan impor beras untuk mencukupi kebutuhan pangan. Langkah-langkah percepatan untuk swasembada sudah dilakukan cepat oleh Mentan Amran Sulaiman.

"Tahun depan kita tidak akan lagi mengimpor beras, karena target produksi pangan terus meningkat hingga akhirnya pada 2033, Indonesia akan menjadi lumbung pangan dunia," kata Sam dalam Kuliah Umum bertajuk ´Menuju Lumbung Pangan Dunia´.

Hal yang sama disampaikan Kepala Badan Penyuluhan dan Pengembangan SDM Pertanian Kementan [BPPSDMP] Dedi Nursyamsi yang mengatakan bahwa target akselerasi percepatan adalah terwujudnya swasembada pangan pada 2026 mendatang, sehingga Indonesa dapat menekan impor.

Sementara Direktur Polbangtan Medan, Yuliana Kansrini, dalam kata sambutannya pada Kuliah Umum, berharap agar mahasiswa bisa fokus dan memahami Kuliah Umum yang disampaikan sehingga mengetahui kondisi pertanian dan program apa saja yang saat ini sedang dilaksanakan oleh Kementan.

"Diharapkan setelah mengikuti perkuliahan ini, pengetahuan mahasiswa Polbangtan Medan akan meningkat dan menambah wawasan dalam hal pertanian," imbuh Yuliana.

Setelah memberikan kuliah umum, Sam Herodian yang juga akademisi IPB berkesempatan mengunjungi Miniplant Industry dan Coffee Nursery yang dimiliki Polbangtan Medan.

Sam menyampaikan sangat bangga dengan kemajuan Polbangtan Medan yang memiliki laboratorium kopi. [ira/timhumaspolbangtanmedan]
Medan of North Sumatera [B2B] - The role of agricultural vocational education in Indonesia such as the the Agricultural Development Polytechnic or the Polbangtan, to support Indonesian Agriculture Ministry seeks to maximize its efforts to produce millennial entrepreneur.

Youth Enterpreneurship And Employment Support Services Programme or the YESS, to support Indonesian Agriculture Ministry seeks to maximize its efforts for the millennial entrepreneur.

Indonesian Agriculture Ministry, Andi Amran Sulaiman stated that the government´s commitment to developing agriculture, especially in the development of advanced, independent and modern agricultural human resources.

The goal is to increase the income of farming families and ensure national food security. Farmer regeneration is a commitment that we must immediately realize.

He reminded about the important role of vocational education, to produce millennial farmers who have an entrepreneurial spirit.

Through vocational education, we connect campuses with industry so that Polbangtan graduates meet their needs and are ready for new things.