Sawah Zona Aman, Kepala BPPSDMP Ajak Penyuluh, Petani Tetap Bekerja
Indonesian Agriculture Ministry Anticipate Covid-19 by Weaker Health Systems
Reporter : Gusmiati Waris
Editor : Cahyani Harzi
Translator : Dhelia Gani

PUBLISHED: Jum'at, 03 April 2020 , 19:03:00 WIB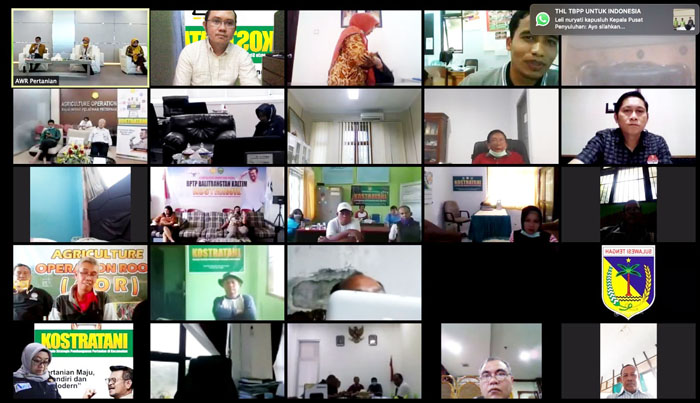 TELEKONFERENSI di fasilitas AWR KostraTani [Foto: Humas BPPSDMP Kementan]
Jakarta [B2B] - Sinar matahari bermanfaat meningkatkan imunitas tubuh dan kesehatan tulang. Lahan pertanian merupakan tempat berlimpahnya sinar ultraviolet yang bermanfaat menangkal virus Corona, sehingga sawah merupakan zona aman untuk bekerja, asalkan tetap mematuhi jaga jarak dan cuci tangan setelah bertani.
"Lahan pertanian umumnya berada di zona aman atau zona hijau, selain itu sinar matahari berlimpah di lahan pertanian akan membuat virus Corona pemicu Covid -19 tidak aktif. Asalkan tetap mematuhi Protokol Kewaspadaan. Jarak minimum dua meter saat olah tanah dan panen. Hindari kerumunan. Cuci tangan pakai sabun setelah beraktivitas," kata Kepala BPPSDMP Prof Dedi Nursyamsi saat telekonferensi dengan penyuluh dan petani di seluruh Indonesia di Jakarta, Jumat pagi [3/4] melalui Agriculture War Room - Komando Strategis Pembangunan Pertanian [AWR - KostraTani].
Dia juga mengapresiasi semangat para petani didampingi penyuluh hingga saat ini tetap olah tanah, olah tanam, pemupukan hingga panen di seluruh sentra produksi pangan.
"Sangat luar biasa kalian tetap produktif menanam, panen, dan tetap aktif melakukan penyuluhan meskipun dengan metode secara online dan menjaga jarak. Saya selalu imbau petani untuk gunakan Alsintan, pupuk berimbang, teknik budidaya yang baik," kata Dedi Nursyamsi didampingi Kepala Pusat Penyuluhan Pertanian [Pusluhtan BPPSDMP] Leli Nuryati.
Kepada penyuluh, dia mengingatkan untuk mengefektifkan fungsi Agriculture Operation Room [AOR] dari KostraTani. Tetap aktif dan produktif mendampingi petani agar proses budidaya berjalan baik serta memastikan kelancaran distribusi pangan.
Mengutip instruksi dan arahan Menteri Pertanian Syahrul Yasin Limpo [SYL], Dedi Nursyamsi menegaskan bahwa sektor pertanian yang menjadi perekat dan pemersatu bangsa menghadapi pandemi global Covid-19, untuk menyediakan pangan bagi 267 juta penduduk sekaligus penyerap tenaga kerja dan mendukung stabilitas nasional.
"Pandemi global Covid-19 luar biasa dampaknya terhadap berbagai aspek kehidupan. Pertanian tidak boleh berhenti terutama untuk melawan serangan ini untuk menyediakan pangan bagi rakyat. Ini saatnya kita menjadi pahlawan untuk menyelamatkan bangsa, tentunya dengan memperhatikan protokol pencegahan Covid-19 saat beraktivitas ditengah lapangan", kata Dedi Nursyamsi yang didampingi Kasubbid Informasi dan Materi Penyuluhan - Pusluhtan, Septalina Pradini selaku host telekonferensi. [Cha]
Jakarta [B2B] - Indonesia´s Agriculture Ministry is in intensive care after testing positive for the novel coronavirus, as civil servants in head office and across the country were ordered to close over the health threat. The World Health Organization has said it is particularly concerned about high-risk nations with weaker health systems, which who may lack the facilities to identify cases, according to official of the region.