Panen Sambas, Kementan Tagih Komitmen Bulog Serap Gabah Petani
Indonesia`s Sambas Rice Harvest area reaches 1,500 Hectares this Month
Editor : M. Achsan Atjo
Translator : Dhelia Gani

PUBLISHED: Selasa, 13 Februari 2018 , 19:35:00 WIB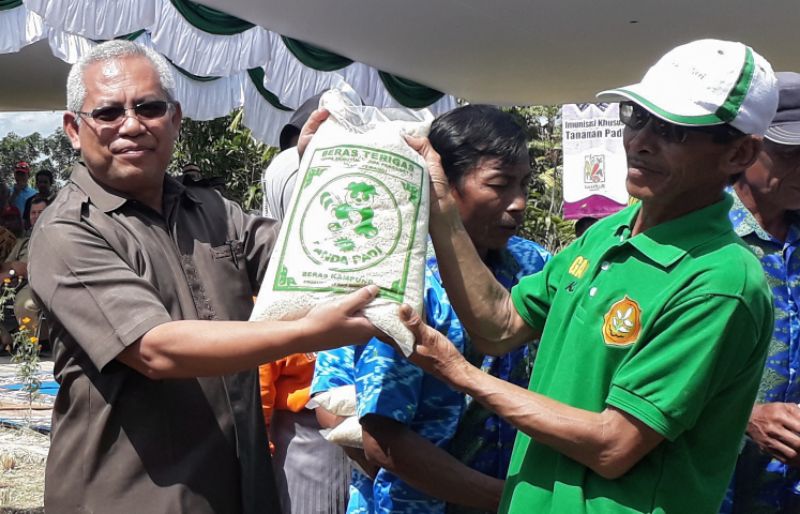 Sekretaris Badan SDM Pertanian Kementan (BPPSDMP) Surachman Suwardi (kiri) Foto: B2B/M. Achsan Atjo
Sambas, Kalbar (B2B) - Sekretaris Badan SDM Pertanian Kementan (BPPSDMP) Surachman Suwardi mengingatkan komitmen Bulog menyerap gabah petani untuk panen raya Februari - Maret 2018, dan mengapresiasi Bulog Subdivre Singkawang menyerap 1,9 ton beras hasil panen perdana Gapoktan Mekar Bersatu di Desa Tebas Sungai, Kecamatan Tebas, Kabupaten Sambas, Selasa (13/2) dari potensi panen 1.500 hektar.
"Kementan harapkan dukungan penuh Bulog untuk menyerap gabah petani sebanyak-banyaknya hingga memenuhi gudang Bulog untuk cadangan beras hingga beberapa bulan ke depan ," kata Surachman Suwardi yang hadir di Sambas mewakili Kepala BPPSDMP Kementan, Momon Rusmono.
Seruan tersebut sesuai instruksi Mentan Andi Amran Sulaiman kepada jajaran pimpinan di Kementan untuk selalu mengingatkan Bulog di daerah yang dikunjungi, agar BUMN penyanggah kebutuhan pangan tersebut melaksanakan instruksi Presiden RI Joko Widodo.
Kepala Bulog Subdivre Singkawang, Nancy Safira berjanji akan berupaya menyerap gabah petani di tiga kabupaten yakni Sambas, Singkawang, dan Bengkayang yang didukung dua gudang berkapasitas total 14.000 ton beras.
"Bulog Singkawang akan serap gabah petani sesuai instruksi pemerintah," kata Nancy Safira.
Pangdam XII Tanjung Pura Mayjen TNI Achmad Supriyadi mengapresiasi janji bos Bulog Singkawang, "sehingga Babinsa tidak perlu kejar-kejaran dengan pegawai Bulog."
Surachman mendorong peningkatan produksi di Sambas dengan potensi lahan sawah 68.644 hektar, luas tanam 112.126 hektar dan indeks pertanaman 163,31, yang diharapkan dapat mendukung swasembada kabupaten dan surplus beras dapat mendukung kebutuhan bahan pokok di Kalbar.
Harapan tersebut diamini oleh Wakil Bupati Sambas, Hj Hairiah yang mengacu pafa Angka Ramalan (Aram II) 2017 yakni 101.155 hektar, produktivitas 27,92 kuintal per hektar, dan produksi 282.443 ton gabah kering giling (GKG).
"Produksi padi Sambas tersebut sangat berharga dan menjadi perhitungan untuk ketersediaan pangan kabupaten pada khususnya, dan Sambas sampai saat ini tetap menjadi lumbung beras utama Kalbar," kata Hj Hairiah.
Sambas of West Borneo (B2B) - Indonesian government through the Director General of HR Agriculture of Agriculture Ministry reminded Logistics Agency (Bulog) buy grain of farmers ahead of the peak of rice harvest, January - March 2018, and appreciate Bulog Singkawang buys 1.9 tons of rice from Mekar Bersatu group farmers´ in Tebas Sungai village of Tebas subdistrict in Sambas, West Borneo.
"The ministry expects Bulog to buy grain of farmers as much as possible to meet rice warehouses as rice reserves up to several months ahead," said Mr Suwardi who was visit to Sambas representing his boss, Momon Rusmono.
The instruction from the Minister of Agriculture Andi Amran Sulaiman to subordinate to always remind Bulog in the area to implement the program of President Joko Widodo.
Head of Bulog Singkawang, Nancy Safira promised to buy grain farmers in three districts of Sambas, Singkawang and Bengkayang supported by two warehouses with a total capacity of 14,000 tons of rice.
As reported, the ministry data states that the national rice cultivation area from July to September 2017 reaches 1.0 - 1.1 million hectares per month or doubled before there is a special program, rice production is only 500,000 hectares per month.
Bulog Singkawang will buy grain farmers according to government instructions, "said Nancy Safira.
The West Borneo´s Tanjung Pura Military Commander, Major General TNI Achmad Supriyadi appreciated the promise of Bulog Singkawang,, "so I does not need to chase with the Bulog staff."
Mr Suwardi encourages increased rice production in Sambas from by potential of 68,644 hectares of rice fields, 112,126 hectares of planting area and 163.31 cropping index, which is expected to support district self-sufficiency and rice surplus can support staple needs in West Borneo.
This is justified by the Vice Regent of Sambas, Hj Hairiah which refers to the number of forecast two of 2017 ie 101,155 hectares, productivity 27.92 quintal per hectare, and production of 282,443 tons of dried unhulled grain.
"Sambas rice production is very valuable and a calculation for the availability of food district, and Sambas until now remain a rice granary province," said Hj Hairiah.