Sosialisasi KostraTani, Gubernur Banten Dukung Program yang Digagas Mentan SYL
Indonesia`s Agricultural Extension Connected through the KostraTani
Reporter : Gusmiati Waris
Editor : Cahyani Harzi
Translator : Dhelia Gani

PUBLISHED: Kamis, 23 Januari 2020 , 19:06:00 WIB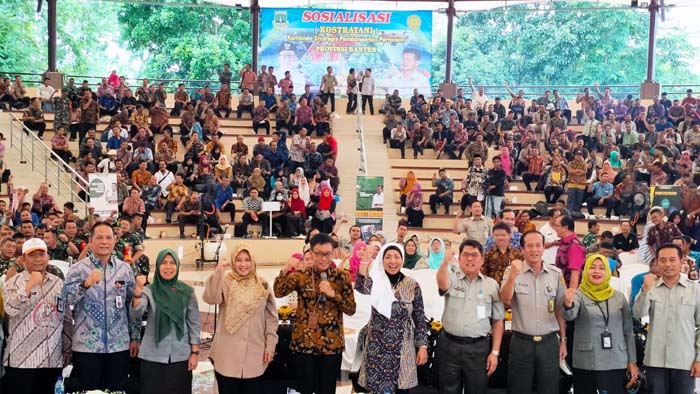 1.100 PESERTA: Kepala BPPSDMP Kementan, Prof Dedi Nursyamsi [ke-5 kiri] bersama Bupati Pandeglang, Irna Narulita [ke-4 kiri] dan Kepala Pusdiktan, Idha WA [ke-5 kanan] dan Kabid Penyelenggaraan Pendidikan, Ismaya NR Parawansa [ke-2 kanan]
Serang, Banten [B2B] - Gubernur Banten Wahidin Halim kepada Kepala BPPSDMP Kementan, Prof Dedi Nursyamsi menyatakan dukungan penuh pada Program KostraTani yang digagas Menteri Pertanian RI Syahrul Yasin Limpo [SYL] untuk revitalisasi peran penyuluh dan balai penyuluh pertanian [BPP] di tingkat kecamatan sebagai sahabat petani dari hulu hingga hilir, setelah terbukti kesekian kalinya, hanya sektor pertanian yang bertahan ketika terjadi turbulensi ekonomi global dalam beberapa dekade terakhir.
"Pertumbuhan ekonomi makro mengakibatkan turbulensi global, dan yang bertahan hidup adalah mereka yang berkecimpung di sektor pertanian. Banten mendukung KostraTani yang digagas Mentan, penyuluhan pertanian harus bangkit untuk mengembalikan jati diri penyuluh sebagai sahabat petani. Penyuluh harus proaktif dan konsisten mendukung petani sampai ke pelosok desa sehingga dapat mengelola pertanian dari hulu hingga hilir secara baik," kata Gubernur Wahidin Halim dalam sambutannya pada Sosialisasi KostraTani di Plaza Aspirasi KP3B Serang, Banten yang dihadiri 1.100 peserta yang dihadiri Bupati Pandeglang, Irna Narulita, Kamis pagi [23/1].
Menurutnya, Pemprov Banten telah menyusun ´Roadmap Potensi Pertanian Banten´ serta mengembangkan BUMD Pertanian, yang bertujuan menangkal upaya tengkulak memperdaya petani, maka BUMD Pertanian akan mendukung distribusi, pemasaran, pengemasan dan pelabelan produk pertanian Banten yang bertujuan meningkatkan kesejahteraan petani sekaligus melindungi kepentingan konsumen terhadap hasil produksi pertanian yang sehat dan harga terjangkau.
"Saya lahir dari keluarga sederhana, dan akrab dengan pertanian sejak kecil. Indonesia adalah negara subur, maka kita harus mengelolanya dengan baik. Harus dimulai dari skala rumah tangga maka ada peternakan ayam, kolam ikan, tanah untuk ditanami sayur-sayuran, minimal untuk mencukupi kebutuhan keluarga," kata Gubernur Wahidin Halim.
Kepala BPPSDMP Prof Dedi Nursyamsi mengatakan Mentan SYL telah menetapkan lima ´program jangka pendek´ meliputi akurasi data lahan dan produksi pertanian dan pengembangan Agriculture War Room [AWR]; membangun Komando Strategis Pembangunan Pertanian [KostraTani] hingga tingkat kecamatan untuk revitalisasi peran penyuluh dan BPP; menjamin ketersediaan pangan strategis tiga bulan ke depan; sinergitas penguatan manajemen pembangunan pertanian lintas kementerian, melibatkan perguruan tinggi dan didukung pemerintah daerah; pembiayaan pertanian melalui perbaikan konsep asuransi dan inisiasi bank pertanian.
"Pertanian merupakan sektor strategis meningkatkan pembangunan ekonomi nasional. Kontribusi dalam hal penyediaan pangan bagi 237 juta penduduk Indonesia, penyediaan bahan baku industri, peningkatan produk domestik bruto atau PDB dan penyediaan lapangan kerja merupaka aksi nyata sektor pertanian terhadap pembangunan nasional," kata Dedi Nursyamsi.
Serang of Banten [B2B] - The Indonesian Agriculture Ministry to disseminate the development of agricultural extension centers at the sub-district level [BPP] into the center of Indonesian agricultural development [KostraTani] across the country, according to senior official of the ministry.