Diskusi Forwatan, Dirjen PSP Elaborasi Tujuan Program #Serasi di Lahan Rawa
Indonesian Govt Develop Million Hectares of Swamp Land for Farmers
Reporter : Gusmiati Waris
Editor : Cahyani Harzi
Translator : Dhelia Gani

PUBLISHED: Rabu, 24 April 2019 , 20:10:00 WIB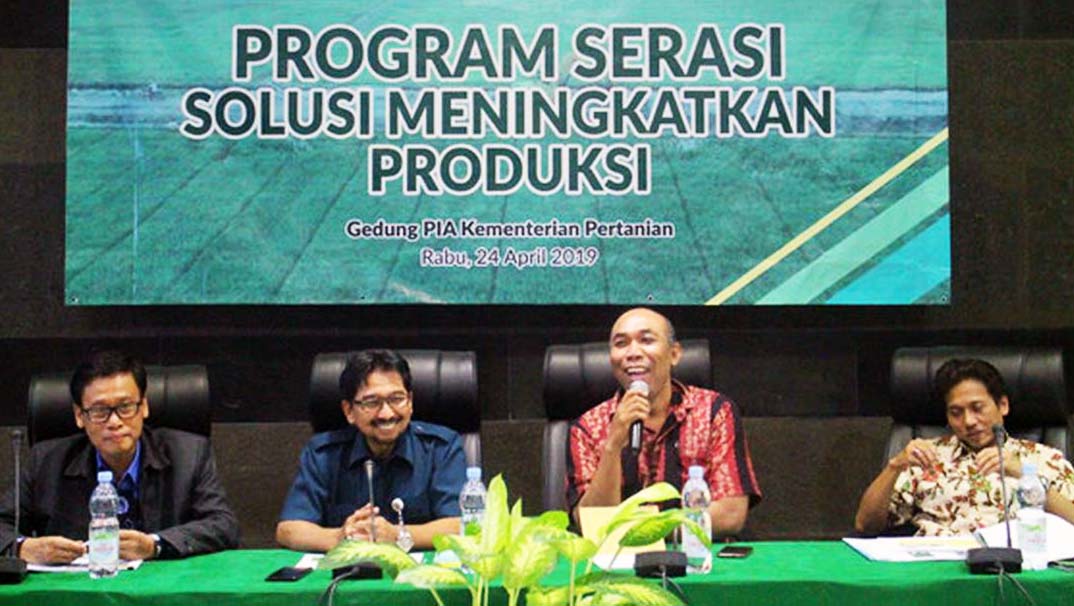 INDEKS PERTANAMAN: Dirjen PSP Sarwo Edhy [ke-2 kiri]; Staf Ahli Mentan bidang Infrastruktur, Dedi Nursyamsi [kiri] dan Sekretaris Ditjen Tanaman Pangan, Bambang Pamuji [Foto: istimewa]
Jakarta [B2B] - Program ´Selamatkan Rawa Sejahterakan Petani´ atau #Serasi didukung penuh Direktorat Jenderal Prasarana dan Sarana Pertanian [Ditjen PSP] untuk perbaikan/penyempurnaan infrastruktur seperti pembuatan tanggul, penataan jaringan irigasi dan bangunan pelengkapnya dan pemasangan pompa air, sesuai target Menteri Pertanian RI Andi Amran Sulaiman mengembangkan lahan rawa 500.000 ha pada 10 provinsi di Sumatera, Kalimantan dan Sulawesi.
"Sesuai arahan Mentan, program #Serasi bertujuan mengoptimalkan potensi lahan rawa untuk meningkatkan produktivitas dan indeks pertanaman sebagai solusi alih fungsi lahan [konversi] dari lahan baku sawah di seluruh Indonesia yang mencapai 75 ribu hingga 100 ribu hektar," kata Dirjen PSP Sarwo Edhy di Jakarta, Rabu siang [24/4] pada diskusi pertanian yang digelar Forum Wartawan Pertanian [Forwatan].
Sebagaimana diketahui, potensi lahan rawa nasional mencapai 34,12 juta ha terdiri atas lahan pasang surut 8,9 juta ha dan lahan lebak 25,20 juta ha dari total daratan Indonesia seluas 191,1 juta ha berupa lahan basah 46,6 juta ha dan lahan kering 144,5 juta ha.
Program #Serasi saat ini sedang dan akan dilaksanakan di tiga provinsi: Sumatera Selatan, Kalimantan Selatan, dan Sulawesi Selatan, dengan tetap memperhatikan fungsi pelestarian lingkungan sebagai sumber penghasil bahan pangan.
"Ada juga permintaan dari Lampung dan Riau, karena program ini telah berhasil menanam padi seluas 10 ribu hektar. Ditjen PSP mendukung fasilitasi berupa penyiapan infrastruktur dan penyediaan sarana produksi sehingga mampu meningkatkan indeks pertanaman [IP] dan produktivitas di lahan rawa," kata Dirjen Sarwo Edhy.
Menurutnya, keberhasilan program pengembangan tidak hanya mengelola secara fisik, juga harus didukung oleh proses pengawalan dan pendampingan yang baik, maka dibutuhkan sistem pengendalian yang baik pula sehingga output dan sasaran program tercapai.
"Pengembangan rawa melalui program Serasi ini memerlukan sinergi yang serius dari pemerintah daerah dan pusat. Motivasi utama adalah meningkatkan IP dan produksi pertanian, sekaligus mendukung peningkatan pendapatan masyarakat sehingga bermuara pada kesejahteraan petani," kata Sarwo Edhy. [Sur]
Jakarta (B2B) - Indonesian government launched the swamp land use program for agriculture or the #Serasi with an initial target of 400,000 hectares in six provinces of nine provinces across the country aim to support the welfare of farmers based cooperative.
The six provinces include Jambi, South Sumatra, Lampung, South Borneo, West Borneo and Central Borneo. The next targets are Riau, North Borneo and Papua.
The ministry´s Director General Infrastructure and Facilities, Sarwo Edhy said that the #Serasi program would have a positive impact for the people, which will be handled by professionals such as retired ministry officials and other agencies such as the Indonesian Army.
"The government chooses retired ministry officials according to their competence and work experience, to develop modern agriculture, in accordance to President Joko Widodo´s expectations," he said.
DG Edhy said the swamp land for agriculture will be integrated to the fields, farms, plantations were realized this year ministry.