KostraTani Jateng, Pemkab dan DPRD Semarang Sambangi Kepala BPPSDMP Kementan
Indonesian Agriculture Ministry Coordinated with Regional Government
Editor : M. Achsan Atjo
Translator : Dhelia Gani

PUBLISHED: Kamis, 09 Januari 2020 , 20:21:00 WIB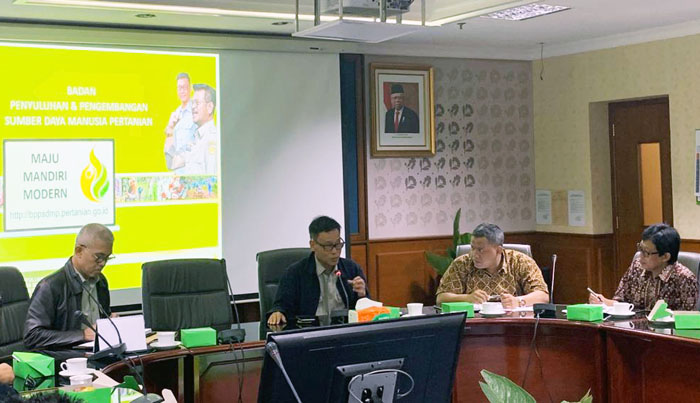 KOMUNIKASI & KOORDINASI: Kepala BPPSDMP Kementan, Prof Dedi Nursyamsi [ke-2 kiri] bersama Kadis Pemkab Semarang, Wigati Suni dan Kabid Penyelenggaraan Penyuluhan - Pusluhtan, I Wayan Ediana [kiri] Foto: Humas BPPSDMP
Jakarta [B2B] - Komunikasi dan koordinasi antara legislatif dan eksekutif maupun pemerintah pusat dan daerah adalah kunci keberhasilan pembangunan nasional. Hal itu ditunjukkan oleh Kepala BPPSDMP Kementan, Prof Dedi Nursyamsi saat menerima kunjungan Ketua Komisi B dan Anggota DPRPD Kabupaten Semarang, Tarmuji dan Rizka Dwi Prasetyo didampingi Kepala Dinas Pertanian Perikanan dan Pangan Kab. Semarang, Wigati Suni di Jakarta, Kamis [9/1].
Prof Dedi Nursyamsi mengatakan harmonisasi dan kesamaan visi dan misi untuk membangun pertanian memang dibutuhkan saat ini. Tak hanya di pusat, pemerintah daerah dalam hal ini Kabupaten Semarang diharapkan mampu mendukung pembangunan pertanian bersama Kementerian Pertanian RI untuk mendukung pengembangan Program Komando Strategis Pembangunan Pertanian di Kecamatan [KostraTani].
Menurutnya, kehadiran legislator dan eksekutif dari Kabupaten Semarang memberi sinyal bagus bagi pengembangan KostraTani, tidak hanya untuk kekuatan jaringan internet fourth generation [4G] juga sinyal dari Pemkab Semarang untuk kemajuan pembangunan pertanian dari balai penyuluhan pertanian [BPP] selaku locust pertanian di tingkat kecamatan.
"Langsung catat BPP di Kabupaten Semarang sudah verifikasi untuk mendukung KostraTani," kata Dedi Nursyamsi yang juga menjabat Penanggung Jawab [PJ] KostraTanas dalam arahannya didampingi Kepala Bidang Penyelenggaraan Penyuluhan - Pusluhtan, I Wayan Ediana.
Dedi Nursyamsi menambahkan bahwa Kostratani adalah BPP plus teknologi informasi 4.0, sehingga di dalamnya akan ada penumbuhan pengusaha petani milenial, bimbingan Kredit Usaha Rakyat [KUR] sebagai modal utama penggerak ekonomi rakyat dari sektor pertanian.
"Kostratani juga menjadi pusat jejaring sehingga ke depan kelompok tani berkembang menjadi perkumpulan bisnis yang merencanakan kegiatan tanam, pengolahan dan pemasaran secara bersama-sama. Dengan berkelompok, KUR yang didapatkan menjadi lebih besar dan bisa menjadi traktor yang sebagai modal bersama meningkatkan efisiensi. Korporasi berjamaah, petani jangan berjalan sendiri-sendiri tetapi berkelompok, berjamaah," katanya.
Sementara Wigati Suni menjabarkan bahwa lahan pertanian di Kabupaten Semarang yang cukup luas, 95 ribu hektar, lebih dari 2/3 nya adalah sawah 23.000 hektar dan non sawah 36.000 hektar.
"Pertanian menjadi pilar penting untuk peningkatan kesejahteraan di Kabupaten Semarang, BPP juga sudah ada di 18 kecamatan yang membawahi 235 desa dan kelurahan, rata-rata semua sudah memiliki sinyal internet yang baik," kata Wigati Suni.
Sementara Tarmuji dan Rizka Dwi Prasetyo juga mengapresiasi upaya Kementerian Pertanian RI dalam mempercepat pembangunan pertanian melalui Kostratani. Program penumbuhan pengusaha tani milenial yang menjadi program utama BPPSDMP juga diapresiasi legislator karena bisa sangat sejalan di daerah khususnya tingkat kecamatan sebagai locust pertanian. [Prabu]
Jakarta [B2B] - The Indonesian Agriculture Ministry to disseminate the development of agricultural extension centers at the sub-district level [BPP] into the center of Indonesian agricultural development [KostraTani] across the country, according to senior official of the ministry.