47 Kecamatan di Sukabumi Antusias Sinkronisasi Data Simluhtan Kementan
Indonesia`s Agricultural Extension Information System for Farmer Group
Editor : M. Achsan Atjo
Translator : Dhelia Gani

PUBLISHED: Selasa, 15 Mei 2018 , 20:27:00 WIB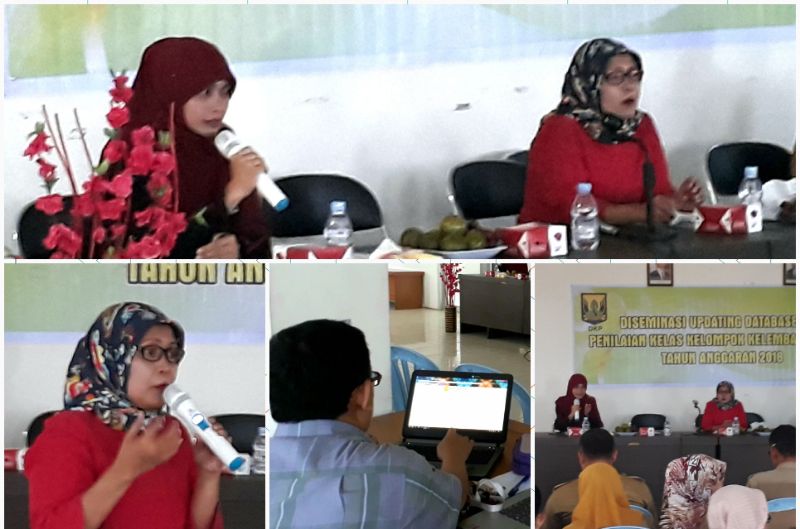 Kasubbid Materi dan Informasi Penyuluhan, Septalina Pradini mewakili Kabid Penyelenggaraan Penyuluhan, Zahron Helmy membuka kegiatan diseminasi didampingi fasilitator Dwihayanti (Foto: B2B/Mac)
Sukabumi, Jawa Barat (B2B) - Hampir 50 penyuluh pertanian di Balai Penyuluhan Pertanian, Perikanan dan Kehutanan (BP3K) dari 47 kecamatan di Kabupaten Sukabumi, Provinsi Jawa Barat antusias mengikuti kegiatan sinkronisasi dan pemutakhiran data dari sistem informasi penyuluhan pertanian (Simluhtan), untuk mendukung percepatan informasi penyuluhan pertanian.
Mereka proaktif mengikuti diseminasi pemutakhiran data (update) Simluhtan yang dipaparkan fasilitator Badan Penyuluhan dan Pengembangan SDM Pertanian (BPPSDMP) Kementerian Pertanian RI, Dwi Hayanti dan Hari Sumaryanto di Cisaat, Sukabumi pada Selasa pagi (15/5) yang dipimpin oleh Kepala Subbidang Materi dan Informasi Penyuluhan, Septalina Pradini mewakili Kepala Bidang Penyelenggaraan Penyuluhan, Zahron Helmy.
Topik yang mencuat dari kegiatan diseminasi antara lain tentang keragaman komoditas pertanian, skor kelas kemampuan kelompok tani (Poktan), kewajiban menulis berita dan artikel secara bergilir per pekan, dan laporan rutin setiap bulan ke koordinator penyuluh (Korluh) di kecamatan hingga tingkat kabupaten.
"Admin dari Simluhtan di tingkat kecamatan bertugas mengkoordinasikan pengumpulan data kelembagaan petani. Melakukan verifikasi dan validasi data kelembagaan pelaku utama dalam hal ini kelompok tani atau Poktan sebelum dimasukkan ke dalam Simluhtan," kata Septalina dalam arahannya setelah diseminasi dibuka oleh Kepala Dinas Ketahanan Pangan (DKP) Sukabumi, Sudradjat.
Dia mengingatkan Admin kecamatan di balai penyuluhan pertanian (BPP) untuk memasukkan data ke dalam Simluhtan, dan melakukan rekapitulasi data Simluhtan BPP setiap awal bulan.
Dwi Hayanti menambahkan keragaman komoditas pertanian mencuat lantaran banyak petani anggota Poktan yang juga memelihara ternak selain menanam padi sebagai komoditas utama. Begitu pula dengan skor kelas kemampuan Poktan dari level pemula, lanjut, madya, utama.
"Simluhtan diharapkan dapat menjadi capaian kinerja dari tiap BPP di kecamatan tentang inovasi dari petani atau Poktan mengembangkan komoditas pertanian, dan hal itu dituangkan dalam 47 berita dan artikel yang dilakukan bergilir setiap pekan di Cyber Extention," kata Dwi Hyanti.
Hari Sumaryanto mengharapkan setiap Admin di BPP kecamatan dari seluruh Sukabumi memanfaatkan menu Gerbang Daerah untuk menulis artikel dan materi khusus atau features di menu Spesifik Lokalita. Sementara untuk level nasional dapat memanfaatkan menu Gerbang Nasional untuk materi penyuluhan.
Sukabumi of West Java (B2B) - Nearly 50 agricultural extension workers at the Agricultural Extension, Fisheries and Forestry Agency (BP3K) from 47 districts in Sukabumi district of West Java province attended the synchronization and updating of data of agricultural extension information system or Simluhtan, support acceleration of agricultural extension information.
They proactively heard the exposure facilitator of Directorate General of Agricultural Human Resources in Indonesian Agriculture Ministry or the BPPSDMP Dwi Hayanti and Hari Sumaryanto here on Tuesday morning (May 15) is headed by the Head of Extension Program, Zahron Helmy is represented by his deputy Septalina Pradini and supported by Dwi Hayanti and Hari Sumaryanto as the facilitator.
The main topics of dissemination include diversity of agricultural commodities, farmer group grade scores, the obligation to write news and articles on a rotating basis per week, and monthly routine reports to the extension coordinators in subdistrict to the district level.
The admin of Simluhtan at the subdistrict level is in charge of coordinating data collection of farmers´ institutions, verifying and validating the institutional data of farmer group or Poktan in before being put into Simluhtan," Pradini said in her direction after the dissemination was opened by the Head of Sukabumi´s Food Security Agency, Adjat Sudradjat.
He reminded Admin to enter data into Simluhtan and recapitulate data at the beginning of each month.
Dwi Hayanti said that the diversity of agricultural commodities arises because many Poktan member farmers are also livestock besides planting rice as the main commodity. Similarly, the Poktan ability class score from beginner level, advanced, middle and main.
"The Simluhtan is expected to be a performance achievement of each BPP in the subdistrict on innovation of Poktan to develop agricultural commodities, and it is poured in 47 articles and articles that are rotated every week in Cyber Extention," Hayanti.
Sumaryanto expects every Admin from all district utilizing Gerbang Daerah menu to write articles and features in Spesifik Lokalita menu. While for the national level can utilize the Gerbang Nasional menu for extension materials.