PWMP LimaO Syrup, Kisah Sukses Kolaborasi STPP Yogyakarta - Untan Pontianak
Indonesia Develops Young Farm Entrepreneurs in West Borneo
Editor : M. Achsan Atjo
Translator : Dhelia Gani

PUBLISHED: Selasa, 03 April 2018 , 20:43:00 WIB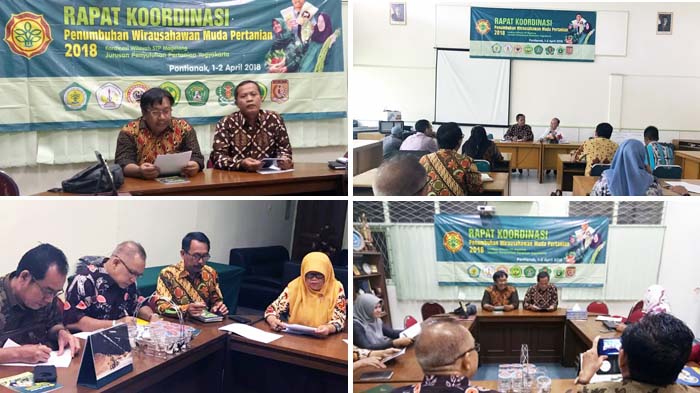 Ketua STPP Yogyakarta, Ali Rachman memimpin rapat koordinasi PWMP 2018 di Kalimantan Barat (kiri atas), Ketua Pelaksana PWMP, Siti Astuti dan Kabag Administrasi Umum, Irwan Johan Sumarno (kiri bawah) Foto2: Humas STPPYogyakarta
Pontianak, Kalbar (B2B) - Kementerian Pertanian RI mengapresiasi dan mendorong pengembangan agrosociopreneur produk minuman LimaO Syrup di Pontianak, Kalimantan Barat, dalam upaya regenerasi petani melalui program Penumbuhan Wirausahawan Muda Pertanian (PWMP) sehingga mampu menaikkan harga jeruk limau dari Rp3.000 menjadi Rp6.000 per kg.

Inilah kisah sukses dari kolaborasi Sekolah Tinggi Penyuluhan Pertanian - STPP Yogyakarta dan Universitas Tanjungpura (Untan) memotivasi mahasiswa dan alumni fakultas pertanian mencintai sektor agribisnis.

Hal itu dikemukakan oleh Ketua STPP Magelang, Ali Rachman; dan Ketua Pelaksana PWMP STPP Yogyakarta, Siti Astuti didampingi Kabag Administrasi Umum STPP Magelang, Irwan Johan Sumarno pada rapat koordinasi PWMP 2018 di Pontianak, Minggu (1/4).

Ali Rachman mengatakan 88 kelompok siswa, mahasiswa, dan alumni perguruan tinggi diberi kesempatan untuk mengembangkan usaha di sektor pertanian, seperti dikembangkan oleh Kelompok PWMP LimaO Syrup - Pontianak, yang berhasil menaikkan nilai jual jeruk limau di kisaran Rp3.000 di tingkat petani menjadi Rp6.000 per kg setelah dibeli oleh LimaO Syrup.

"Inovasi yang sangat bagus, perlu dikembangkan variasi rasa dan manfaat produk terutama untuk kesehatan konsumen. Usahakan produk ini mampu merajai 50 persen pasar sirup di Pontianak," katanya.

Fungsi Sosial PWMP
Dia mengharapkan PWMP bisa berkembang dengan menggandeng petani dan potensi pertanian setempat, seraya mengingatkan agar bahan baku sirup dari petani harus dibeli dengan harga yang lebih tinggi sebagai upaya nyata wirausahawan muda turut meningkatkan kesejahteraan petani lokal.

Siti Astuti selaku Ketua Pelaksana PWMP STPP Yogyakarta mengingatkan tentang konsep wirausaha bidang pertanian diharapkan mengedepankan aspek sosial di masyarakat, tidak hanya mengejar keuntungan usaha tapi juga wajib peduli kepada masyarakat sekitar, khususnya petani gurem.

"Kami berharap program PWMP dengan sasaran siswa SMK PP, mahasiswa STPP dan alumni perguruan tinggi yang telah berjalan tiga tahun dapat melahirkan wirausahawan muda pertanian yang sekaligus menjadi penggerak dan menciptakan lapangan kerja baru," katanya.

Ketua Kelompok PWMP LimaO Syrup, Panca mengaku mengembangkan produk minuman tersebut didukung dua anggota kelompoknya dengan bahan baku jeruk limau yang dikenal sebagai jeruk sambal, yang harga jualnya sangat murah namun dengan kreativitas dan kerja keras mereka, dapat meningkatkan ´posisi tawar´ jeruk limau dengan harga yang menguntungkan petani.

Panca mengatakan setelah kelompoknya mendapatkan bantuan program PWMP dari Kementan pada 2017, saat ini telah memiliki beberapa kedai limau di Pontianak, ibukota Provinsi Kalbar, dan pembelinya dari berbagai kalangan. Juga aktif mengikuti pameran produk pertanian hingga ke perbatasan Indonesia dan Malaysia.

"Produk kami sudah menembus pasar retail, rumah makan, hypermart seperti Transmart, toko oleh-oleh khas Pontianak dan pemesanan melalui aplikasi online. Harganya Rp25 ribu per botol," kata Panca.
Pontianak of West Borneo (B2B) - Indonesian Agriculture Ministry appreciates and encourages agribusiness development of beverage product, LimaO Syrup in Pontianak, West Borneo province for regeneration of farmers through the program of young agricultural entrepreneurs or PWMP so as to raise the price of limes from 3,000 rupiah to 6,000 rupiah per kg, according to senior officials.

This is the success story of collaboration of Yogyakarta´s Agriculture Extension College or STPP Yogyakarta and Pontianak´s Tanjungpura University to motivate students and alumni of agriculture faculty to develop agribusiness opportunities.

It was stated by the Rector of STPP Yogyakarta, Ali Rachman and Person in Charge of PWMP STPP Yogyakarta, Siti Astuti accompanied by the Head of General Affairs of STPP Yogyakarta, Irwan Johan Sumarno at the coordination meeting here on Sunday (March 1).

Mr Rachman said 88 groups of students, college students and alumni attended training to develop businesses in the agricultural sector, as developed by the LimaO Syrup Group - Pontianak, who increase the value added of lime into a beverage product.

"Innovation is very good and that needs to be developed variation of taste and benefit of product especially for consumer health," he said.

PWMP´s Social Function
He expects PWMP to develop itself through cooperation with farmers, warning that raw materials of syrup products should be purchased at high prices for the welfare of farmers.

Mrs Astuti reminded about concept of agricultural entrepreneurs are expected to prioritize social aspects in society, not only to pursue business profits but also must care for the community, especially small farmers.

"We expect the PWMP program to target high school students in agriculture, agricultural academies, and university alumni for three years there will be young agricultural entrepreneurs who are driving the economy and creating new jobs," he said.

Chairman of the PWMP group LimaO Syrup, Panca admitted to developing the beverage product is supported lime raw material known as orange sauce, whose selling price is very cheap but with their creativity and hard work, can increase the ´bargaining position´ of limes with prices that benefit farmers.

Panca said after the group received assistance from the ministry´s PWMP program in 2017, it currently has several lime cafes in Pontianak, the capital of West Borneo province, also actively participate in exhibition of agricultural products to the border of Indonesia and Malaysia.

"Our products have penetrated the retail market, restaurants, hypermarts like Transmart, a typical Pontianak souvenir shop and online shopping. Price 25 thousand rupiah per bottle," said Panca, who like many Indonesians go by one name.