Kementan Dukung MoU Polbangtan Malang dengan Pemkab Sumba Barat
Millennial Farmers Development are the Target of Indonesia`s Polbangtan Malang
Editor : M. Achsan Atjo
Translator : Dhelia Gani

PUBLISHED: Jum'at, 05 Agustus 2022 , 20:05:00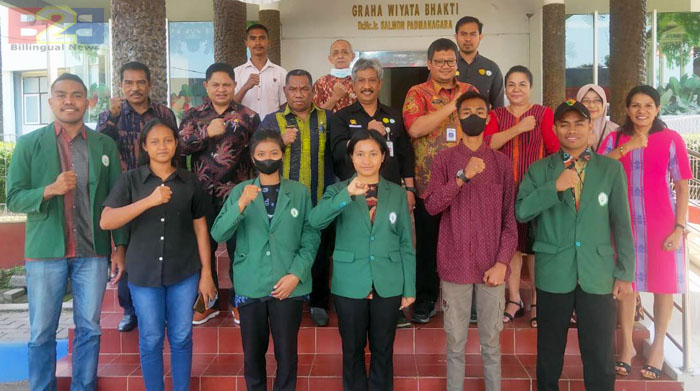 POLBANGTAN MALANG: Direktur Polbangtan Malang, Setya Budhi Udrayana [tengah, ke-4 kiri] dan Asisten Pemerintahan dan Kesra Pemkab Sumba Barat, Imanuel M Anie [tengah ke-3 kiri] dan sejumlah pejabat kedua belah pihak.
Malang, Jatim [B2B] - Pendidikan vokasi di bawah binaan Kementerian Pertanian RI terus aktif melaksanakan Tri Dharma Perguruan Tinggi oleh Politeknik Pembangunan Pertanian [Polbangtan] seperti dilakukan oleh Polbangtan Malang mendukung pembangunan SDM pertanian pada sejumlah daerah, di antaranya dengan Pemerintah Kabupaten [Pemkab] Sumba Barat di Provinsi Nusa Tengara Timur [NTT].
Komitmen tersebut terwujud melalui nota kesepakatan Memoranda Kesepahaman [MoU] yang ditandatangani oleh Direktur Polbangtan Malang, Setya Budhi Udrayana dan Asisten Pemerintahan dan Kesejahteraan Rakyat Pemkab Sumba Barat, Imanuel M Anie disaksikan sejumlah pejabat dari kedua belah pihak di Malang, Jumat [5/8].
Upaya tersebut sejalan harapan Menteri Pertanian RI Syahrul Yasin Limpo bahwa pembangunan SDM harus mengacu pada kebijakan strategis jangka panjang pembangunan nasional, sektor pertanian menjadi tumpuan utama untuk memenuhi kebutuhan pangan.
"Saya mengajak para bupati gubernur dan semua elemen pemerintah daerah untuk terus mengawal dan mendukung program pertanian, karena sektor pertanian bukan semata tanggung jawab Kementan," katanya.
Pernyataan senada dikemukakan Kepala Badan Penyuluhan dan Pengembangan SDM Pertanian Kementan [BPPSDMP] Dedi Nursyamsi bahwa pihaknya terus meningkatkan kompetensi dan kemampuan SDM pertanian agar berkualitas dan mumpuni.
"Implementasi smart farming dan digitalisasi pertanian menggunakan Internet of Things [IoT] harus segera dilaksanakan guna meningkatkan agenda intelektual, khususnya penyuluh dan petani," paparnya.
Direktur Polbangtan Malang, Setya Budhi Udrayana menyatakan komitmen pihaknya akan terus menjalin kerjasama dengan siapapun untuk mendukung dan menyukseskan semua program Kementan dan mendukung program Tri Dharma Perguruan Tinggi.
"Salah satu program utama Kementerian Pertanian saat ini adalah regenerasi pelaku pertanian. Salah satu upaya adalah mengenalkan pertanian sedini mungkin kepada anak- anak muda. Hal ini dianggap perlu sebab mindset yang selama ini terbangun adalah pertanian itu miskin dan terbelakang, oleh karenanya diperlukan regenerasi pelaku pertanian melalui pendidikan dan pelatihan vokasi," katanya.
Asisten Pemerintahan dan Kesejahteraan Rakyat Pemkab Sumba Barat, Imanuel M Anie menyampaikan rasa syukur atas penandatanganan kerjasama tersebut dapat terealisasi dan berterimakasih kepada Polbangtan Malang yang telah menerima Pemkab Sumba Barat menjadi mitra dalam membangun pertanian di kalangan generasi milenial, sebagai bagian dari regenerasi petani.
"Kerjasama yang ada ini tetap kita lanjutkan, sehingga generasi muda khususnya atensi kita untuk pembangunan pertanian di Sumba Barat itu bisa berjalan dengan baik", harap Imanuel.
Tampak hadir Wakil Direktur III Polbangtan Malang, Andi Warnaen dan pejabat Pemkab Sumba Barat di antaranya Kabag Hukum, Kabag Kesejahteraan Rakyat, Kabag Tata Pemerintahan dan tim kerjasama Pemkab Sumba Barat. [timhumaspolbangtanmalang]
Malang of East Java [B2B] - The role of agricultural vocational education in Indonesia such as the the Agricultural Development Polytechnic or the Polbangtan, to support Indonesian Agriculture Ministry seeks to maximize its efforts to produce millennial entrepreneur.
Youth Enterpreneurship And Employment Support Services Program or the YESS, to support Indonesian Agriculture Ministry seeks to maximize its efforts for the millennial entrepreneur.
Indonesian Agriculture Minister Syahrul Indonesia Yasin Limpo stated that the government´s commitment to developing agriculture, especially in the development of advanced, independent and modern agricultural human resources.
"The goal is to increase the income of farming families and ensure national food security. Farmer regeneration is a commitment that we must immediately realize," Minister Limpo said.
He reminded about the important role of vocational education, to produce millennial farmers who have an entrepreneurial spirit.
"Through vocational education, we connect campuses with industry so that Polbangtan graduates meet their needs and are ready for new things," Limpo said.