Rp101,3 Triliun, Realisasi PMA Sektor Pertanian Hingga Triwulan IV 2017
Positive Trend of Foreign Investment in Indonesian Agricultural Sector
Reporter : Wisnu Raharja
Editor : Cahyani Harzi
Translator : Dhelia Gani

PUBLISHED: Selasa, 20 November 2018 , 21:34:00 WIB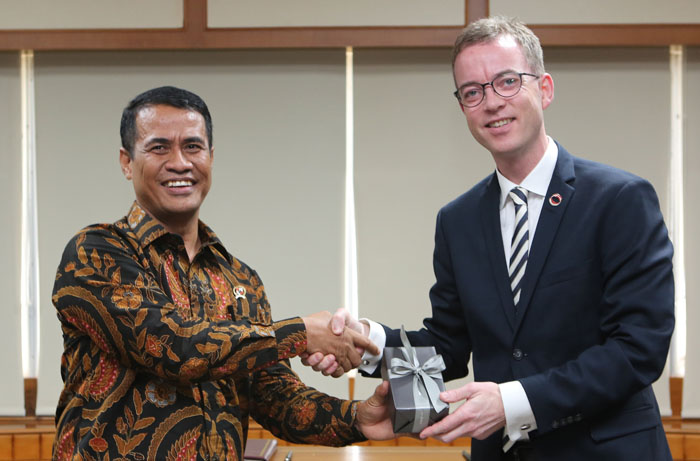 NEGARA SAHABAT: Mentan Andi Amran Sulaiman (kiri) kerap melobi para dubes di Jakarta untuk mendorong investasi asing, seperti bertemu Dubes Lingkungan dan Pangan Denmark, Esben Lunde Larsen (Foto: Humas Kementan)
Jakarta (B2B) - Kementerian Pertanian RI memenuhi harapan Presiden RI Joko Widodo terkait ekspor dan investasi untuk memperkuat perekonomian nasional, seperti dilansir Badan Koordinasi Penanaman Modal (BKPM) bahwa realisasi investasi di sektor pertanian mencapai Rp159,4 triliun hingga Triwulan IV 2017 terbagi atas penanaman modal asing (PMA) Rp101,3 triliun dan dalam negeri (PMDN) Rp58,1 triliun.

Kepala Biro Humas dan Informasi Publik, Kuntoro Boga Andri mengatakan investasi yang sudah berjalan didominasi subsektor perkebunan terutama kelapa sawit, karet, kopi, tebu, teh dan sebagian komoditas pada subsektor peternakan terutama unggas dan sapi, serta hortikultura.

"Berdasarkan data BKPM, realisasi investasi pertanian Triwulan IV 2017 mencapai Rp159,4 triliun, meningkat 9,6% ketimbang periode yang sama 2015, masing-masing untuk realisasi PMDN Rp58,1 triliun, naik 25,8% dari capaian periode sama 2015. Realisasi PMA Rp101,3 triliun atau tumbuh 2,1%. dari periode yang sama 2015," kata Kuntoro BA dalam keterangan tertulisnya.

Menurutnya, hal itu sejalan dengan instruksi dan harapan Presiden Jokowi kepada Menteri Pertanian RI Andi Amran Sulaiman, untuk menggalakkan kembali kinerja ekspor dan membuka peluang investasi sektor pertanian untuk menguatkan pondasi perekonomian nasional.

"Perlu juga saya ingatkan kepada kita semua, dua hal penting, yakni ekspor dan investasi, ini akan menguatkan ekonomi kita. Tanpa kedua hal tersebut, jangan harap dapat menyelesaikan masalah fundamental ekonomi," kata Kuntoro BA mengutip pernyataan Presiden Jokowi di Jakarta, belum lama ini.

Kementan melakukan deregulasi terhadap peraturan terkait perizinan, pelayanan, dan kemudahan berinvestasi. Peraturan Presiden Nomor 91/2017 tentang Percepatan Pelaksanaan Berusaha diikuti terbitnya Peraturan Menteri Pertanian Nomor 41/Permentan/TI.120/11/2017 tentang Pelayanan Perizinan Pertanian Secara Elektronik sehingga proses perizinan di Kementerian Pertanian menjadi sederhana.

"Hasil deregulasi ini mendorong tren nilai investasi dari 2014 sampai 2017 investasi PMDN per tahun rata-rata tumbuh 24,26 persen," katanya.

Investasi Berjalan
Sampai saat ini, investasi yang sudah berjalan untuk sektor industri gula, pengembangkan kebun tebu seluas 200 ribu ha untuk memenuhi iddle capacity pabrik gula (PG) existing, mendorong pengembangan lahan 500 ribu ha untuk memenuhi kebutuhan 14 PG baru. Pengembangan PG diharapkan mampu membuka lapangan kerja baru bagi 3,87 juta jiwa.

"Investasi PG sudah mulai dengan pembangunan konstruksi dan akan berproduksi pada 2019", kata Kuntoro.

Di peternakan sapi kerbau, investasi meningkat 23,3% pada 2015 - 2017, dari 23 proyek pada 2015 menjadi 53 proyek pada 2017. Nilai investasi PMDN naik 451,7%, Rp27 miliar pada 2015 menjadi Rp159,8 miliar pada 2017. Sedangkan PMA pada 2016 meningkat 84,6%% sebesar US$18,9 juta dari US$10,2 juta, dan pada 2018 mencapai US$10,4 juta atau naik 1,3% dari 2017. Investasi peternakan unggas 2015 - 2017 meningkat 55,1%, dari 125 proyek pada 2015 menjadi 338 proyek pada 2017.

Dari sisi nilai investasi, maka PMDN meningkat 73,8%, Rp292,2 miliar pada 2015 menjadi Rp1,16 triliun pada 2017. Sedangkan untuk PMA naik 400,7% pada periode 2015 - 2017 sebesar US$63,2 juta pada 2015 menjadi US$243,7 juta pada 2017.
Jakarta (B2B) - Indonesian Agriculture Ministry implements President Joko Widodo's instructions about exports and investment to support the national economy, as reported by the Investment Coordinating Board or the BKPM that realization of investment in agricultural sector until 2017 reached IDR159.4 trillion divided into foreign investment IDR101.3 trillion and domestic investment IDR58.1 trillion.

Spokesman of the ministry, Kuntoro Boga Andri said the current investment is dominated by the plantation subsector, especially oil palm, rubber, coffee, sugar cane, tea and some commodities in livestock subsector especially poultry and cattle, as well as horticulture.

"Based on BKPM data, realization of agricultural investment in the fourth quarter of 2017 reached IDR159.4 trillion, up 9.6% of the same period in 2016, realization of domestic investment or the PMDN reached IDR58.1 trillion up 25.8% of the same period in 2015. Realization of foreign investment or the PMA reached IDR101.3 trillion or up 2.1% of the same period in 2015," said Mr Andrie in his written statement.

According to him, it is in line with President Widodo's instructions to Agriculture Minister Andi Amran Sulaiman to increase exports and investment in the agricultural sector to support the national economy.

"I am reminded of two basic terms, exports and investment will strengthen our economy. Without it, do not expect to solve the problem of economic fundamentals," said Mr Andrie quoted President Widodo's statement here recently.

The Agriculture Ministry deregulates licensing, service, and ease of investment regulations based on the presidential decree, and technical guidance by agriculture ministerial regulation.

"The deregulation has pushed the investment trend of 2014 to 2017, in particular domestic investment per year on average rose 24.26 percent," he said.

Investment Opportunities
Until now, investments that have been running for the sugar industry sector, developing sugar cane gardens of 200 thousand hectares to meet the iddle capacity of existing sugar factories, encourage the development of 500 thousand hectares of land to meet the needs of 14 new sugar mills. The development of a sugar factory is expected to open employment opportunities of 3.87 million people.

"Investment in sugar mills has started with construction and will start production in 2019," Mr Andri said.

In cattle and buffalo farms, investment rose 23.3% in 2015-2017, from 23 projects in 2015 to 53 projects in 2017. Domestic investment increased 451.7%, IDR27 billion in 2015 to IDR159.8 billion in 2017. While PMDN in 2016 rose 84.6 %% or reached US$18.9 million of US$10.2 million, and in 2018 reached US$10.4 million or up 1.3% of 2017. The 2015 - 2017 poultry farm investment rose 55.1%, of 125 projects in 2015 to 338 projects in 2017.

Domestic investment rose 73.8%, IDR292.2 billion in 2015 to IDR1.16 trillion in 2017. While for PMA rose 400.7% in 2015 - 2017 to reach US$63.2 million in 2015 to US$243.7 million in 2017.