806 Calon Mahasiswa Baru Polbangtan Kementan Ikuti CAT di Medan
Millennial Farmers Development are the Target of Indonesia`s Polbangtan Medan
Editor : Kemal A Praghotsa
Translator : Dhelia Gani

PUBLISHED: Kamis, 12 Mei 2022 , 22:26:00 WIB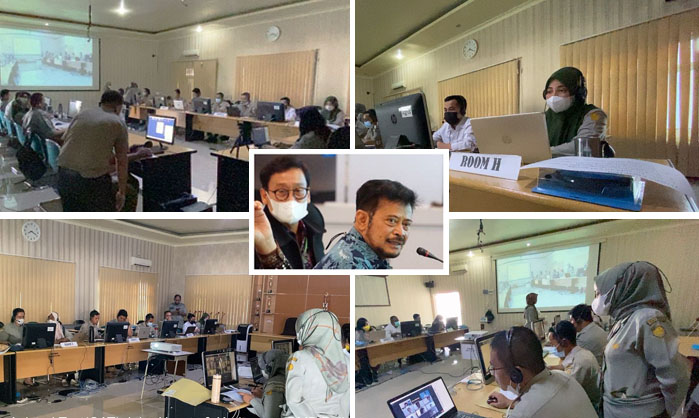 POLBANGTAN MEDAN: Direktur Yuliana Kansrini mengatakan bahwa tes dilaksanakan secara virtual dan mandiri oleh peserta, namun panitia tetap mengawal jalannya kegiatan dengan baik, adil, tegas dan transparan.
Medan, Sumut [B2B] - Menteri Pertanian RI Syahrul Yasin Limpo mengatakan saat ini jumlah pelaku pertanian semakin lama kian menurun. Minat generasi muda terhadap pertanian berkurang, karena dirasa tidak menarik dan tak memberi masa depan yang menjanjikan.
"Ini menjadi tantangan bagi Kementan untuk menggerakkan generasi milenial. Agar tertarik dan menjadi pengusaha di sektor pertanian melalui berbagai program strategis dan humanis," ujar Syahrul.
Upaya pemerintah mengajak generasi muda terjun ke dunia pertanian mulai gencar dilakukan dan disambut baik generasi milenial. Kementan terus mengoptimalkan peran pendidikan vokasi dengan memberi kesempatan kepada generasi milenial untuk melanjutkan pendidikan di sektor pertanian, dengan biaya ditanggung oleh pemerintah dalam hal ini Kementan.
Melalui Polbangtan Medan sebagai salah satu UPT di bawah naungan Pusat Pendidikan Pertanian Badan Penyuluhan dan Pengembangan Sumber Daya Manusia Pertanian Kementan [BPPSDMP] saat ini menggelar seleksi Computer Assisted Test (CAT) bagi peserta pendaftaran mahasiswa baru jalur umum dan jalur kerjasama yang telah dinyatakan lulus seleksi administrasi.
Kepala BPPSDMP Kementan, Dedi Nursyamsi mengatakan petani milenial sangat potensial untuk melanjutkan pembangunan pertanian di Indonesia. Sebab, rata–rata milanial cerdas dan adabtif terhadap teknologi serta siap memasuki era pertanian 4.0.
"Mereka mampu menjadikan pertanian maju, mandiri dan modern dari hulu hingga hilir," katanya.
Seleksi CAT yang dilaksanakan secara serentak oleh seluruh perguruan tinggi vokasi Kementan yakni Politeknik Pembangunan Pertanian [Polbangtan] dan Politeknik Engineering Pertanian Indonesia [PEPI]. Sementara untuk Polbangtan Medan, seleksi CAT berlangsung tiga hari, 12- 14 Mei 2022.
Guna menghindari kerumunan dan menjalankan Protokol Kesehatan Covid-19, CAT dilaksanakan secara virtual. Sebanyak 806 orang peserta yang lolos administrasi jalur umum dan kerja sama PMB Polbangtan Medan TA 2022/2023 dibagi dalam break out room menjadi kelompok-kelompok kecil berjumlah 10 - 20 peserta. Tujuannya, memudahkan panitia, proktor dan pengawas dalam menangani dengan cepat jika ada kendala teknis selama ujian berlangsung.
Direktur Polbangtan Medan, Yuliana Kansrini mengatakan bahwa tes dilaksanakan secara virtual dan mandiri oleh peserta, namun panitia tetap mengawal jalannya kegiatan dengan baik, adil, tegas dan transparan.
"Semoga para calon mahasiswa baru politeknik lingkup Kementan dalam melaksanakan CAT dilakukan secara jujur dan percaya akan kemampuannya masing masing. Jangan lupa memohon doa pada orang tua agar mendapat kemudahan mengerjakan ujian tersebut," imbaunya.
Setiap calon mahasiswa juga diimbau mengikuti tes CAT tepat waktu. Mereka wajib mengerjakan soal-soal tes secara mandiri menggunakan perangkat komputer/laptop dengan kamera webcam aktif.
"Calon mahasiswa peserta tes CAT tak perlu melakukan login ke aplikasi zoom. Cukup masuk ke website penerimaan mahasiswa baru yang langsung terhubung ke link panitia," kata Yuliana Kansrini. [timhumaspolbangtanmedan]
Medan of North Sumatera [B2B] - The role of agricultural vocational education in Indonesia such as the Agricultural Development Polytechnic or the Polbangtan, so the Agriculture Ministry seeks to maximize its efforts to produce millennial entrepreneur.
Indonesian Agriculture Minister Syahrul Indonesia Yasin Limpo stated that the government´s commitment to developing agriculture, especially in the development of advanced, independent and modern agricultural human resources.
"The goal is to increase the income of farming families and ensure national food security. Farmer regeneration is a commitment that we must immediately realize," Minister Limpo said.
He reminded about the important role of vocational education, to produce millennial farmers who have an entrepreneurial spirit.
"Through vocational education, we connect campuses with industry so that Polbangtan graduates meet their needs and are ready for new things," Limpo said.