Mahasiswa STPP Yogyakarta Dilibatkan Program OPA Alsintan di Sukoharjo
Indonesian Students Support Farmer Assistance in Central Java`s Sukoharjo
Editor : M. Achsan Atjo
Translator : Dhelia Gani

PUBLISHED: Jum'at, 27 April 2018 , 22:34:00 WIB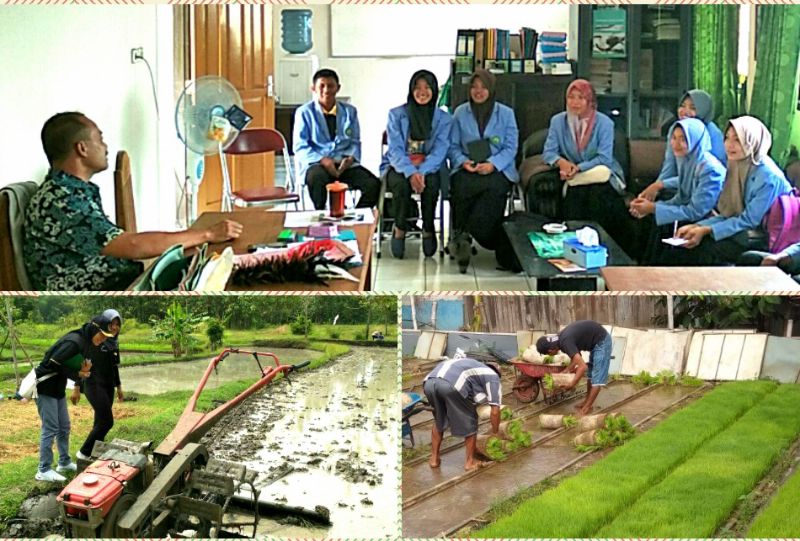 Ke-10 mahasiswa tersebut sejak minggu kedua April 2018 telah melakukan inventarisasi alat dan mesin pertanian di 16 desa. (Foto2: Humas STPP Yogyakarta)
Sukoharjo, Jawa Tengah (B2B) - 10 Mahasiswa Sekolah Tinggi Penyuluhan Pertanian - STPP Yogyakarta dilibatkan pada kegiatan pendampingan Optimalisasi Pemanfaatan Alsintan (OPA) mulai Kamis (27/4) di Kecamatan Nguter, Kabupaten Sukoharjo, Provinsi Jawa Tengah, sasaran kegiatan untuk inventarisasi seluruh Alsintan bantuan Pemerintah RI melalui Kementerian Pertanian RI dan Alsintan milik pribadi di tangan petani maupun kelompok tani (Poktan).
Ke-10 mahasiswa tersebut sejak minggu kedua April 2018 telah melakukan inventarisasi alat dan mesin pertanian di 16 desa. Mereka bekerja didampingi dosen Ir Rika Nalinda MP di bawah koordinasi Kepala UPTD setempat, Sumardi didukung Joko, penyuluh pertanian THL yang mengelola unit pelayanan jasa Alsintan (UPJA) Tani Jaya.
Kabag Administrasi Umum STPP Yogyakarta, Irwan Johan Sumarno menutirkan bahwa secara teknis mahasiswa mencatat dengan teliti dan cermat setiap alat yang ditemukan, dihitung jumlahnya, diperiksa kondisi dan kelaikannya, dan didata pemanfaatannya.
"Mahasiswa mencatat hasil inventarisasi di lapangan. Masih ada peralatan yang pemanfaatannya belum optimal," kata Irwan JS.
Menurutnya, kehadiran ke-10 mahasiswa STPP Yogyakarta didukung penuh oleh warga Kecamatan Nguter dan Lurah Desa Kedung Winong tempat mereka menetap selama kegiatan pendampingan berlangsung.
"Pengiriman mahasiswa ke lapangan ini memberikan manfaat positif bagi mahasiswa, civitas academica, dan warga setempat sebagai implementasi Tri Dharma perguruan tinggi khususnya untuk pengabdian masyarakat," kata Irwan JS.
Dia menambahkan, keterlibatan mahasiswa di tengah masyarakat dapat menjadi media transfer pengetahuan dan teknologi kepada masyarakat, di sisi lain mahasiswa dapat belajar banyak tentang berbagai aspek kehidupan nyata.
Sukoharjo of Central Java (B2B) - 10 students of Yogyakarta´s Agriculture Extention College or STPP Yogyakarta participate in mentoring students for the optimization of agricultural machine (PJ OPA Alsintan) starting on Thursday (April 27 in Nguter subdistrict of Sukoharjo regency in Central Java province.
The 10 students since the second week of April 2018 have inventoried agricultural machinery in 16 villages. They work accompanied by a lecturer, Rika Nalinda MP and supported by local officials, Sumardi and Joko.
The Head of General Affairs of STPP Yogyakarta, Irwan Johan Sumarno said said that technically the students recorded every farm machine that was found, counted, checked the condition and its eligibility, and recorded its utilization.
"The students record the results of inventory in the field, whether there is equipment that utilization is not optimal," Mr Sumarno said.
According to him, the presence of the 10 students STPP Yogyakarta fully supported by local residents.
"Student assistance activities have a positive impact for students, civitas academica, and local residents as the implementation of the dedication of universities, especially for community service," Mr Sumarno said.
He said student activities in the community to exchange knowledge and technology to the community, on the other hand students can learn a lot about various aspects of real life.