Samsat Tagih Pajak TR4, Perda Ranmor bikin Repot Distan OKU Selatan
Agricultural Machinery is the Object of Tax in District of South Sumatra Province
Editor : M. Achsan Atjo
Translator : Dhelia Gani

PUBLISHED: Jum'at, 14 Desember 2018 , 22:35:00 WIB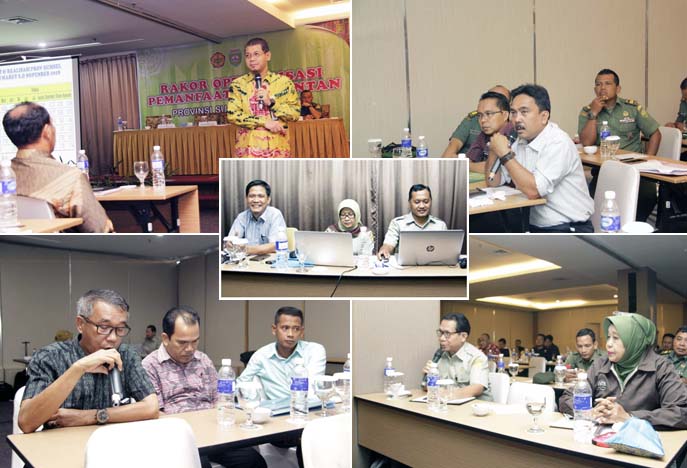 TARGET PAJAK: Pejabat Distan OKU Selatan, Asep Sudarno (kanan atas) bertanya pada PJ Opsin Sumsel, Andriko NS (kiri atas). Rakor Opsin diikuti penyuluh pertanian seluruh Sumsel (Foto2: Humas BPPSDMP/Eko Saputra)
Palembang, Sumsel (B2B) - Alat mesin pertanian (Alsintan) khususnya traktor roda empat (TR4) dari bantuan Kementerian Pertanian RI ternyata merepotkan Dinas Pertanian Kabupaten OKU Selatan di Provinsi Sumatera Selatan, lantaran TR4 menjadi target pajak kendaraan bermotor (Ranmor) Samsat setempat, yang disetarakan dengan truk mini.
Fakta mengejutkan tersebut dikemukakan oleh Asep Sudarno, Kabid PSP di Dinas Pertanian OKU Selatan kepada Penanggung Jawab Optimalisasi Alsintan - PJ Opsin Sumsel, Andriko Noto Susanto pada ´rapat koordinasi optimalisasi pemanfaatan Alsintan´ Kamis petang (13/12). Rakor dihadiri para kepala dinas pertanian provinsi/kabupaten/kota, Kabid Prasarana dan Sarana Pertanian (PSP), Kabid Penyuluhan Pertanian, Komandan Kodim/Koramil dan bintara pembina desa (Babinsa).
Asep S mengaku kerepotan menyikapi Perda tersebut, dan mengharapkan para petani dapat memanfaatkan TR4 sesuai peruntukannya, untuk meningkatkan produksi pertanian di OKU Selatan, dan bukan untuk kendaraan pribadi apalagi atau angkutan umum.
Andriko NS langsung koordinasi dengan Bustanil Arifin Caya, mantan Direktur Alsintan di Ditjen Prasarana dan Sarana Pertanian (PSP) yang kini menjabat Kapuslat di Badan Penyuluhan dan Pengembangan SDM Pertanian (BPPSDMP) Kementan.
"Saya sudah koordinasi dengan Pak Bustanil, kami akan support daerah untuk mendapatkan solusinya," kata Andriko NS, yang juga menjabat Sekretaris Badan Penyuluhan dan Pengembangan SDM Pertanian (BPPPSDMP) Kementan
Menyikapi hal itu, Taufik Fathurahman selaku Kasie UPJA di Direktorat Alsintan - Ditjen PSP Kementan menyarankan Distan OKU Selatan membayarnya melalui Pajak Penghasilan (PPh) yang dibayar oleh UPJA setiap kali transaksi menyewakan Alsintan kepada petani atau Poktan/Gapoktan.
"Kami sarankan soal TR4 dipajakin oleh Perda, sebaiknya dikompensasi ke PPH UPJA. Sebagai informasi, hak dan kewajiban UPJA diatur oleh Permentan Nomor 25 tahun 2008, di situ diatur bahwa "yang boleh sewakan Alsintan hanya UPJA, bukan Poktan atau Gapoktan apalagi oleh petani" itu aturannya," kata Taufik F pada Rakor yang dibuka oleh PJ Opsin Nasional, Momon Rusmono.
Tampak hadir sejumlah pejabat BPPSDMP Kementan antara lain Kabag Evaluasi dan Pelaporan, Titin Gartini; Kabid Penyelenggaraan Penyuluhan, Zahron Helmy; Kasubbag Perbendaharaan, Herlin Nurlela; Kasubbid Kelembagaan Petani, Yoyon Haryanto; Kasubbag Evaluasi, Acep Hariri, Kasubbag Pelaporan, Revo Agri Muis, dan para penyuluh pertanian pusat di antaranya Ali Nurdin, Siti Nurjanah, Suwarna, dan Sri Mulyani. (Esapt)
Palembang of South Sumatera (B2B) - Agricultural machinery of Indonesian Agriculture Ministry for farmers across the country especially four wheel tractors or the TR4 it turned out to be troublesome for the South OKU district Agricultural Service office, South Sumatra province because TR4 is the target of motor vehicle tax of local tax office, which is equated with a mini truck.
The surprising f act was stated by Asep Sudarno, official of South OKU Agriculture office to the Person in Charge of Optimizing Agricultural Machinery for South Sumatra province, Andriko Noto Susanto at the ´coordination meeting´ on Thursday evening (December 13) attended by relevant officials of across the province.
Mr Sudarno admitted that he was having trouble responding to the regional regulations, and expect farmers to use TR4 according to their designation, to increase agricultural production in South OKU, and not for private vehicles or public transportation.
Mr Sudarno coordinated with Bustanil Arifin Caya, former Director of Agricultural Machinery at the Directorate General of Agricultural Infrastructure and Facilities or the PSP who is currently Director of Agricultural Education Center.
"I have coordinated with Mr Caya, we will support the region to get a solution," said Andriko NS, who is also the Secretary of the Agricultural HR Development and Development Agency at the ministry or BPPPSDMP.
In response, Taufik Fathurahman from the Directorate General of Agricultural Infrastructure and Facilities at the ministry offered a solution to pay taxes through income tax paid by agricultural machinery rental services or the UPJA every agricultural machinery leasing transaction.
"We recommend that the TR4 be a target for regional taxes, preferably compensated for income tax of agricultural machinery rental services. For information, the rights and obligations of the UPJA are governed by agriculture minister regulation.