Kementan Tingkatkan Kapasitas Pendamping Petani Food Estate Humbahas
Millennial Farmers Development are the Target of Indonesia`s Polbangtan Medan
Editor : Kemal A Praghotsa
Translator : Dhelia Gani

PUBLISHED: Rabu, 15 Juni 2022 , 13:22:00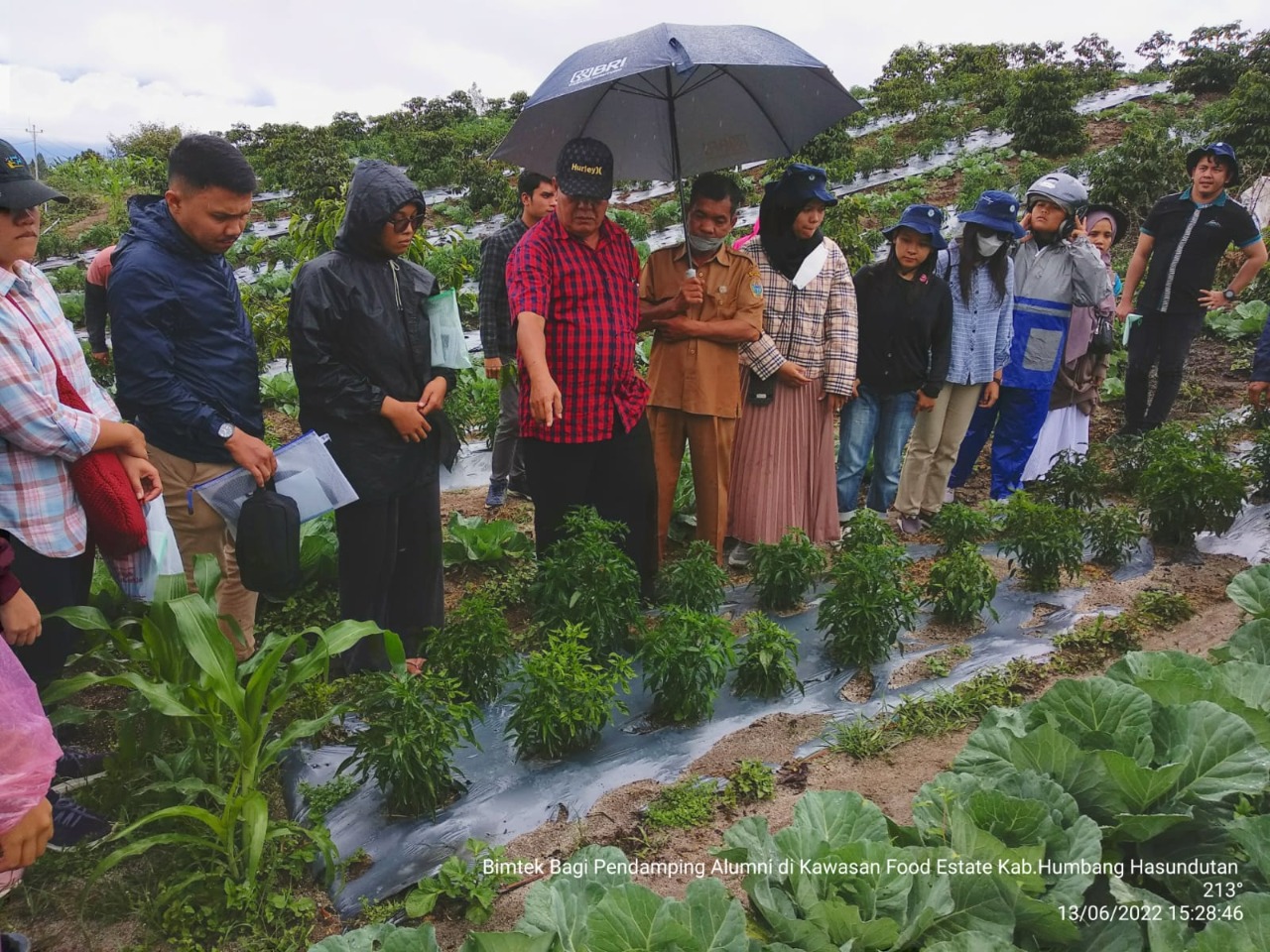 POLBANGTAN MEDAN: Direktur Polbangtan Medan, Yuliana Kansrini mengingatkan alumni pendamping untuk aktif melakukan agar dapat meningkatkan pengetahuan, keterampilan dan kesejahteraan petani.
Humbahas, Sumut [B2B] - Politeknik Pembangunan Pertanian [Polbangtan] menggelar Bimbingan Teknis [Bimtek] selama tiga hari, 13 - 15 Juni, bagi 30 alumni dari Polbangtan Medan dan Universitas Sumatera Utara Medan [USU] yang akan mendampingi petani Food Estate Kabupaten Humbang Hasundutan [Humbahas] di Provinsi Sumatera Utara.
Kegiatan Bimtek merupakan upaya Kementerian Pertanian RI memberikan pembekalan dan meningkatkan kompetensi pendamping petani Food Estate Humbahas, untuk kegiatan budidaya tanaman hortikultura sekaligus memecahkan masalah petani di lapangan.
Menteri Pertanian RI Syahrul Yasin Limpo menegaskan bahwa pengembangan Food Estate Humbahas sesuai arahan Presiden RI Joko Widodo, untuk menjadikan Humbahas sebagai salah satu lokasi percontohan pengembangan food estate berbasis hortikultura.
"Food estate adalah program yang diminta oleh Presiden Jokowi untuk mengoptimalkan lahan-lahan potensial, sehingga meningkatkan nilai komoditas pertanian yang tentu harga jualnya bisa lebih mahal," katanya.
Food Estate Humbahas, kata Mentan, adalah salah satu program super prioritas Kementan. Komoditas utama yang dikembangkan meliputi bawang merah dan bawang putih serta kentang sebagai bahan baku industri.
Kepala Badan Penyuluhan dan Pengembangan SDM Pertanian Kementan [BPPSDMP] Dedi Nursyamsi mendorong penyuluh pusat dan daerah serta alumni Polbangtan dan perguruan tinggi mitra sinergi mendukung pengembangan Food Estate Humbahas.
"Kita harus sungguh-sungguh dan bekerja keras, seperti dikatakan Mentan Syahrul bahwa Food Estate Humbahas akan menjadi model percontohan di daerah lain," katanya.
Direktur Polbangtan Medan, Yuliana Kansrini mengingatkan alumni pendamping untuk aktif melakukan agar dapat meningkatkan pengetahuan, keterampilan dan kesejahteraan petani.
"Kami berharap narasumber menyampaikan apa saja yang harus dilakukan oleh pendamping di Food Estate Humbahas," katanya dalam sambutan pembukaan Bimtek yang disampaikan oleh Wakil Direktur I Polbangtan Medan, Nurliana Harahap pada Senin [13/6].
Materi Bimtek hari pertama tentang Pengendalian Hama dan Penyakit Tanaman khususnya bawang merah, bawang putih, kentang, cabai, kubis dan buncis serta tomat dan praktik pembuatan pestisida nabati oleh Effendi JM Sihombing dari UPT Perlindungan Tanaman Pangan Hortikultura Provinsi Sumatera Utara.
Pada hari kedua, materi Bimtek oleh Abdul Rauf dari USU Medan, yang mengulas tentang teknologi pemupukan spesifik lokasi di lahan Food estate dan pembuatan pupuk organik cair.
Wakil Direktur II Polbangtan Medan, Mukhlis Yahya hadir sebagai pemateri pada hari ketiga Bimtek, mengulas tentang Kelembagaan Petani. [timhumaspolbangtanmedan]
Humbang Hasundutan of North Sumatera [B2B] - The role of agricultural vocational education in Indonesia such as the the Agricultural Development Polytechnic or the SMKPPN, to support Indonesian Agriculture Ministry seeks to maximize its efforts to produce millennial entrepreneur.
Indonesian Agriculture Minister Syahrul Indonesia Yasin Limpo stated that the government´s commitment to developing agriculture, especially in the development of advanced, independent and modern agricultural human resources.
"The goal is to increase the income of farming families and ensure national food security. Farmer regeneration is a commitment that we must immediately realize," Minister Limpo said.
He reminded about the important role of vocational education, to produce millennial farmers who have an entrepreneurial spirit.
"Through vocational education, we connect campuses with industry so that Polbangtan graduates meet their needs and are ready for new things," Limpo said.