Kementan Ingatkan Petani Kalbar Optimalkan Alsintan Bantuan Pemerintah
Indonesian Govt Reminded the Farmers Optimized Agricultural Machinery
Editor : M. Achsan Atjo
Translator : Dhelia Gani

PUBLISHED: Rabu, 28 Maret 2018 , 22:57:00 WIB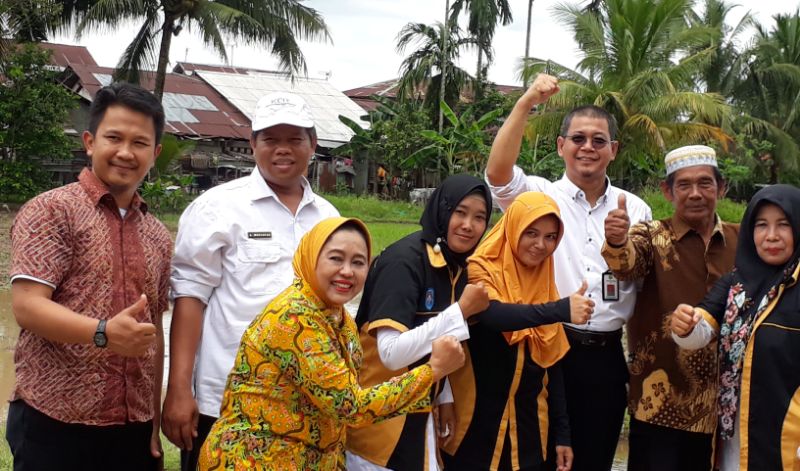 Kiri ke kanan: Kabid BB Padi Yudhistira Nugraha; Kepala BPTP Kalbar, Akhmad Musyafak; Penyuluh Pertanian Utama, Siti Nurjanah; Sekretaris BPPSDMP Kementan, Andriko Noto Susanto (ke-3 kanan) Foto: B2B/M. Achsan Atjo)
Kubu Raya, Kalbar (B2B) - Kementerian Pertanian RI mengingatkan para petani dan kelompok tani (Poktan/Gapoktan) memanfaatkan bantuan alat mesin pertanian (Alsintan) semaksimal mungkin, dan apabila pekerjaan di sawah telah rampung maka Alsintan dipindahkan ke Poktan lain dengan cara meminjamkan atau disewakan.

Hal itu dikemukakan Penanggung Jawab Optimalisasi Pemanfaatan Alsintan - PJ OPA Provinsi Kalimantan Barat, Andriko Noto Susanto; Kepala Badan Pengkajian dan Penerapan Teknologi - BPTP Kalbar, Akhmad Musyafak; Kabid Tanaman Pangan Distan Kabupaten Kubu Raya, H Gunawan; Kabid Program dan Evaluasi BB Padi, Yudhistira Nugraha pada kunjungan kerja di Ds Parit Baru, Kec. Sungai Raya, Kab. Kubu Raya, Kalbar, Rabu (28/3).

Andriko NS mengatakan bahwa Alsintan yang diterima petani dibeli dari uang rakyat oleh Kementerian Pertanian RI, dan Presiden Joko Widodo menginstruksikan memanfaatkan anggaran di kementerian untuk mendukung petani sebagai penyedia utama pangan di negeri ini, karena tanpa kerja keras petani maka bangsa Indonesia akan kelaparan sehingga mengganggu stabilitas dan keamanan negara.

"Anggaran negara di Kementan hanya disisakan 20 persen dan 80 persen digelontorkan untuk kepentingan petani meningkatkan produksi pangan dan kesejahteraan petani. Mulai dari Alsintan, irigasi, benih dan pupuk. Nah hari ini kita fokus dulu tentang optimalisasi Alsintan sesuai instruksi Mentan," kata Andriko NS yang juga menjabat Sekretaris Badan Penyuluhan dan Pengembangan SDM Pertanian (BPPSDMP) Kementan.

Andriko tidak menampik bahwa jumlah tersebut belum maksimal, namun Kementan akan bekerja keras tiada lelah mendukung kinerja petani untuk kepentingan bangsa dan negara.

"260 juta penduduk butuh makan setiap hari, dengan pertambahan rata-rata empat juta orang setiap tahun, maka Mentan Amran Sulaiman sangat mengutamakan kepentingan petani sebagai penyedia kebutuhan pangan sehingga Kementan setiap tahun mengalokasikan anggaran puluhan triliun, sebagian untuk membeli Alsintan bagi petani," kata Andriko.

Tampak hadir Penyuluh Pertanian Utama Kementan, Siti Nurjanah; dan tim Upsus Kalbar, Septalina.

Dia mengingatkan agar Alsintan yang telah diterima dimanfaatkan semaksimal mungkin, untuk meningkatkan hasil produksi pertanian.

"Pemanfaatan Alsintan harus optimal. Tidak boleh ada yang menganggur. Kalau sedang mengolah tanah ... ya traktor roda dua dan empat yang bekerja, mesin panen otomatis istirahat, cuma pak menteri instruksikan tidak boleh TR2 dan TR4 tidur, kalau di desa atau Poktan lain mengolah tanah maka Alsintan harus dimobilisasikan ke sana," kata Akhmad Musyafak, bos BPTP Kalbar.

Dia pun mengingatkan Poktan dan pengelola unit pelayanan jasa Alsintan (UPJA) di Kecamatan Sungai Raya memobilisasi Alsintan yang sedang istirahat ke tempat lain. "Kalau TR2 dan TR4 menganggur di sini karena olah tanah sudah selesai, bisa dimobisasi ke tempat lain."
Kubu Raya of West Borneo (B2B) - Indonesian Agriculture Ministry reminds farmers and farmer groups or Poktan to utilize the maximum agricultural machinery assistance or Alsintan, and when work in the rice fields is over, the Alsintan must moved to another place forlend or lease.

It was stated by the Person in Charge of Alsintan for West Borneo province or the PJ OPA Andriko Noto Susanto, Ditector of West Borneo´s Assessment Institute for Agricultural Technology or BPTP Kalbar, Akhmad Musyafak; Head of Kubu Raya Agriculture Office, H Gunawan; kand Senior Researcher of Indonesian Sukamandi´s Rice Research, Yudhistira Nugraha.

Mr Susanto said that Alsintan received farmers who was purchased of public money by the Indonesian Agriculture Ministry, and President Joko Widodo instructed the utilization of state budget at the ministry to support farmers as the main food provider in the country,

The state budget in the ministry leaves only 20 percent and 80 percent for farmers increasing food production and farmers´ welfare," said Mr Susanto who was also served as the Secretary of the Director General of Agricultural Human Resource Development or the BPPSDMP.

He does not deny that the state budget has not been maximized, but the ministry will work hard tirelessly support the performance of farmers for the benefit of the nation and state.

"260 million people need to eat every day, with an average of four million people each year, Agriculture Minister Andi Amran Sulaiman prioritizes farmers as providers of food so the ministry annually allocates tens of trillions of dollars, partly to buy the Alsintan," Mr Susanto said.

It was attended by the senior agricultural extension, Siti Nurjanah and and Upsus special team of the BPPSDMP, Septalina.

He reminded that Alsintan that has been received as maximally as possible, to improve agricultural production.

"Utilization of the Alsintan must be optimal. No one is stuck. While it is processing the soil ... tractor two and four wheels that work, the rice transplanter automatic break," Mr Musyafak said.

He also reminded Poktan and managers of Alsintan service units or UPJA in Sungai Raya sub-district to mobilize Alsintan who was resting elsewhere.