Panen Raya, Kepala BPPSDMP Motivasi Penyuluh - Petani Tetap ke Sawah
Indonesian`s Agricultural Extensionists Support Food Security
Reporter : Gusmiati Waris
Editor : Cahyani Harzi
Translator : Dhelia Gani

PUBLISHED: Senin, 30 Maret 2020 , 23:00:00 WIB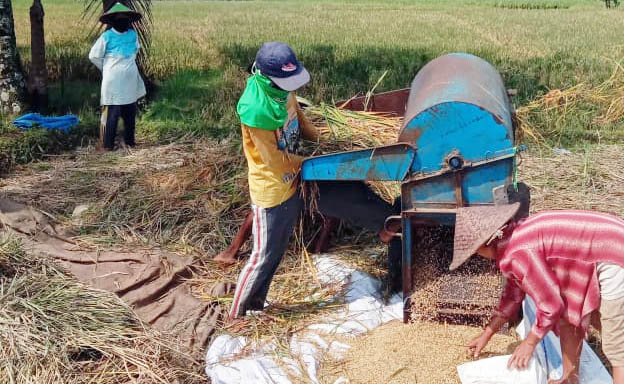 Prof. Dedi Nursyamsi memastikan bahwa petani dan penyuluh terus bekerja untuk mengamankan pangan agar Indonesia mampu menghadapi tantangan penyebaran Covid-19 [Foto: Humas BPPSDMP]
Purbalingga, Jateng [B2B] - Lahan persawahan pada sejumlah kecamatan di Kabupaten Purbalingga, Provinsi Jawa Tengah akan memasuki masa panen di tengah intaian virus Corona, hal itu disikapi oleh Kepala BPPSDMP Kementan Prof Dedi Nursyamsi dengan terus memotivasi penyuluh untuk senantiasa mendampingi petani di wilayah binaan tetap bekerja keras mengamankan stok pangan pokok nasional.
Prof. Dedi Nursyamsi memastikan bahwa petani dan penyuluh terus bekerja untuk mengamankan pangan agar Indonesia mampu menghadapi tantangan penyebaran Covid-19, tentunya mengikuti Protokol WHO untuk selalu mencuci tangan dan menjaga jarak.
Dari sejumlah kelompok tani [Poktan] di Purbalingga adalah Poktan Serba Usaha Desa di Desa Karanganyar, salah satu Poktan yang hamparan sawah menguningnya telah dipanen hari ini, Senin [30/3].
Penyuluh pertanian setempat, Waryo mengatakan ada sekitar 11 hektar persawahan yang dipanen dari varietas Inpari 32, produktivitasnya 68,56 kuintal per hektar
"Ini adalah hamparan pertama yang dipanen, selanjutnya akan menyusul tanaman padi di desa lain di Kecamatan Karanganyar," kata Waryo.
Sekretaris Dinas Pertanian Purbalingga, Sukram mengatakan luas panen padi hingga April diperkirakan 8.959,9 hektar dengan perkiraan produksi 48.856,3 ton gabah kering giling [GKG] atau setara beras 31.279 ton.
Kepala Dinas Pertanian Purbalingga, Mukodam di tempat terpisah menguraikan kebutuhan beras hingga April 2020, untuk 955,875 jiwa warga Purbalingga diperkirakan mencapai 29.784 ton atau rata rata 31,16 kg per kapita selama Januari - April 2020.
"Dari jumlah tersebut maka diperkirakan surplus 1.495 ton beras sehingga stok beras kita aman," kata Mukodam. =
Purbalingga, Jateng [B2B] - Indonesian agricultural extensionist workers are expected to encourage farmers to do demonstration plotting through mentoring activities by training farmers, especially rice transplants, then reporting performance every day according to senior official of the ministry.