Kebersihan Lingkungan Kampus Dukung Prestasi Belajar Mahasiswa STPP Yogyakarta
Indonesia`s STPP Yogyakarta Maintains the Cleanliness of the Campus
Editor : M. Achsan Atjo
Translator : Dhelia Gani

PUBLISHED: Minggu, 08 April 2018 , 23:22:00 WIB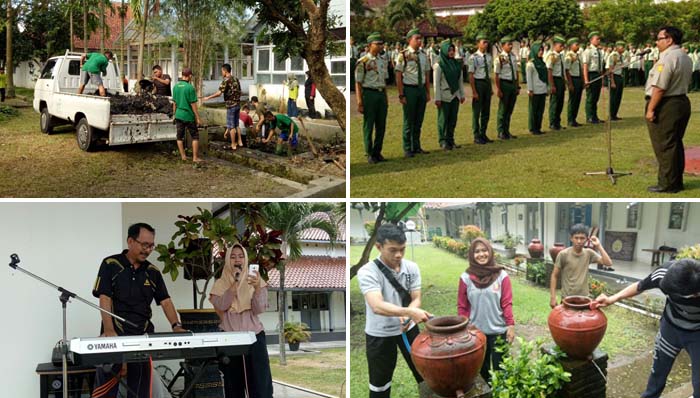 Ketua STPP Yogyakarta, Ali Rachman (kanan atas) memimpin apel pagi di lapangan hijau, dan mahasiswa mendukung kebersihan kampus diiringi musik dari Kabag Administrasi Umum, Irwan JS (kiri bawah) Foto2: Humas STPP Yogyakarta
LOKASI DAN POSISI kampus terpadu Sekolah Tinggi Penyuluhan Pertanian Yogyakarta - STPP Yogyakarta di tengah ´kota gudeg´ memerlukan penanganan tersendiri terkait kebersihan, keasrian, dan penghijauan di luar maupun di dalam kampus.

"Kondisi dan daya dukung tersebut mendorong pihak kampus berupaya menata kondisi tersebut agar suasana kegiatan belajar dan mengajar dapat dirasakan nyaman dan asri oleh mahasiswa dan seluruh elemen di kampus," kata Ketua STPP Yogyakarta, Ali Rachman melalui pernyataan tertulis, belum lama ini.

Dia menambahkan, pimpinan kampus senantiasa mengingatkan dan memberikan arahan untuk peduli kebersihan mulai dari tubuh, lingkungan, asrama, dan ruang kuliah.

"Makna bersih tidak hanya bebas dari kotoran, tapi juga dari hal-hal yang tidak sepantasnya tidak dilihat maka segenap civitas academica diharapkan turut bertanggung jawab atas kebersihan kampus. Berapa pun banyaknya petugas kebersihan tidak akan pernah cukup untuk menjamin kebersihan lingkungan kampus," kata Ali Rachman yang memimpin unit pelaksana teknis (UPT) Badan Pembinaan Penyuluhan dan SDM Pertanian (BPPSDMP) Kementerian Pertanian RI

Kepala Bagian Administrasi Umum STPP Yogyakarta, Irwan Johan Sumarno menambahkan mengacu pada tuntunan bahwa ´kebersihan adalah sebagian dari iman´ maka pihak kampus melakukan berbagai upaya seperti lomba kebersihan antar asrama, gerakan Jumat bersih dan sehat, gerakan irigasi bersih pada saluran irigasi di kebun praktik, dan gerakan pungut sampah setelah apel pagi hingga mengutus duta kebersihan kampus pada hari peduli sampah nasional tingkat provinsi Daerah Istimewa Yogyakarta (DIY).

Komitmen tersebut, kata Irwan JS, difasilitasi kampus seperti penampungan sampah sementara, mesin pemotong rumput, gerobak sampah, tempat sampah organik dan nonorganik, tempat sampah portabel, dan lubang penimbun sampah dedaunan.

"Langkah tersebut diikuti dengan cara memberikan contoh suri teladan kepada sesama mahasiswa, para pengajar, dan staf administrasi kampus sehingga mereka yang tidak peduli akan terbiasa dengan meniru sikap menjaga kebersihan lingkungan," kata Irwan JS.

Staf STPP Yogyakarta, Budi Wijayanto mengatakan bahwa pengaruh kebiasaan merupakan faktor penentu munculnya perilaku ´tidak peduli kebersihan´ mengingat idealisme dan semangat tinggi mahasiswa sehingga tentu lebih mudah mengajak mereka berpartisipasi menjaga kebersihan dan keasrian lingkungan.

"Sampah juga dapat menjadi berkah dan peluang wirausaha bagi mereka yang jeli melihat peluang, didukung pemanfaatan Alsintan dan pengetahuan metabolisme penguraian sampah organik menjadi pupuk hayati atau didaur ulang sehingga memiliki nilai jual," kata Budi Wijayanto.
LOCATION AND POSITION of integrated campus of Yogyakarta´s Agriculture Extension College or STPP Yogyakarta in the center of the provincial capital requires its own handling related to cleanliness, beauty, and greening outside and inside the campus.

"The condition encourages the campus to arrange environmental keasrian so that the atmosphere of learning and teaching activities can be felt comfortable by students," said Rector of STPP Yogyakarta, Ali Rachman through a written statement, recently.

He said that the campus leaders always remind students about the cleanliness of the body, environment, dormitories, and classrooms.

"The net meaning is not only free from dirt, but also from things that should not be seen so the entire civitas academica is expected to take responsibility for the cleanliness of the campus.However the number of janitors will never be enough to ensure the cleanliness of the campus environment," said Mr Rachman who leads the technical implementation unit or UPT of the Directorate General of Agency for Agricultural Extension and Human Resources Development or BPPSDMP at the Agriculture Ministry.

The Head of General Affairs of STPP Yogyakarta, Irwan Johan Sumarno said referred to the guidance that ´cleanliness is part of faith´ then the campus performs various attempts such as hygiene races between dormitories, clean and healthy Friday movement, clean irrigation movement in practical farm and ambassador cleanliness of campus on the day of care of national garbage at the provincial level.

The commitment, said Mr. Sumarno, facilitated the campus such as providing temporary waste collection, lawn mowers, garbage carts, organic and inorganic waste bins, portable dumps, and foliage dumps.

"The step is followed by giving examples of role models to fellow students, faculty, and campus administration staff so that those who do not care will be accustomed to imitating the attitude of maintaining environmental hygiene," Mr Sumarno said.

STPP Yogyakarta staff, Budi Wijayanto said that the influence of the habit is a determinant factor of the emergence of ´no matter hygiene´ behavior considering the idealism and high morale of students, so it is certainly easier to invite them to participate in maintaining cleanliness and environment," Mr Wijayanto said.