Kementan Bahas Persiapan Evaluasi Penyelenggaran Pendidikan SDM Pertanian
Millennial Farmers Development are the Target of Indonesia`s Polbangtan Malang
Editor : M. Achsan Atjo
Translator : Dhelia Gani

PUBLISHED: Sabtu, 16 September 2023 , 23:29:00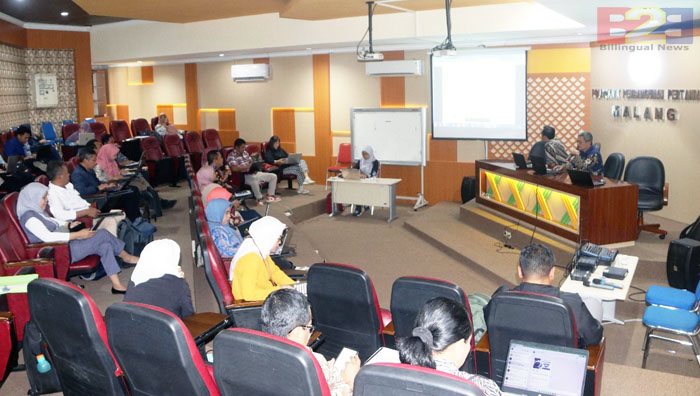 POLBANGTAN MALANG: Rapat koordinasi berlangsung tiga hari, 14 - 16 September 2023 di Polbangtan Malang yang dihadiri perwakilan PusdiktanBPPSDMP Kementan; perwakilan Kemendikbudristek dan Direktur Polbangtan Malang, Setya Budhi Udrayana.
Malang, Jatim [B2B] - Kementerian Pertanian RI terus memperkuat upayanya dalam mencetak sumberdaya manusia [SDM] di sektor pertanian yang unggul dan memiliki daya saing tinggi. Kementan juga fokus pada pendidikan vokasi sebagai kunci utama membentuk petani milenial yang kompeten.

Menteri Pertanian RI Syahrul Yasin Limpo menegaskan untuk mendukung pembangunan pertanian, maka generasi muda mempunyai peran penting.

"Guna melanjutkan pembangunan di sektor pertanian dibutuhkan dukungan SDM pertanian yang maju, mandiri, dan modern. Tentunya, hal itu bisa didapatkan dari bangku pendidikan vokasi," katanya.

Sementara Kepala Badan Penyuluhan dan Pengembangan SDM Pertanian Kementan [BPPSDMP] Dedi Nursyamsi menyampaikan bahwa petani milenial mempunyai peran penting melanjutkan pembangunan sektor pertanian.

"SDM pertanian adalah pengungkit terbesar produktivitas pertanian. Pendidikan vokasi menjadi salah satu kunci terhadap cikal bakal lahirnya petani milenial," katanya.

Politeknik Pembangunan Pertanian [Polbangtan] dan Pendidikan Enjinering Pertanian Indonesia [PEPI] sebagai perguruan tinggi vokasi terus berupaya menciptakan lulusan yang kompeten dan berkemampuan di bidang pertanian. Upaya tersebut sejalan dengan visi Kementan untuk meningkatkan kualitas SDM yang terlibat dalam sektor pertanian.

Guna memenuhi upaya tersebut, Polbangtan Malang mengadakan kegiatan pertemuan dan koordinasi Pusat Pendidikan Pertanian BPPSDMP Kementan [Pusdiktan) bersama seluruh Polbangtan dan PEPI untuk membahas persiapan evaluasi penyelenggaran pendidikan di Kementan.

Rapat koordinasi berlangsung selama tiga hari, 14 - 16 September 2023 di Polbangtan Malang, yang dihadiri perwakilan Pusdiktan; perwakilan Kementerian Pendidikan Kebudayaan dan Riset Teknologi [Kemendikbudristek]; Direktur Polbangtan Malang, Setya Budhi Udrayana beserta unsur pimpinan, dosen dan perwakilan dari tujuh politeknik lingkup Kementan sebanyak 70 orang pada Jumat [14/9].

Direktur Polbangtan Malang, Setya Budhi Udrayana mengatakan pertemuan tersebut merupakan kesempatan yang baik untuk melakukan evaluasi dan meningkatkan efektivitas mutu pendidikan bidang pertanian.

"Upayanya ditempuh dengan memotret input, proses dan output pembelajaran di seluruh satuan pendidikan. Kita sudah siap," kata Udrayana yang akrab disapa Uud.

Uud berharap pertemuan tersebut dapat menghasilkan program pendidikan yang terintegrasi dan relevan dengan kebutuhan sektor pertanian, sebagai upaya menciptakan generasi muda unggul yang kompeten, produktif, dan berdaya saing untuk mengembangkan pertanian di masa depan. [timhumaspolbangtanmalang]
Malang of East Java [B2B] - The role of agricultural training in Indonesia such as the Agricultural Training Center of Indonesia Agriculture Ministry across the country such as the BBPP Binuang so the ministry seeks to maximize its efforts to produce millennial entrepreneur.

Indonesian Agriculture Minister Syahrul Indonesia Yasin Limpo stated that the government´s commitment to developing agriculture, especially in the development of advanced, independent and modern agricultural human resources.

"The goal is to increase the income of farming families and ensure national food security. Farmer regeneration is a commitment that we must immediately realize," Minister Limpo said.

He reminded about the important role of agricultural training, to produce millennial farmers who have an entrepreneurial spirit.

"Through agricultural training, we connect farmers with technology and innovation so that BBPP meet their needs and are ready for new things," Limpo said.