SDM Pertanian Penentu Sukses `Food Estate` Genjot Produktivitas Pangan
Indonesian Govt Developing the Food Estate in Three Provinces
Reporter : Kemal Agus Praghotsa
Editor : Cahyani Harzi
Translator : Dhelia Gani

PUBLISHED: Jum'at, 17 September 2021 , 23:31:00 WIB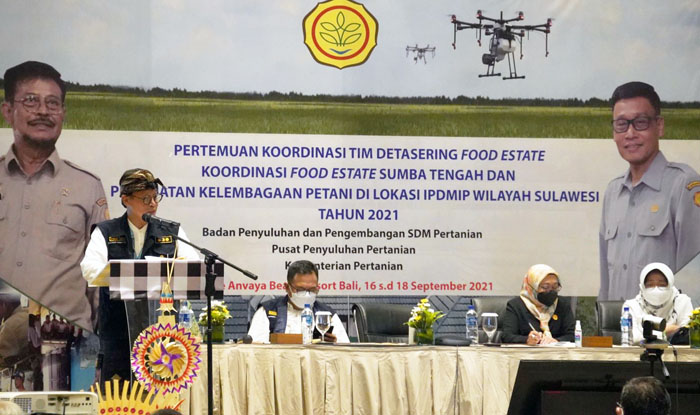 PERTEMUAN KOORDINASI: Kepala BPPSDMP Kementan, Dedi Nursyamsi [berdiri kiri] di Denpasar membuka Pertemuan Koordinasi Tim Detasering Food Estate [Foto: BPPSDMP]
Denpasar, Bali [B2B] - Lumbung Pangan Baru atau Food Estate merupakan upaya Pemerintah RI mewujudkan ketahanan pangan nasional. Kebijakan dan program tersebut sebagai antisipasi menghadapi adanya krisis pangan yang merupakan warning dari Badan Pangan Dunia [FAO].
Menteri Pertanian Syahrul Yasin Limpo menegaskan bahwa ketersediaan pangan yang memadai bagi seluruh rakyat menjadi fokus utama Kementerian Pertanian RI.
"Harap diingat, tujuan pembangunan pertanian nasional adalah menyediakan pangan bagi rakyat, meningkatkan kesejahteraan petani dan menggenjot ekspor," kata Mentan Syahrul.
Penegasan senada dikemukakan Kepala Badan Penyuluhan dan Pengembangan SDM Pertanian [BPPSDMP] Kementan, Dedi Nursyamsi bahwa food estate juga bertujuan meningkatkan produksi pertanian Indonesia.
"Food estate di Kalimantan itu utamanya padi, Sumatera Utara fokus hortikultura sedangkan NTT atau Sumba Tengah adalah padi dan jagung. Tujuan inti food estate tetap ditujukan untuk menggenjot produksi," kata Dedi Nursyamsi saat membuka Pertemuan Koordinasi Tim Detasering Food Estate di Denpasar, Kamis [16/9].
Menurutnya, tiga faktor pengungkit produktivitas yakni inovasi teknologi dan sarana-prasarana, peraturan perundangan dari tingkat presiden, menteri, gubernur hingga tingkat di bawahnya.
"Kendati begitu, yang paling utama dan tertinggi dalam mendongkrak produktifitas pertanian, tetap SDM, yang tak lain petani dan petani milenial yang berhimpun pada kelompok tani dan Gapoktan atau KWT [kelompok wanita tani] dan penyuluh," kata Dedi Nursyamsi.
Hal itu menunjukkan yang harus dibenahi terlebih dahulu agar produktifitas naik adalah SDM pertanian, katanya, penentu peningkatan produktivitas, karena menguasai seluruh tahapan dari kegiatan usaha tani.
"Tentu harus dimulai dari penyuluhnya. Harus mengerti bagaimana menggenjot produktivitas barulah mendampingi petani. Nah tugas kita di sini, terutama pendamping food estate atau tim detasering adalah itu," kata Dedi Nursyamsi.
Dia pun merujuk pada instruksi dan arahan Mentan Syahrul bahwa Tim Detasering tak ubahnya 'pasukan khusus' lantaran memiliki kemampuan lebih sebagai andalan pengembangan food estate. "Kita sudah turunkan pasukan khusus dan target itu harus tercapai."
Dedi Nursyamsi juga menyampaikan perlunya penguatan kelembagaan petani, karena petani tidak bisa berjalan sendiri untuk mencapai produktivitas tinggi. Mereka harus kolaborasi dengan petani lain atau mitra-mitra lain.
"Harus kita bangun kapasitas petani dan kelembagaannya. Petani harus ada dalam kelompok termasuk kelompok ekonomi petani sehingga mendapatkan keuntungan maksimal," katanya. [Cha]
Denpasar of Bali [B2B] - Three provinces has been chosen as the site for Indonesia´s new food barn to be established under the government´s food estate program, said Agriculture Minister Syahrul Yasin Limpo. For the first phase of the program, which encompasses the initial construction of the food barn, the government has provided land in the Kapuas and Pulang Pisau regency.