Tupoksi BPPSDMP Dorong Peningkatan Kualitas dan Kompetensi SDM Pertanian
Indonesian Govt Seeks to Improve the Capacity of HR Agriculture
Reporter : Gusmiati Waris
Editor : Cahyani Harzi
Translator : Dhelia Gani

PUBLISHED: Jum'at, 13 Juli 2018 , 23:37:00 WIB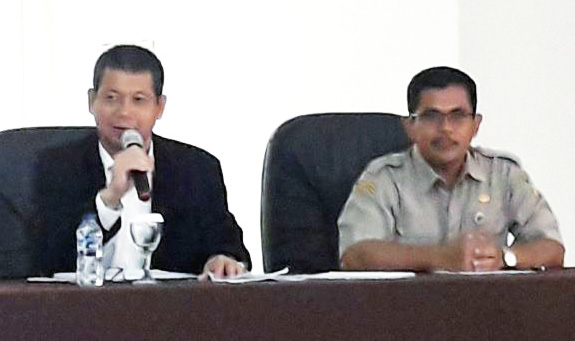 Sekretaris BPPSDMP Kementan, Andriko Noto Susanto (kiri) dan Kepala BBPP Lembang, Bandel Hartopo (Foto: istimewa)
Bandung, Jawa Barat (B2B) - Tugas pokok dan fungsi (Tupoksi) Badan Penyuluhan dan Pengembangan SDM Pertanian di Kementerian Pertanian RI memastikan profesionalisme SDM pertanian berkompetensi dan berdaya saing dengan Program Wirausaha Muda Pertanian (PWMP) untuk regenerasi petani, model pelatihan onsite training model (OTM) didukung Taiwan Technical Mission (TTM) dari Taiwan, dan Pusat Pelatihan Pertanian dan Pedesaan Swadaya (P4S) sebagai tempat belajar dan magang bagi petani.

"Fokus Kementan tidak berubah, kedaulatan dan kesejahteraan petani. Tupoksi BPPSDMP adalah memastikan SDM pertanian memiliki profesionalisme, daya saing dan berkompetensi," kata Sekretaris BPPSDMP Kementan, Andriko Noto Susanto dalam arahannya pada Press Tour 2018, Kamis pagi (12/7).

Menurutnya, keberhasilan pembangunan sektor pertanian tidak terlepas dari dukungan BPPSDMP Kementan khususnya pada peningkatan kapasitas SDM pertanian dan penguatan kelembagaan petani.

"Saya berharap teman-teman jurnalis dapat memberitakan kebaikan dan keberhasilan pertanian ini, dan memberikan kritik yang membangun untuk perbaikan ke depan demi kepentingan bersama untuk bangsa dan negara, khususnya petani," kata Andriko NS yang didampingi Kepala Balai Besar Pelatihan Pertanian - BBPP Lembang, Bandel Hartopo.

Dia menambahkan, upaya pemerintah melalui Kementan dalam mendorong peningkatan produksi pertanian tidak akan terwujud tanpa kesiapan SDM pertanian yang produktif, andal, mandiri dan memiliki jiwa kewirausahaan.

"Makin hari jumlah petani semakin berkurang, salah satu penyebabnya adalah masalah usia, dan produktivitas petani. Sementara pandangan masyarakat, petani hanya sekadar menanam padi, memanen di sawah yang orientasinya hanya produksi. Hal itu membuat pemuda masa kini enggan untuk menjadi petani," kata Andriko.

Menurutnya, Kementan menerapkan berbagai strategi untuk meningkatkan minat pemuda dan sarjana mendukung pembangunan sektor pertanian. Strategi awal adalah mengubah stigma tentang pertanian bukan hanya budidaya tanaman padi di sawah melainkan pengembangan sektor agribisnis dari subsistem hulu sampai hilir yang membuka peluang kerja dan peluang usaha.

"Diikuti strategi menumbuhkembangkan jiwa kewirausahaan di bidang pertanian agar para lulusan perguruan tinggi dari fakultas pertanian lebih menjadi pencipta lapangan kerja atau job creator," kata Andriko.

Untuk menjalankan strategi tersebut, diperlukan suatu program melalui pelatihan, program magang, kegiatan pembinaan dan bimbingan agar mereka mengetahui kemudahan dalam menciptakan dan merintis usaha yang menguntungkan, sehingga mereka pun terdorong untuk menjadi wirausahawan muda pertanian (agrosociopreneur) yang mampu menggerakkan dan menciptakan lapangan kerja di sektor pertanian.
Bandung of West Java (B2B) - The primary task and function of the Directorate General of Indonesia´s Agricultural Extension and Agricultural Human Resources or the BPPSDMP ensure professionalism of competent agricultural human resources and competitiveness through the agricultural young entrepreneurs program or PWMP for farmer regeneration, onsite training model training model or OTM, and agricultural and rural training centers or P4S as the training center and apprenticeship for farmers.

"The ministry´s focus does not change is for the sovereignty and welfare of farmers. BPPSDMP´s duty is to ensure that HR agriculture has professionalism, competitiveness and competence," said Secretary of BPPSDMP Andriko Noto Susanto here in his direction of Press Tour 2018 on Thursday (July 12).

According to him the success of agricultural sector development is determined by the quality of agricultural human resources and farmer institutions.

"I hope the journalists can convey information about Indonesia´s agricultural development to the public throughout the country," said Mr Susanto who was accompanied by the Director of Lembang´s Agriculture Training Center or BBPP Lembang, Bandel Hartopo.

He said that the government´s efforts through the ministry to increase agricultural production is impossible without the readiness of human resources that are productive, independent and entrepreneurial.

"The number of Indonesian farmers continues to decrease, the main cause being age and productivity. While peoples´ views of farmers are ragged and poor, it makes the youth of today are reluctant to be farmers," Mr Susanto said.

Indonesian government through the agriculture ministry implement several strategies to increase the interest of youth and scholars support agricultural sector development, initial strategy to change stigma about agriculture is not only cultivation in paddy fields through the Agricultural Young Entrepreneurs or the PWMP.

"The next strategy is fostering the entrepreneurial spirit in agriculture so that the college graduates of agricultural faculty to create jobs," Mr Susanto said.

According to him, to run the strategy, the developed a program through training, apprenticeship programs, development activities and guidance so that they know the ease in creating and pioneering profitable business, so they were compelled to become young entrepreneurs agriculture that can move and create jobs agricultural sector.