Bakpia - Forwatan Ungkap Kiat Kementan Pikat Generasi Milenial
Indonesian Govt Anticipates the 4.0 Industrial Revolution in Agricultural Sector
Reporter : Gusmiati Waris
Editor : Cahyani Harzi
Translator : Dhelia Gani

PUBLISHED: Selasa, 19 Maret 2019 , 03:31:00 WIB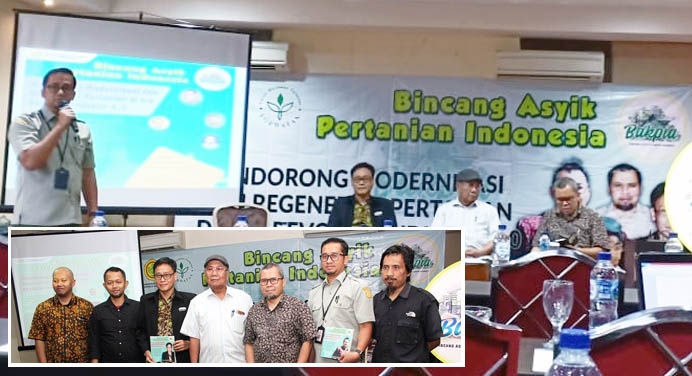 FORUM WARTAWAN PERTANIAN: Kabag Humas Dani Gartina [kiri] menjadi moderator diskusi yang dihadiri SAM Dedi Nursyamsi, ekonom UI Riyanto dan Tenaga Ahli Mentan, Farid Bahar [Foto2: B2B/Mya]
Bogor, Jabar [B2B] - Kementerian Pertanian RI mengembangkan sejumlah aplikasi teknologi di era revolusi industri 4.0, untuk meningkatkan daya saing produksi pertanian Indonesia dan kesejahteraan petani, sekaligus menarik minat generasi milenial untuk menggeluti sektor pertanian, yang mengedepankan teknologi pertanian dan insentif lebih baik sehingga profesi menjadi petani lebih terhormat dan mulia ketimbang pekerjaan di sektor lain karena perannya sebagai penyedia pangan yang tak lekang oleh waktu.
Aplikasi teknologi dimaksud antara lain Katam, SiMantap, Smart Farming, Smart Green House, Autonomous Tractor, dan Smart Irrigation, yang dikemukakan oleh Staf Ahli Menteri Bidang Infrastruktur Pertanian, Dedi Nursyamsi; dan ekonom Universitas Indonesia, Riyanto pada ´bincang asyik pertanian´ disingkat Bakpia yang diselenggarakan Forum Wartawan Pertanian [Forwatan] dan Sekretariat Jenderal Kementan di Sentul City, Bogor, Jawa Barat pada Senin [18/3].
Dedi Nursyamsi mengatakan, perkembangan teknologi sangat luar biasa karena telah memasuki era teknologi 4.0 berbasis teknologi informasi yang sangat luar biasa dampaknya terhadap produksi barang dan jasa.
"Kementan sangat siap memasuki era 4.0 melalui berbagai aplikasi dan kebijakan, yang diluncurkan untuk mendukung usahatani seperti Simotandi yang didukung citra satelit resolusi tinggi untuk mengetahui standing crop tanaman padi," kata Dedi N.
Dia memberi contoh Simotandi, singkatan dari Sistem Informasi Monitoring Pertanaman Padi untuk mengetahui potensi luas lahan sawah misalnya di Jawa Barat lebih dari satu juta hektar, maka terlihat luas lahan yang akan panen. Tersebar dimana saja. Begitu pula tanaman padi yang baru tanam maupun lahan yang belum ditanami atau Bera.
Ada lagi aplikasi Kalender Tanam disingkat KaTam, untuk mengetahui waktu tanam, rekomendasi pupuk hingga penggunaan varietas padi, "rekomendasi bukan hanya di tingkat kabupaten juga kecamatan hingga ke tingkat desa."
Asuransi pertanian didukung aplikasi SiMantap yang dimanfaatkan oleh PT Jasindo untuk mem-back up asuransi pertanian, yang sangat membantu pihak asuransi untuk mendeteksi risiko kekeringan dan banjir, hingga organisme pengganggu tumbuhan.
"Aplikasi yang disiapkan Kementan juga memfasilitasi generasi muda untuk menggeluti sektor pertanian," katanya.
Riyanto menambahkan implementasi teknologi 4.0 di sektor pertanian sangat bermanfaat bagi konsumen dan petani, untuk mendekatkan distribusi, maka Kementan diharapkan memfasilitasi era 4.0 dengan regulasi dan kebijakan, sehingga ada payung hukum bagi pelaku usaha dan generasi milenial.
"Apabila Kementan tidak mengantisipasi industrialisasi 4.0 untuk mendorong multiplier effect dari hulu sampai hilir sektor pertanian," kata Riyanto.
Bogor of West Java [B2B] - Indonesian Agriculture Ministry developed a number of technological applications in the era of industrial revolution 4.0, to increase the competitiveness of agricultural production and the welfare of farmers, and invite young people back to the agricultural sector, which prioritizes agricultural mechanization and better incentives so that the farmer´s profession is more respectable and noble than jobs in other sectors.
The online application is Katam, SiMantap, Smart Farming, Smart Green House, Autonomous Tractor, and Smart Irrigation as stated by the Minister´s Expert Staff for Agricultural Infrastructure, Dedi Nursyamsi; and University of Indonesia economist Riyanto held by the Indonesian Agricultural Journalists Forum [Forwatan] here on Monday [March 18].
Dedi Nursyamsi said the development of information technology-based technology is very rapid which has a wide impact on the production of goods and services.
"The agriculture ministry is very ready in era 4.0 through various applications and policies, which was developed to support farming such as Simotandi with high-resolution satellite imagery to find out the standing crop of rice," Nursyamsi said.
He gave examples of Simotandi or Rice Planting Monitoring Information System to find out the potential of wetland area for example in West Java more than one million hectares.
There is another application for Planting Calendar or KaTam, to find out the planting time, fertilizer recommendations to the use of rice varieties, "recommendations for districts to sub-districts and villages."
Agricultural insurance is supported by the SiMantap application that is used by insurance companies, Jasindo, to back up agricultural insurance, which is very helpful for insurance companies to detect the risk of droughts and floods.
"Online applications prepared by the agriculture ministry also facilitate the younger generation into the agricultural sector," he said.
Riyanto said the implementation of technology 4.0 for the agricultural sector is very beneficial for farmers and consumers, the ministry are expected to facilitate era 4.0 with regulations and policies.
"If Indonesia does not anticipate industrialization 4.0 to encourage the multiplier effect of the agricultural sector of upstream to downstream," Riyanto said.