Modernisasi, Solusi BPPSDMP Kementan Kembangkan Generasi Petani Milenial
Indonesian Govt Developing Millennial Generation Farmer
Reporter : Gusmiati Waris
Editor : Cahyani Harzi
Translator : Dhelia Gani

PUBLISHED: Senin, 18 Februari 2019 , 04:16:00 WIB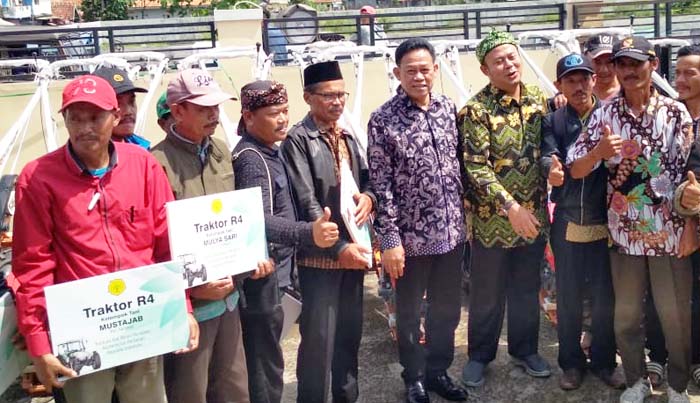 TEMU TEKNIS BANDUNG: Kepala BPPSDMP Kementan, Momon Rusmono (batik biru) dan Anggota Komisi IV DPR RI, Cucun Ahmad Syamsurizal usai menyerahkan bantuan Alsintan di Bandung (Foto: Humas BPPSDMP)
Bandung, Jabar (B2B) - Sedikitnya 150 unit alat mesin pertanian (Alsintan) telah disalurkan Kementerian Pertanian RI kepada kelompok tani di Kabupaten Bandung dan Bandung Barat, tujuannya mendukung petani meningkatkan produksi pertanian sekaligus menumbuhkan generasi petani milenial.
"Modernisasi pertanian melalui bantuan Alsintan diharapkan dapat menarik minat pemuda menjadi generasi petani milenial, untuk mendukung pertanian berkelanjutan di Indonesia," kata Momon Rusmono, Kepala Badan Penyuluhan dan Pengembangan SDM Pertanian - Kementerian Pertanian (BPPSDMP) di Bandung Barat, Jabar pada Sabtu (16/2).
Menurutnya, Kementan berkomitmen dan konsisten mendukung modernisasi pertanian melalui pemanfaatan Alsintan, untuk mendukung harapan Indonesia menjadi lumbung pangan Asia maupun dunia benar-benar terwujud.
Komitmen itu diwujudkan BPPSDMP Kementan dengan menggelar kegiatan ´temu teknis penyuluh dan petani menuju lumbung pangan dunia 2045´ di Graha Alif, Kecamatan Solokanjeruk, Kabupaten Bandung. Kegiatan Temu Teknis dihadiri hampir 2.000 peserta terdiri atas penyuluh pertanian, petani milenial, santri tani, wirausahawan muda pertanian, dan kelompok wanita tani.
Bantuan diserahkan Momon Rusmono dan Anggota Komisi IV DPR, Cucun Ahmad Syamsurizal kepada kelompok tani setempat disaksikan Sekretaris BPPSDMP Prihasto Setyanto dan Kepala Pusat Penyuluhan Pertanian (Pusluhtan) Siti Munifah.
"Kegiatan temu teknis dan penyerahan bantuan Alsintan diharapkan dapat menarik minat generasi muda berperan aktif mendukung pembangunan pertanian. Mereka bisa melihat pertanian jauh ke depan, untuk menumbuhkan generasi petani milenial," kata Momon Rusmono. (NurF)
Bandung of West Java (B2B) - At least 150 agricultural machinery units have been given by Indonesian Agriculture Ministry to farmer groups in Bandung and West Bandung districts of West Java province, the aim is to support farmers to increase agricultural production and developing millennial generation farmer.
"Agriculture modernization through agricultural machinery can attract the younger generation become millennial generation farmer, to support sustainable agriculture in Indonesia," said Momon Rusmono as the Director General of Extension and Agricultural HR Development or the BPPSDMP here on Saturday (Februari 16).
According to him, the ministry is committed and consistently supports agricultural modernization to support Indonesia´s aspirations to become the world food barn will be realized.
The commitment was realized by the BPPSDMP holding ´technical counselor and farmer meeting activities´ in Bandung district. The technical meeting was attended by nearly 2,000 participants consisting of agricultural extensionists, millennial farmers, agricultural students, young agricultural entrepreneurs, and women farmer groups.
Agricultural machinery assistance to local farmer groups was handed over by Momon Rusmono and parliamentary member of the food commission, Cucun Ahmad Syamsurizal witnessed by Secretary of BPPSDMP Prihasto Setyanto and Director of Agricultural Extension Center Siti Munifah.
"Technical meeting activities and agricultural machinery are expected to attract interest of younger generation back to farming," Rusmono said.