Bingkisan Lebaran, Mentan Larang Keras ASN Kementan Terima Gratifikasi
Indonesian Civil Servants are Prohibited Accept Eid Al-Fitr Parcel
Reporter : Gusmiati Waris
Editor : Cahyani Harzi
Translator : Dhelia Gani

PUBLISHED: Senin, 03 Juni 2019 , 04:05:00 WIB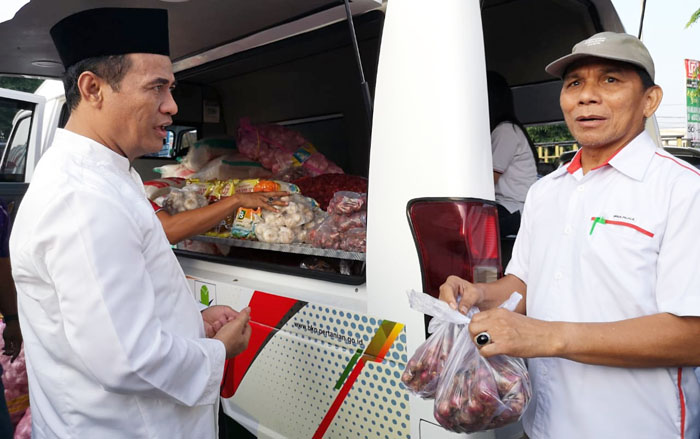 PANTAU PASAR: Mentan Amran Sulaiman berbincang dengan staf dari Toko Tani Indonesia [TTI] di Makassar di sela kunjungan kerja di pasar tradisional di ibukota Sulsel tersebut [Foto: Biro Humas Kementan]
Makassar, Sulsel [B2B] - Seluruh aparatur sipil negara [ASN] di Kementerian Pertanian RI dilarang keras oleh Menteri Andi Amran Sulaiman untuk menerima bingkisan Lebaran berupa barang, diskon harga, fasilitas khusus atau bentuk lainnya menurut definisi gratifikasi dari Komisi Pemberantasan Korupsi [KPK]. Mentan juga mengimbau seluruh pengusaha dan asosiasi usaha di sektor pertanian untuk tidak memberikan bingkisan lebaran/parsel kepada pimpinan dan staf Kementan dalam bentuk apa pun.
"Kami tegas katakan, tidak boleh ada pejabat atau staf yang menerima parsel, bingkisan atau hadiah dari siapa pun. Saya tidak ingin integritas mereka diciderai dengan hal demikian," kata Mentan Amran Sulaiman di sela kunjungan kerjanya meninjau kesiapan stok pangan jelang Lebaran di Makassar, Sulsel Minggu (2/6).
Dia menambahkan bahwa hampir lima tahun memimpin Kementan, kinerja kementerian diakui positif oleh KPK dalam hal pencegahan dan pemberantasan korupsi, kolusi dan nepotisme [KKN], begitu pula dengan Badan Pemeriksa Keuangan RI [BPK] memberikan Opini Wajar Tanpa Pengecualian [WTP] dalam tiga tahun terakhir kepada Kementan.
"Tahun 2017 dan 2018, Kementan mendapat penghargaan anti gratifikasi terbaik. Kami akan jaga komitmen tersebut. BPK juga sudah tiga tahun ini memberikan predikat WTP bagi Kementan," kata Mentan Amran Sulaiman.
Menurutnya, pencegahan gratifikasi dan korupsi akan mendorong ASN Kementan bekerja dengan integritas, dan menginstruksikan Inspektorat Jenderal Kementan [ItJenTan] dan pimpinan eselon satu aktif memantau perilaku dan potensi terjadinya KKN di Kementan.
Sebagaimana diketahui, upaya konkrit pencegahan KKN melalui melalui penguatan kegiatan Wilayah Bebas dari Korupsi (WBK), SMS Center, Whistle Blowing System (WBS) dan pembentukan Unit Pengelolaan Gratifikasi (UPG) yang saat ini tentunya akan menjadi sarana pelengkap menjaga roda pemerintahan Kementan. [Budi]
Makassar of South Sulawesi [B2B] - Civil servants [PNS] at the Indonesian Agriculture Ministry it is strictly forbidden by Minister Andi Amran Sulaiman to accept the Eid al-Fitr parcel defined as gratification by Anti-graft Commission [KPK] Minister Sulaiman also appealed to entrepreneurs and business associations in the agricultural sector not to give gifts of any kind to officials and PNS in the ministry.
"I say firmly, no official or staff may receive parcels or gifts from anyone. I don´t want their integrity and honesty to be damaged by the Eid al-Fitr parcel," said Minister Sulaiman here on Sunday [June 6].
He said that almost five years led the ministry, has been recognized by the KPK to prevent and eradicate corruption, collusion and nepotism [KKN] as well as recognition of the Supreme Audit Agency [BPK] with Unqualified Opinion in the last three years to the ministry.