Temu Teknis 27 Februari, 10 Ribu Penyuluh & Petani Kumpul di Purwakarta
10.000 Indonesia`s Agricultural Extensionists and Farmers will Meet in Purwakarta
Editor : M. Achsan Atjo
Translator : Dhelia Gani

PUBLISHED: Sabtu, 16 Februari 2019 , 06:22:00 WIB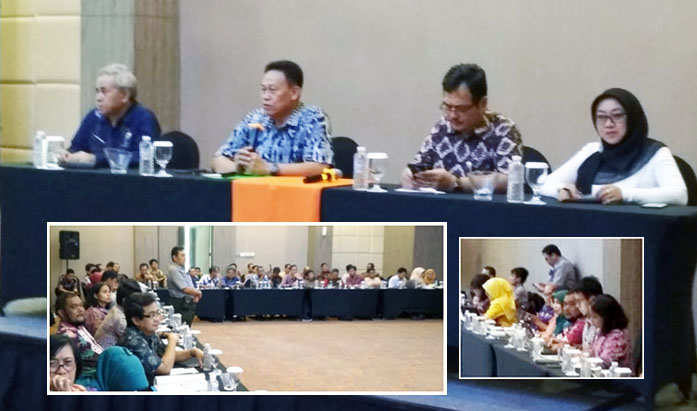 RAPAT TEKNIS: Kepala BPPSDMP Kementan Momon Rusmono (ke-2 kiri) memimpin rapat didampingi Kapusluh Siti Munifah dan Kapuslat Bustanul AC (Foto2: Humas BPPSDMP)
Purwakarta, Jabar (B2B) - Sekitar 10.000 orang akan menghadiri kegiatan ´temu teknis penyuluh pertanian dan petani andalan menuju Indonesia Lumbung Pangan Dunia 2045´ di Purwakarta pada 27 Februari mendatang, yang akan dihadiri Menteri Pertanian RI Andi Amran Sulaiman dan pimpinan Komisi IV DPR RI; Gubernur Jawa Barat, Ridwan Kamil; dan Kepala Staf TNI AD (Kasad) Jenderal TNI Andika Perkasa.
Kepala Badan Penyuluhan dan Pengembangan SDM Pertanian - Kementerian Pertanian RI (BPPSDMP) Momon Rusmono mengatakan target peserta adalah petani/peternak, penyuluh pertanian, rumah tangga miskin, santri tani, siswa SMK Pertanian, dan mahasiswa perguruan tinggi pertanian.
"Mereka berasal dari lima kabupaten di Jawa Barat. Peserta terbanyak dari Purwakarta mencapai 6.500 orang, dua ribu peserta dari Subang dan Karawang masing-masing seribu orang, sementara Cianjur dan Indramayu masing-masing 750 peserta atau total 1.500 orang," kata Momon Rusmono yang memimpin rapat teknis di Purwakarta, Jumat (15/2) didampingi Kepala Pusat Penyuluhan Pertanian (Pusluhtan) Siti Munifah dan Kepala Pusat Pelatihan Pertanian (Puslatan) Bustanul Arifin Caya.
Agenda utama kegiatan yang dipusatkan di Tajug Gede Cilodong, Desa Cibungur, Kecamatan Bungursari, Purwakarta adalah gerakan tanam padi gogo dengan 98 varietas padi; peluncuran ekspor manggis 45 ton ke China; pemberian bantuan pupuk, benih padi, benih manggis, dan mesin pertanian (Alsintan).
Rencana bantuan Kementan untuk calon petani calon lahan (CPCL) untuk kelima kabupaten adalah benih padi sawah 10.000 hektar, benih padi gogo 1.000 hektar, benih manggis 3.700 pohon, benih sayuran 10 hektar, 42.000 batang bibit pala, dan hampir 100 unit: traktor roda dua, pompa air, cultivator, thresher, dryer, conceller, dan power tresher multiguna.
Temu teknis dihadiri sejumlah pejabat eselon tiga dan empat beserta staf dari empat direktorat jenderal komoditas: Tanaman Pangan, Hortikultura, Perkebunan, Peternakan dan Hesehatan Hewan; Badan Karantina Pertanian; Sekretariat Jenderal; Badan Penelitian dan Pengembangan Pertanian (Balitbangtan); kecuali Inspektorat Jenderal dan Badan Karantina Pertanian. Hadir pula pejabat dinas pertanian dari Karawang, Indramayu dan Purwakarta.
Purwakarta of West Java (B2B) - About 10,000 people will attend the ´meeting of agricultural extension workers and farmers supporting the Indonesian Food Barn 2045´ in Purwakarta, February 27, which will be attended by Agriculture Minister Andi Amran Sulaiman; parliamentarians of the food commission; West Java Governor, Ridwan Kamil; and Army Chief of Staff General Andika Perkasa.
The Director General of Extension and Agricultural HR Development or the BPPSDMP, Momon Rusmono said the target participants were farmers / farmers, agricultural extension workers, poor households, agricultural students, agricultural vocational students, and agricultural college students.
"They come from five districts in West Java province. Most participants from Purwakarta reach 6,500 people, two thousand participants from Subang and Karawang a thousand people each, while Cianjur and Indramayu each had 750 participants or a total of 1,500 people," said Rusmono said Momon Rusmono who chaired a technical meeting in Purwakarta on Friday (February 15) accompanied by Director of Agricultural Extension Center, Siti Munifah; and Director of Agriculture Training Center, Bustanul Arifin Caya.
The main agenda of activity which was centered in Tajug Gede Cilodong, Cibungur village of Bungursari subdistrict, Purwakarta was an upland rice planting movement with 98 rice varieties; the launch of 45 tons of mangosteen exports to China; fertilizer assistance, rice seeds, mangosteen seeds, and agricultural machinery.
The Agriculture Ministry´s assistance for prospective farmers for the five districts, 10,000 hectares of rice paddy seeds, upland rice seeds 1,000 hectares, 3,700 mangosteen seeds, 10 hectares of vegetable seeds, 42,000 nutmeg seedlings, and almost 100 units: two-wheel tractors, water pumps, cultivators, thresher, dryer, conceller, and multipurpose power tresher.