Pasar Mitra Tani Kementan di Medan Diapresiasi Gubernur Sumut
Millennial Farmers Development are the Target of Indonesia`s Polbangtan Medan
Editor : M. Achsan Atjo
Translator : Dhelia Gani

PUBLISHED: Minggu, 01 Mei 2022 , 06:59:00 WIB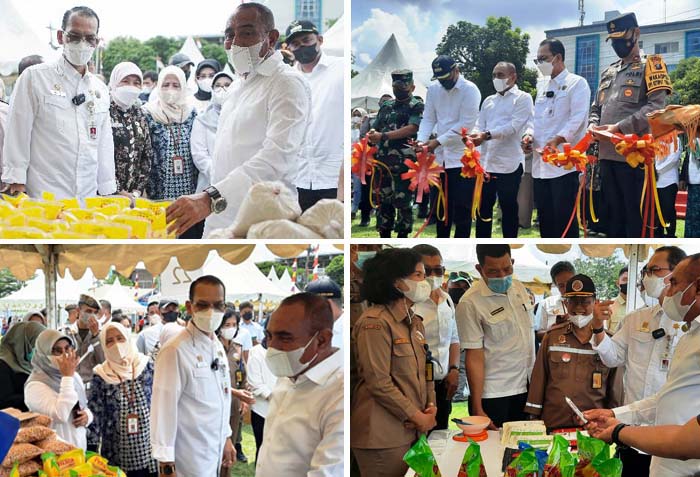 POLBANGTAN MEDAN: Gubernur Sumut Edy Rahmayadi didampingi Dirjen PSP Ali Jamil dan pimpinan TNI - Polri di Sumut serta Direktur Polbangtan Medan, Yuliana Kansrini meninjau kegiatan Pasar Mitra Tani Kementan di Medan
Medan, Sumut [B2B] - Pasar Mitra Tani di Lapangan Sejati Pratama, Kota Medan pada Sabtu [30/4] diapresiasi Gubernur Sumatera Utara [Sumut] Edy Rahmayadi sebagai ´urusan kemanusiaan´ seraya memastikan ketersediaan bahan pangan pokok serta harganya masih terkendali hingga Hari Raya Idul Fitri 1443 H [Lebaran 2022].
"Kami ucapkan terima kasih pada Mentan Syahrul Yasin Limpo dan jajaran Kementan, atas terselenggaranya kegiatan yang berurusan dengan kemanusiaan," kata Gubernur Edy Rahmayadi saat membuka Pasar Mitra Tani.
Menurutnya, inisiasi Kementan harus diapresiasi karena memastikan stok pangan dan harga terkendali di seluruh Indonesia, termasuk Sumut khususnya Kota Medan.
"Barang cukup, harga stabil. Kenapa dilakukan seperti ini? Karena kehadiran pemerintah mendekati Lebaran, banyak rakyat kita sulit untuk menjangkau itu. Kegiatannya adalah berurusan kemanusiaan," kata Gubernur Sumut.
Upaya tersebut merupakan komitmen Menteri Pertanian RI Syahrul Yasin Limpo yang menginstruksikan jajarannya turun ke seluruh Indonesia, untuk menjamin pasokan pangan poko selama Ramadan hingga Lebaran 2022 sebagai Hari Besar Keagamaan Nasional [HBKN].
"Pangan rakyat tak boleh bersoal. Pangan adalah kebutuhan dasar yang harus terus terpenuhi. Saya meminta kepada seluruh jajaran Kementan turun ke lapangan menjamin ketersediaan bahan pangan pokok," kata Mentan Syahrul.
Kepala Badan Penyuluhan dan Pengembangan SDM Pertanian Kementan [BPPSDMP] Dedi Nursyamsi menambahkan bahwa jaminan ketersediaan pangan merupakan salah satu pilar yang menjadi fokus perhatian Kementan.
"Penting untuk harus terus menjamin kebutuhan pangan agar tak ada satu orang pun yang luput pemenuhan kebutuhan pangannya. Oleh karenanya, mari kita bahu membahu dalam hal swasembada pangan agar ketahanan pangan kita terjamin," katanya.
Direktur Polbangtan Medan, Yuliana Kansrini mengatakan bahwa Politeknik Pembangunan Pertanian [Polbangtan] selaku UPT pendidikan BPPSDMP Kementan di Sumut, turut mendukung pelaksanaan Pasar Mitra Tani tersebut.
Menurutnya, 12 pangan pokok yang disediakan Pasar Mitra Tani tergolong terjangkau harganya seperti beras Rp49 ribu per 5 kg, daging kerbau Rp80 ribu per kg, daging sapi Rp 125 ribu per kg, daging ayam Rp38 ribu per kg, telur Rp1.000 per butir, minyak goreng Rp15 ribu per kg, gula Rp12.500 per kg, bawang merah Rp25 ribu per kg, cabai Rp22 ribu dan bawang putih Rp20 ribu per kg.
Medan of North Sumatera [B2B] - The role of agricultural vocational education in Indonesia such as the Agricultural Development Polytechnic or the Polbangtan, so the Agriculture Ministry seeks to maximize its efforts to produce millennial entrepreneur.
Indonesian Agriculture Minister Syahrul Indonesia Yasin Limpo stated that the government´s commitment to developing agriculture, especially in the development of advanced, independent and modern agricultural human resources.
"The goal is to increase the income of farming families and ensure national food security. Farmer regeneration is a commitment that we must immediately realize," Minister Limpo said.
He reminded about the important role of vocational education, to produce millennial farmers who have an entrepreneurial spirit.
"Through vocational education, we connect campuses with industry so that Polbangtan graduates meet their needs and are ready for new things," Limpo said.