BPPSDMP: Penyuluh Berkarakter, Modal Utama Pembangunan Pertanian
Indonesian Agricultural Extensionist must have Character: Senior Official
Reporter : Gusmiati Waris
Editor : Cahyani Harzi
Translator : Dhelia Gani

PUBLISHED: Jum'at, 11 Oktober 2019 , 00:13:00 WIB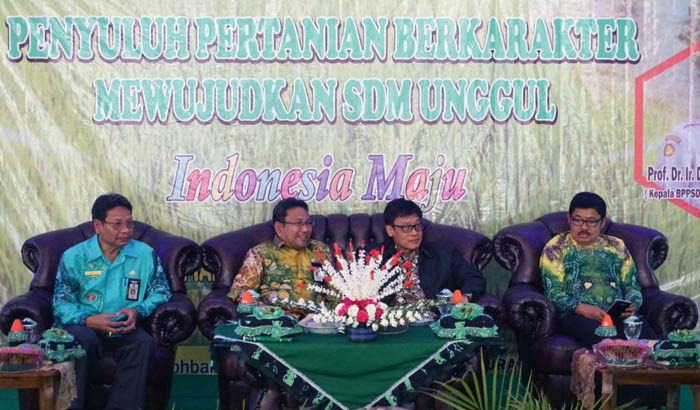 SEMINAR PENYULUH: Kepala BPPSDMP Kementan, Prof Dedi Nursyamsi [ke-2 kanan] bersama pimpinan dinas pertanian dan bidang penyuluhan pertanian provinsi dan kabupaten [Foto: Humas BPPSDMP Kementan]
Banjarbaru, Kalsel [B2B] - Penyuluh pertanian berkarakter menjadi modal penting pembangunan pertanian nasional di era industrialisasi 4.0, maka peningkatan kualitas manusia seutuhnya menjadi keharusan dicirikan rasa ingin tahu yang tinggi dan peka terhadap perubahan, sehingga mendorong tumbuhnya karakter penyuluh yang inovatif mendukung capaian target pertanian sebagai sektor paling strategis di Indonesia maupun dunia.
"Untuk mencapai keberhasilan pembangunan pertanian tidak hanya bertumpu pada peningkatan produksi dan produktivitas, tetapi harus menciptakan nilai tambah sebagai modal utama keberhasilan pembangunan pertanian," kata Kepala BPPSDMP Kementan, Prof Dedi Nursyamsi pada seminar di Banjarbaru, Kalimantan Selatan pada Kamis [10/10].
"Penyuluh pertanian harus kreatif. Apalagi teknologi informasi dan komunikasi atau TIK saat ini maju sangat pesat. Penyuluh harus dapat memanfaatkan teknologi dengan maksimal, apalagi saat ini sudah dibuat aneka aplikasi untuk penyuluh dan penyuluhan pertanian," kata Dedi Nursyamsi pada seminar yang dihadiri oleh 400 penyuluh pertanian dari seluruh Kalsel.
Artinya, kata KaBadan SDM, penyuluh yang memiliki smartphone Android harus dapat mengakses informasi penting dari Kementerian Pertanian RI, sementara bagi penyuluh pertanian yang belum memiliki smartphone Android bisa terjun ke lapangan.
Menurut Dedi Nursyamsi, saat ini Kementerian Pertanian RI telah melakukan berbagai upaya, dalam hal meningkatkan peran penyuluhan pertanian termasuk dengan kelembagaan dan kegiatan penyelenggaraan.
"Penyuluh harus mendukung pemberdayaan petani agar melek teknologi, dan menularkan ilmunya kepada petani. Terus bekerja keras untuk menghidupi pangan seluruh dunia, tugas kita sebagai insan pertanian untuk mewujudkan Indonesia sebagai lumbung pangan dunia 2045," katanya.
Jakarta [B2B] - Agricultural extension character became an important capital to national agricultural development in the era of industrialization 4.0, then improving the quality of human beings must be characterized by curiosity and sensitive to change, thus encouraging the growth of innovative agricultural extension, support achievement of agricultural targets as the most strategic sector in Indonesia and the world.