Langsung Kerja, Mentan Amran Fokus Tingkatkan Produksi Komoditas Strategis
Millennial Farmers Development are the Target of Indonesia`s Agriculture Ministry
Editor : Cahyani Harzi
Translator : Novita Cahyadi

PUBLISHED: Kamis, 26 Oktober 2023 , 00:44:00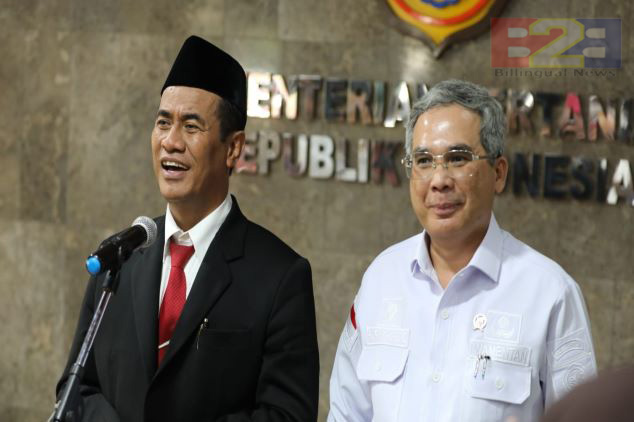 BPPSDMP KEMENTAN: Menteri Pertanian RI Andi Amran Sulaiman didampingi Wakil Menteri Pertanian Harvick Hasnul Qolbi ke kantor pusat Kementan, Jalan Harsono, Ragunan, Jakarta Selatan.
Jakarta [B2B] - Menteri Pertanian [Mentan] Andi Amran Sulaiman langsung bekerja di hari pertamanya sebagai Menteri. Amran datang ke kantor pusat Kementan, Jalan Harsono, Ragunan, Jakarta Selatan sekitar pukul 10.30 WIB. Di sana, mentan langsung berkordinasi dengan para pejabat dan seluruh jajaran di lingkup kementan.
Amran mengatakan fokus kerja dalam satu tahun ke depan adalah memperkuat produksi berbagai komoditas strategis seperti Padi dan Jagung. Hal ini sesuai dengan arahan Presiden Joko Widodo yang meminta Indonesia meningkatkan produksi berbagai komoditas strategis. Amran mengaku optimis target tersebut dapat tercapai seperti yang pernah dilakukan pada 2017 dan 2021 lalu.
"Satu tahun ini saya fokus pada produksi padi, jagung dan kedelai. Kita menekan dulu impor agar bisa swasembada," ujar Mentan di hari pertama masuk kerja usai dilantik Presiden Jokowi di Istana Merdeka Jakarta, pada Rabu [25/10].
Amran mengatakan semua program yang baik untuk kepentingan bangsa dan negara akan dilanjutkan. Dia mencontohkan jaman dia memimpin kementan ada program Selamatkan Rawa Sejahterakan Petani atau yang dikenal dengan Program Serasi.
"Semua program yang baik akan kita lanjutkan. Kita sudah pernah swasembada dan harus kita capai kembali," katanya.
Adapun saat ditanya mengenai perubahan cuaca ektrem el nino yang saat ini tengah berlangsung, Amran mengaku sudah pernah melalui masa sulit tersebut pada tahun 2015. Waktu itu, el nino dapat dilewati dab produksi tetap tinggi.
"Kita sudah pernah melewati el nino dengan sangat baik. Jadi tahun ini kita hadapi juga dengan cara yang terbaik," katanya.
Terakhir, Mentan menyampaikan terimakasih kepada semua pihak yang selama ini menjalankan roda pembangunan pertanian Indonesia. Salah satu yang paling berjasa adalah Presiden Joko Widodo yang memberi perhatian besar pada sektor pangan.
"Saya menyampaikan terimakasih kepada presiden telah memberikan amanah dan kepercayaan ini. Padahal sebelumnya saya tidak pernah membayangkan akan kembali ke sini [kementan]," jelasnya.
Jakarta [B2B] - The role of agricultural vocational education in Indonesia such as the the Agricultural Development Polytechnic or the Polbangtan, to support Indonesian Agriculture Ministry seeks to maximize its efforts to produce millennial entrepreneur.

Youth Enterpreneurship And Employment Support Services Programme or the YESS, to support Indonesian Agriculture Ministry seeks to maximize its efforts for the millennial entrepreneur.

Indonesian Agriculture Ministry stated that the government´s commitment to developing agriculture, especially in the development of advanced, independent and modern agricultural human resources.

"The goal is to increase the income of farming families and ensure national food security. Farmer regeneration is a commitment that we must immediately realize," Minister Limpo said.

He reminded about the important role of vocational education, to produce millennial farmers who have an entrepreneurial spirit.

"Through vocational education, we connect campuses with industry so that Polbangtan graduates meet their needs and are ready for new things," Limpo said.