Syahrul Yasin Limpo: "Saya Diminta Penuhi Kebutuhan Dasar 260 Juta Penduduk"
Nasdem Party Politicians Appointed by Indonesia`s Widodo as the Minister
Editor : M. Achsan Atjo
Translator : Dhelia Gani

PUBLISHED: Selasa, 22 Oktober 2019 , 13:12:00 WIB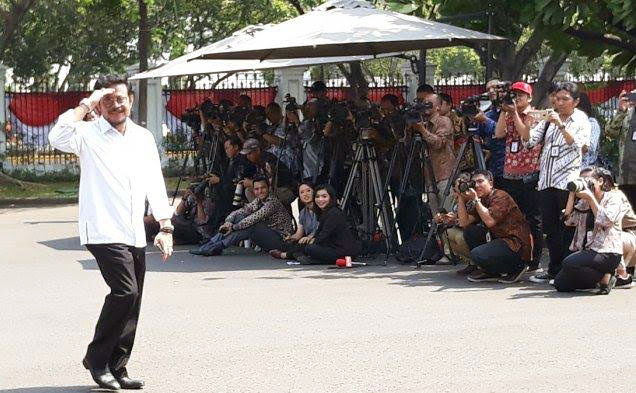 MENYAPA WARTAWAN: Sebelum masuk ke Istana Kepresidenan, Syahrul Yasin Limpo menyapa wartawan dengan memberi sikap hormat. Saat kampanye Pilpres 2019, SYL masuk daftar tim kampanye Jokowi - Ma´ruf Amin [Foto: istimewa]
Jakarta [B2B] - Syahrul Yasin Limpo, mantan Gubernur Sulawesi Selatan dua periode [2008 - 2018] memenuhi undangan Presiden RI Joko Widodo di Istana Kepresidenan Jakarta, Selasa pagi [22/10] untuk menjalani semacam fit and proper test sebelum ditunjuk menjadi menteri di Kabinet Kerja II Jokowi - Ma´ruf Amin.
Saat ditanya wartawan setelah pertemuan dengan Jokowi, pria kelahiran Makassar, 16 Maret 1955 yang akrab disapa SYL mengaku diminta menjadi bagian dari Partai Nasdem untuk masuk dalam kabinet kerja kedua Jokowi dan Ma´ruf Amin.
"Memang Presiden Jokowi meminta saya masuk ke dalam Kabinet Kerja kedua, sebagai bagian dari Partai Nasdem," kata SYL, Ketua DPP Partai Nasdem besutan Surya Paloh, penerbit HU Media Indonesia dan pendiri Metro TV.
Kendati menolak menjawab pertanyaan wartawan tentang posisi yang ditawarkan Presiden Jokowi, alumni Fakultas Hukum Universitas Hasanuddin Makassar [Unhas] tahun 1983, memberi sinyal akan menangani kebutuhan dasar rakyat Indonesia.
"Presiden mengharapkan saya dapat memenuhi kebutuhan dasar dari 260 juta rakyat Indonesia. Menjamin rakyat hidup lebih baik, damai tenteram dan teratur karena kebutuhan dasarnya terpenuhi," kata SYL yang merapat ke Istana setelah Sri Mulyani.
Jakarta [B2B] - Syahrul Yasin Limpo, former Governor of South Sulawesi for two periods [2008 - 2018] invited by Indonesian President Joko Widodo at the Jakarta Presidential Palace, Tuesday morning [October 22] to undergo fit and proper test before being appointed as the minister.