Koordinasi Gubernur, Kementan Pastikan Penas 2020 di Sumbar Berlangsung Sukses
Indonesian Farmers and Fishermen`s Week will be Held 2020 in West Sumatera
Reporter : Gusmiati Waris
Editor : Cahyani Harzi
Translator : Dhelia Gani

PUBLISHED: Rabu, 22 Januari 2020 , 19:33:00 WIB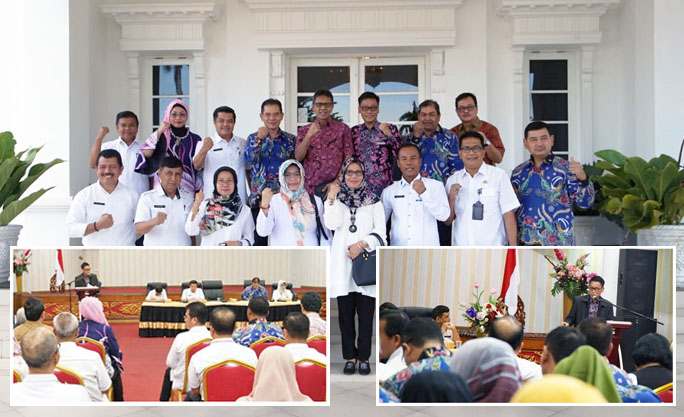 RAPAT KOORDINASI: Gubernur Sumbar Irwan Prayitno [atas, ke-5 kiri] dan Kepala BPPSDMP, Prof Dedi Nursyamsi [atas, ke-3 kanan] bersama pejabat Pemprov dan Kementan dan kegiatan rapat [inset bawah] Foto2: Humas BPPSDMP
Padang, Sumbar [B2B] - Gubernur Sumatera Barat, Irwan Prayitno menerima kunjungan Kepala BPPSDMP Kementan Prof Dedi Nursyamsi didampingi Ketua KTNA Winarno Tohir dan rombongan, untuk koordinasi dan sinkronisasi dengan pemerintah provinsi guna memastikan penyelenggaraan Penas XVI - 2020 berlangsung lancar dan sukses di Kabupaten Padang Pariaman pada 20 - 25 Juni 2020, yang akan dihadiri 50.000 peserta dari seluruh Indonesia.
"Sesuai arahan Mentan Syahrul Yasin Limpo, Penas XVI - 2020 harus menjadi ajang pertanian maju, mandiri dan modern. Karena itu, mindset kita semua harus sama. Penas di Sumbar harus sukses. Tidak ada trial and error, kita harus memastikan trial and success," kata Dedi Nursyamsi pada pertemuan dengan Gubernur Irwan Prayitno di aula kantor gubernur di Padang, Rabu [22/1].
Dedi Nursyamsi mengingatkan jajaran pemerintah provinsi dan kabupaten/kota di Sumbar, maupun jajarannya di Kementan yang menghadiri rapat koordinasi Penas XVI - 2020 di Padang, untuk memastikan ajang petani dan nelayan dari seluruh Indonesia berlangsung lancar dan sukses.
"Kebersamaan, fokus dan terukur adalah kunci keberhasilan Penas 2020. Waktu tidak terasa berjalan terus, kita hanya punya waktu empat sampai lima bulan saja, karena itu setiap tahapan harus terukur dan memperhatikan detail. Tetap semangat untuk bersama mendukung sukses Penas dengan segala kendalanya bisa kita atasi dengan kebersamaan dan komunikasi intensif," katanya selaku Penanggung Jawab [PJ] Penas XVI - 2020.
Winarno Tohir selaku Ketua Penas di Padang Pariaman, mengungkapkan bahwa Penas 2020 tergolong berbeda ketimbang kegiatan Penas sebelumnya, karena berlangsung di dua tempat: Padang Pariaman dan Kota Padang. "Rapat koordinasi ini sangat penting menjalin kebersamaan dengan semua stakeholders dan menentukan tahapan yang terukur untuk memastikan sukses Penas 2020."
Penas XVI - 2020 akan menghadirkan Gelar Teknologi [Geltek] terkait pertanian, peternakan, perkebunan dan perikanan serta akan menjadi ajang sharing informasi antar petani dan nelayan dari seluruh Indonesia.
Turut hadir pada pertemuan tersebut, Kepala Pusat Penyuluhan Pertanian [Pusluhtan] Leli Nuryati; Kepala Pusat Pelatihan Pertanian [Puslatan] Bustanul Arifin Caya; Kepala Pusat Pendidikan Pertanian [Pusdiktan] Idha Widi Arsanti; Kabid Penyelenggaraan Penyuluhan - Pusluhtan, I Wayan Ediana [Prabu]
Padang of West Sumatera [B2B] - The Indonesia´s 16th Fisherman Farmers´ National Week in Padang Pariaman district of West Sumatra province on June 20 to 25, 2020, locally known as the Penas XVI - 2020, will bring together 50,000 farmers, fishermen, forest farmers and agricultural extensionists can show the progress of Indonesian agricultural development at home and abroad, according to senior official ministry.