Kementan Akselerasi Peningkatan Luas Tanam dan Produksi Padi & Jagung 2024
Indonesia is Committed to Increase Production to Achieve Food Self-sufficiency
Editor : M. Achsan Atjo
Translator : Dhelia Gani

PUBLISHED: Senin, 30 Oktober 2023 , 19:49:00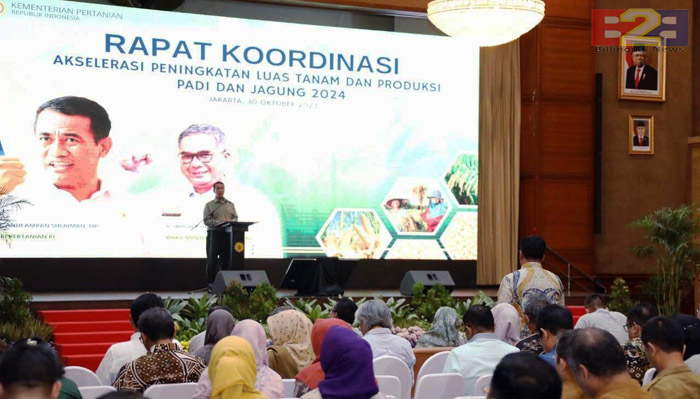 BPPSDMP KEMENTAN: Mentan Andi Amran Sulaiman membuka Rakor Akselerasi Peningkatan Luas Tanam dan Produksi Padi dan Jagung 2024 yang dihadiri jajaran Kementan dan pihak terkait dari seluruh Indonesia.
Jakarta [B2B] - Menteri Pertanian RI Andi Amran Sulaiman melakukan akselerasi peningkatan luas tanam dan produksi padi dan jagung untuk tahun 2024. Perluasan lahan tanam sebagai kelanjutan dari program optimasi pemanfaatan lahan rawa yang pernah dilakukannya pada 2014 - 2019 di masa kepemimpinannya yang lalu.

"Kita akan melakukan akselerasi dari potensi besar Indonesia, yaitu lahan rawa mineral. Dulu kan pernah kita lakukan di Sumatera Selatan dan Kalimantan Selatan," katanya di Jakarta pada Rapat Akselerasi Peningkatan Luas Tanam dan Produksi Padi dan Jagung 2024, Senin [30/10].

Menurut Mentan, optimalisasi pemanfaatan lahan rawa bisa menjadi solusi dalam peningkatan produksi pangan nasional. Rencananya, Kementan akan memanfaatkan 1 juta hektar lahan rawa mineral dan 1 juta hektare lahan rawa tadah hujan.

"Setelah berhasil mengubah lahan rawa menjadi lahan pertanian, Kementan akan meningkatkan Indeks Pertanaman atau IP padi dan jagung untuk memenuhi kebutuhan nasional," kata Amran.

Selain itu, katanya, Kementan juga akan memastikan ketersediaan pupuk dan benih unggul serta mekanisasi pertanian demi mendorong keberhasilan peningkatan produksi.

"Tidak ada basa basi dalam membangun negeri ini. Kerja saja. Pertanian Indonesia hebat. Tahun 2017 sudah swasembada, 2019 swasembada, 2020 swasembada. Berarti kita bisa," tambah Mentan Amran.

Dia mengingatkan, swasembada beras dan jagung menjadi sangat penting bagi Indonesia di tengah ancaman krisis pangan nasional. Mengingat saat ini Indonesia tengah memasuki Musim Tanam I pada Oktober - Maret [Okmar].

Mentan Amran menaruh harapan besar untuk meningkatkan produksi padi dan jagung pada 2024. "Kita akan mencetak sejarah. Dulu kita pernah berhasil, 3-4 kali swasembada. Kali ini kita akan ulang dan jadikan permanen!"
Jakarta [B2B] - Indonesian Agriculture Minister Andi Amran Sulaiman asked his officials to restore and maintain the reputation of the ministry as a dignified institution in Indonesia, especially to meet the food needs of all the people.

"I want to create a new one so that the ministry can return to its reputation. No more playing around. Those who violate. Those who don´t have integrity, I will immediately deal with them," he told the press here on Monday.

He instructed ministry officials to immediately prepare the Quick Wins program, within the next three months. This step needs to be taken to restore the reputation of the ministry as the dignified institution.