Kementan Serukan Jajarannya Bersinergi Wujudkan Ketahanan Pangan Nasional
Millennial Farmers Development are the Target of Indonesia`s Agriculture Ministry
Editor : Kemal A Praghotsa
Translator : Dhelia Gani

PUBLISHED: Rabu, 15 November 2023 , 20:53:00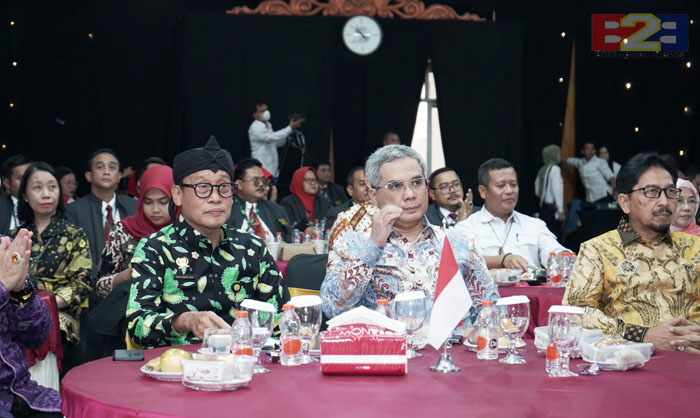 BPPSDMP KEMENTAN: Wakil Mentan Harvick Hasnul Qolbi [tengah] didampingi Kepala BPPSDMP Kementan, Dedi Nursyamsi saat menutup Pelatihan Kepemimpinan Nasional (PKN) Tingkat II yang digelar oleh BBPMKP Ciawi.
Bogor, Jabar (B2B) - Kementerian Pertanian RI mengajak para pimpinan Jabatan Tinggi Pratama untuk bersinergi mewujudkan ketahanan pangan nasional melalui Pelatihan Kepemimpinan Nasional (PKN) Tingkat II yang diselenggarakan oleh Balai Besar Pelatihan Manajemen dan Kepemimpinan Pertanian (BBPMKP).
Ketahanan Pangan nasional merupakan salah satu tahapan penting di dalam upaya mencapai kedaulatan pangan.
Wakil Mentan Harvick Hasnul Qolbi, mengatakan, saat ini tugas Kementan bukan hanya menjaga Food Resilience (ketahanan pangan) tetapi juga meningkatkan produksi dan produktivitas pertanian melalui program-program Kementan
"Saat ini Kementan sedang mengakselerasi program-program dalam mewujudkan ketahanan Pangan. Ketataniagaan harus diperbaiki. Kita juga harus mengawasi HET di masyarakat," kata Harvick saat menutup PKN Tingkat II di BBPMKP Ciawi, Rabu (15/11).
Melalui PKN Tingkat II, peserta yang merupakan pemimpin dari lintas Kementerian/lembaga dibekali kompetensi manajerial untuk menjamin akuntabilitas jabatan Pimpinan Tinggi Pratama untuk bersinergi mewujudkan ketahanan pangan nasional, melalui tersusunnya rumusan alternatif kebijakan yang memberikan solusi, tercapainya hasil kerja unit selaras dengan tujuan organisasi.
Terwujudnya pengembangan strategi yang terintegrasi untuk mendukung pencapaian tujuan organisasi dan terwujudnya kapabilitas pada unit kerja untuk mencapai outcome organisasi.
"Harvick pun mengungkapkan harapannya pada lulusan peserta PKN Tingkat II, diharapkan lulusan pelatihan ini dapat bermanfaat di masyarakat, mengedukasi masyarakat, memperkenalkan di masyarakat mengenai bagaimana sektor pertanian terus mengembangkan diri," ujar Harvick
Kepala Badan Penyuluhan dan Pengembangan SDM Pertanian Kementan (BPPSDMP) Dedi Nursyamsi mengatakan pembelajaran dan penyusunan proyek perubahan peserta mengacu kepada Tema PKN TK II Angkatan XXV yaitu "Mewujudkan Sinergitas Mendukung Ketahanan Pangan Nasional."
Tema PKN memiliki empat sub tema yakni teknologi dan digitalisasi untuk meningkatkan produktivitas pertanian, kolaborasi petani milenial/muda melalui Smart Farming untuk keberlanjutan pertanian, kolaborasi pembiayaan untuk meningkatkan produksi pertanian, kolaborasi pembangunan Infrastruktur pertanian untuk peningkatan produksi dan kelancaran distribusi produk pertanian.
PKN Tingkat II angkatan XXV diikuti oleh 50 peserta baik dari Kementan maupun non Kementan berlangsung pada 10 Juli hingga 15 November 2023.
Bogor of West Java [B2B] - The role of agricultural vocational education in Indonesia such as the the Agricultural Development Polytechnic or the Polbangtan, to support Indonesian Agriculture Ministry seeks to maximize its efforts to produce millennial entrepreneur.
Youth Enterpreneurship And Employment Support Services Programme or the YESS, to support Indonesian Agriculture Ministry seeks to maximize its efforts for the millennial entrepreneur.
Indonesian Agriculture Ministry, Andi Amran Sulaiman stated that the government´s commitment to developing agriculture, especially in the development of advanced, independent and modern agricultural human resources.
The goal is to increase the income of farming families and ensure national food security. Farmer regeneration is a commitment that we must immediately realize.
He reminded about the important role of vocational education, to produce millennial farmers who have an entrepreneurial spirit.
Through vocational education, we connect campuses with industry so that Polbangtan graduates meet their needs and are ready for new things.