Polbangtan Kementan Bangun Jiwa Agropreneurship & Inovasi Produk Pertanian di Banyuwangi
Millennial Farmers Development are the Target of Indonesia`s Polbangtan Malang
Editor : Cahyani Harzi
Translator : Novita Cahyadi

PUBLISHED: Kamis, 26 Oktober 2023 , 21:01:00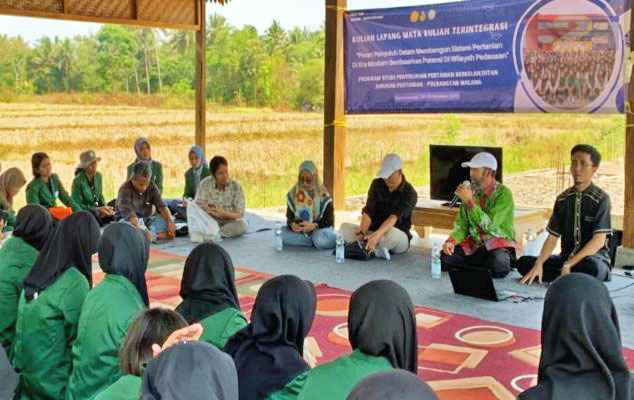 POLBANGTAN MALANG: Mahasiswa Polbangtan Malang tingkat I dan II Prodi Penyuluhan Pertanian Perkelanjutan melakukan kunjungan Belajar Di Singojuruh, Kabupaten Banyuwangi.
Banyuwangi, Jatim [B2B] - Politeknik Pembangunan Pertanian Malang [Polbangtan Malang] melaksanakan Kunjungan Belajar untuk mahasiswa tingkat I dan II Prodi Penyuluhan Pertanian Perkelanjutan Di Singojuruh, Kabupaten Banyuwangi, pada Sabtu [21/10].
Dengan mengusung tema Menumbuhkan Jiwa Agropreneur dan Inovasi Produk Pertanian dalam Mewujudkan Kedaulatan Pangan di masa mendatang, para mahasiswa dibekali pemahaman budidaya pertanian untuk memupuk semangat berwirausaha dan menciptakan kedaulatan pangan.
Kegiatan ini sejalan dengan arahan Kepala Badan Penyuluhan dan Pengembangan SDM Pertanian Kementan [BPPSDMP] Dedi Nursyamsi mengatakan untuk pembangunan pertanian berkelanjutan, perlu dilakukan persiapan untuk mencetak SDM pertanian yang unggul.
"Mahasiswa harus mempunyai jiwa wirausaha, harus kreatif dan inovatif untuk membangun sektor pertanian," kata Dedi
Upaya Polbangtan Malang untuk menumbuhkan jiwa wirausaha untuk membangun pertanian berkelanjutan, melalui dengan kunjungan lapangan ke Pusat Pelatihan Pertanian dan Perdesaan Swadaya [P4S] Sirtanio.
Harwanto selaku perwakilan Dosen Polbangtan Malang mengatakan kunjungan ke P4S Sirtanio untuk mempelajari penerapan budidaya pertanian organik. Pertanian organik dapat diterapkan secara luas dan melibatkan banyak petani.
"P4S Sirtanio ini salah satu lumbung pangan di Kab. Banyuwangi, melalui kegiatan kuliah lapang mata kuliah terintegrasi ini diharapkan mahasiswa dapat menggali lebih banyak informasi terkait teknis budidaya organik," ujar Harwanto.
Selama kegiatan ini, Samanhudi selaku ketua P4S membagikan berbagai capaian yang telah diraih oleh P4S dalam upaya memajukan petani organik.
"Kami telah melakukan ekspor beras ke luar negeri. Tujuan ekspor beras adalah untuk menunjukkan bahwa kualitas beras kami sudah mencapai standar internasional. Kami bekerja sama dengan pihak yang sudah memiliki pasar yang mapan, dan kami terus fokus pada peningkatan kualitas produk serta sertifikasi.
Menurutnya, peran Pemerintah Kabupaten Banyuwangi dalam meningkatkan pertanian organik sangat positif, dan salah satu metode yang kami terapkan adalah dengan mengadakan pelatihan secara gratis.
Kegiatan Kunjungan Belajar ini merupakan bagian dari mata kuliah terintegrasi yang bertujuan untuk mengembangkan pemikiran dan merangsang kreativitas mahasiswa melalui penggalian sumber belajar yang ada di lapangan serta dapat mendorong pertumbuhan sektor pertanian dan ketahanan pangan di Indonesia.
Banyuwangi of East Java [B2B] - The role of agricultural vocational education in Indonesia such as the the Agricultural Development Polytechnic or the Polbangtan, to support Indonesian Agriculture Ministry seeks to maximize its efforts to produce millennial entrepreneur.

Youth Enterpreneurship And Employment Support Services Programme or the YESS, to support Indonesian Agriculture Ministry seeks to maximize its efforts for the millennial entrepreneur.

Indonesian Agriculture Ministry stated that the government´s commitment to developing agriculture, especially in the development of advanced, independent and modern agricultural human resources.

"The goal is to increase the income of farming families and ensure national food security. Farmer regeneration is a commitment that we must immediately realize," Minister Limpo said.

He reminded about the important role of vocational education, to produce millennial farmers who have an entrepreneurial spirit.

"Through vocational education, we connect campuses with industry so that Polbangtan graduates meet their needs and are ready for new things," Limpo said.