Webinar MAF III, Mentan Harap Petani Milenial Wujudkan Pertanian Modern
Millennial Farmers are the Target of Developing Indonesian Agricultural HR
Reporter : Gusmiati Waris
Editor : Cahyani Harzi
Translator : Dhelia Gani

PUBLISHED: Rabu, 17 Juni 2020 , 23:46:00 WIB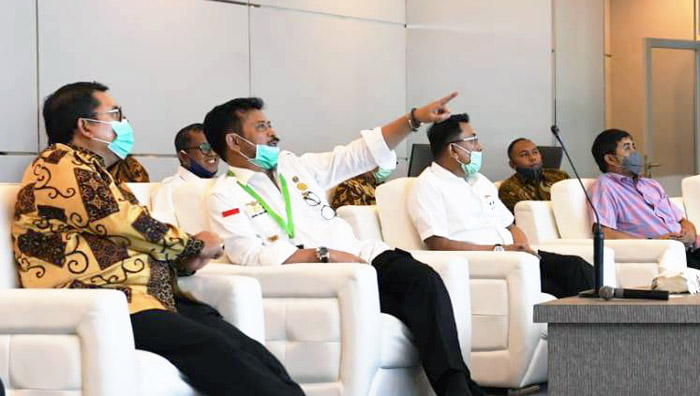 PUSAT DATA AWR: Mentan Syahrul Yasin Limpo [mengangkat tangan] didampingi Ketua Umum HKTI Fadli Zon [kiri] dan Moeldoko [kanan] pada webinar MAF III di AWR Kementan, Jakarta [Foto: Biro Humas Kementan]
Jakarta [B2B] - Sektor pertanian memasuki era baru dengan pendekatan berbasis online dan kecerdasan buatan [artificial intelligence], untuk mewujudkan pertanian modern didukung para petani milenial di seluruh Indonesia. Langkah intervensi pertanian baru harus dilakukan agar sektor pertanian Indonesia maju, mandiri dan berdaulat.
"Di era sekarang, startup dan robot construction sudah menjadi bagian dari pertanian. Dengan begitu digital system menjadi pendekatan baru di sektor pertanian masa depan," kata Mentan Syahrul dari Agriculture War Room [AWR] yang merupakan pusat data Kementerian Pertanian RI di Jakarta, Rabu [17/6].
Menurutnya, Kementan dengan segala cara sudah mempersiapkan Kredit Usaha Rakyat [KUR] dengan bunga rendah, hanya 6% agar dapat dimafaatkan oleh para petani milenial.
Mentan Syahrul menilai anak muda mampu menjadi petani sukses dengan memanfaatkan fasilitas dan bantuan yang ada. Dengan begitu, petani akan terus termotivasi untuk melakukan sebuah ide baru dan inovasi kreatif.
"Kemampuan riset dan teknologi yang kita miliki, pasti modern pertanian bisa dilakukan dengan baik," katanya pada webinar Milenial Agriculture Forum (MAF) III melalui video conference.
Di tempat yang sama, Kepala Badan Penyuluhan dan Pengembangan SDM Pertanian [BPPSDM Dedi Nursyamsi menekankan pentingnya regenerasi petani untuk keberlanjutan pertanian yang lebih baik.
"Jumlah petani di Indonesia saat ini mencapai 33 juta, namun hanya 27 persen petani muda yang ke lapangan, ini menjadi perhatian kita karena bisa saja 10 tahun mendatang terjadi krisis petani," kata Dedi Nursyamsi.
Sebagaimana diketahui, Kementan menetapkan target pengembangan 2,5 juta petani milenial selama lima tahun ke depan. Langkah tersebut untuk merealisasikan program jangka panjang pemerintah, yang disikapi melalui kerjasama dengan kementerian lain dan perguruan tinggi.
"Fokus utama kita adalah petani milenial yang sangat dekat dengan teknologi informasi, ini modal kita untuk membangun pertanian milenial di masa mendatang," katanya.
Rektor Institut Pertanian Bogor [IPB] Prof Dr Arif Satria mengungkapkan bahwa sektor pendidikan berkelanjutan akan tetap berperan untuk mempercepat proses transformasi kewirausahaan [entrepreneurship] yang menghasilkan produk-produk petani milenial.
Dia berharap para anak muda bisa hadir di desa-desa sebagai pelaku usaha baru. Tentunya hal ini juga mendorong regenerasi petani ke arah yang lebih baik lagi.
"Kita harus segera mempersiapkan regenerasi dengan sangat baik, karena kalau tidak kita akan kurang siap berkompetisi di masa depan," kata Rektor IPB.
Jakarta [B2B] - Indonesian government in the next five years prioritizes the development of human resources that are ready to face globalization in the era of industrialization 4.0, carry out its role to develop millennial farmers who understand information and communication technology, according to the senior official of the agriculture ministry.