Pengabdian Masyarakat Polbangtan Kementan Bina Pertanian Terpadu di Dairi
Millennial Farmers Development are the Target of Indonesia`s Polbangtan Medan
Editor : Cahyani Harzi
Translator : Dhelia Gani

PUBLISHED: Minggu, 05 November 2023 , 05:36:00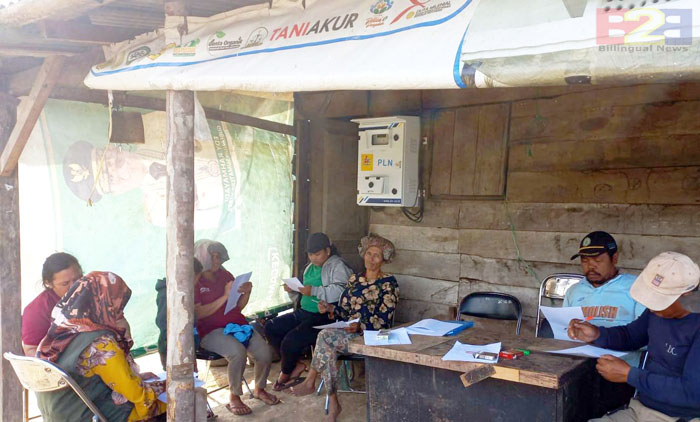 POLBANGTAN MEDAN: Pengabdian Masyarakat oleh dosen Polbangtan Medan, Retmono Agung Winarno dilakukan melalui pelatihan pada perwakilan sejumlah kelompok tani yang melakukan budidaya pada lokasi KPT di Dairi.
Dairi, Sumut [B2B] - Pengabdian Masyarakat [PM] menjadi kewajiban setiap perguruan tinggi, begitu pula Politeknik Pembangunan Pertanian [Polbangtan] selaku politeknik lingkup Kementerian Pertanian RI, utamanya meningkatkan produktivitas pangan dan kesejahteraan petani melalui pembinaan Kawasan Pertanian Terpadu [KPT] di Kabupaten Dairi, Provinsi Sumatera Utara.

Pada kegiatan PM di Kabupaten Dairi, belum lama ini, dosen Polbangtan Medan bersama penyuluh pendamping pada Balai Penyuluhan Pertanian [BPP] Parbuluan berupa pelatihan pada perwakilan sejumlah kelompok tani yang melakukan budidaya pada lokasi KPT di Dairi bagi komoditas hortikultura seperti cabai, terong dan aneka sayuran pada akhir Oktober lalu.

Dosen Polbangtan Medan, Retmono Agung Winarno mengusung tema Analisis Kelayakan Ekonomi terkait revenue/cost ratio [R/C Ratio], benefit/cost ratio [B/C Ratio] dan perhitungan R/C dan B/C Ratio diikuti analisis dan praktik perhitungan R/C dan B/C Ratio usaha tani cabai merah dan cabai rawit.

Kegiatan PM tersebut sejalan arahan Menteri Pertanian RI Andi Amran Sulaiman yang berupaya melakukan pembenahan besar-besaran untuk meningkatkan produktivitas dan produksi pangan.

"Indonesia akan berdaulat dan menjadi negara pengekspor beras pada 2027, dengan produksi beras dari lahan sebesar 10 juta ton. Syaratnya, setiap tahun ada peningkatan lahan satu juta hektar, sehingga terjadi penambahan produksi 2,5 juta ton beras setiap tahun," katanya.

Kepala Badan Pengembangan dan Penyuluhan SDM Kementan [BPPSDMP] Dedi Nursyamsi mengatakan pertanian terpadu merupakan integrasi beberapa komoditas di dalam beberapa komoditas pertanian, untuk memaksimalkan keuntungan agrobisnis dan optimalisasi lahan.

"Pertanian terpadu akan memelihara siklus yang bisa dimanfaatkan dari masing-masing komoditas sehingga terciptanya zero waste. Konsep ini harus dipahami dan diimplementasikan oleh seluruh penyuluh pertanian dan pelaku utama yaitu para petani," katanya.

Guna mewujudkan hal itu, kata Dedi Nursyamsi, maka perlu didukung dengan peningkatan kompetensi dan kapasitas para petani melalui pelatihan untuk mencetak SDM pertanian andal dan kompetitif.

Direktur Polbangtan Medan, Yuliana Kansrini mengatakan pihaknya aktif melakukan Pengabdian Masyarakat Pembinaan BP3K bagi pelaku utama dan pelaku usaha pertanian di Sumatera bagian utara. [ira/timhumaspolbangtanmedan]
Dairi of North Sumatera [B2B] - The role of agricultural vocational education in Indonesia such as the the Agricultural Development Polytechnic or the Polbangtan, to support Indonesian Agriculture Ministry seeks to maximize its efforts to produce millennial entrepreneur.

Youth Enterpreneurship And Employment Support Services Programme or the YESS, to support Indonesian Agriculture Ministry seeks to maximize its efforts for the millennial entrepreneur.

Indonesian Agriculture Ministry, Andi Amran Sulaiman stated that the government´s commitment to developing agriculture, especially in the development of advanced, independent and modern agricultural human resources.

The goal is to increase the income of farming families and ensure national food security. Farmer regeneration is a commitment that we must immediately realize.

He reminded about the important role of vocational education, to produce millennial farmers who have an entrepreneurial spirit.

Through vocational education, we connect campuses with industry so that Polbangtan graduates meet their needs and are ready for new things.