Sinergi TNI, Mentan: Ketahanan Pangan Identik dengan Ketahanan Negara
Millennial Farmers Development are the Target of Indonesia`s Polbangtan Medan
Editor : Cahyani Harzi
Translator : Novita Cahyadi

PUBLISHED: Kamis, 02 November 2023 , 05:49:00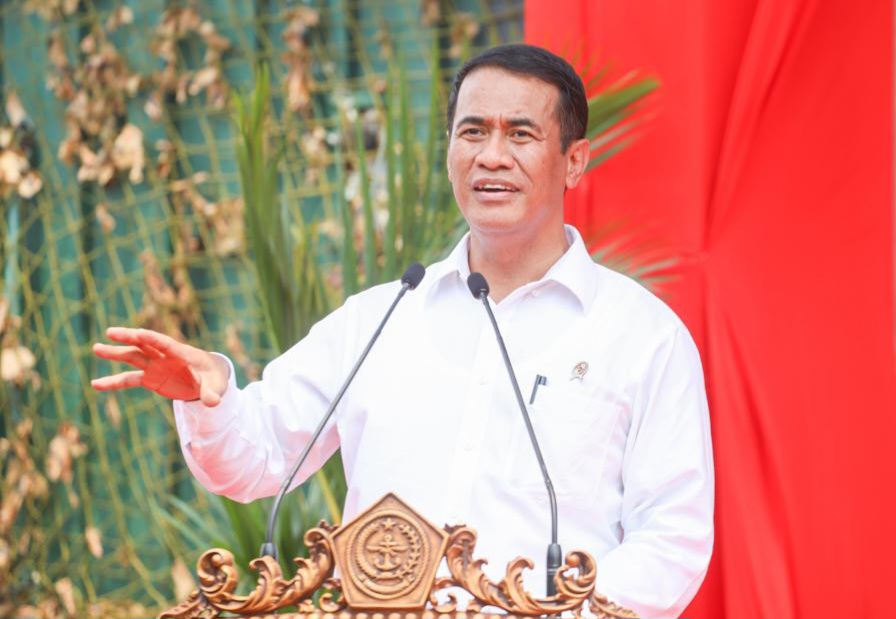 BPPSDMP KEMENTAN: Mentan Andi Amran Sulaiman mengatakan pangan merupakan aspek paling strategis yang wajib dibangun bersama. ketahanan negara.
Bekasi, Jabar [B2B] - Kementerian Pertanian [Kementan] bersama Tentara Nasional Indonesia [TNI] melakukan Gerakan Nasional Ketahanan Pangan Tahun 2023 dengan tema Ketahanan Pangan untuk Indonesia Maju.
Selain sebagai rangkaian Ulang Tahun ke-78 TNI, acara yang dihadiri Wakil Presiden [Wapres], Ma'ruf Amin ini menjadi bukti komitmen bersama seluruh komponen masyarakat dalam memperkuat ketahanan pangan negara.
Saat mendampingi Wapres di Taman Pancasila, Cibitung yang juga sebagai salah satu lokasi percontohan pertanian terpadu yang dikelola TNI. Menteri Pertanian, Andi Amran Sulaiman, mengatakan pangan merupakan aspek paling strategis yang wajib dibangun bersama. Ketahanan Pangan, kata Amran identik dengan ketahanan negara.
"Gerakan bersama ini luar biasa dampaknya untuk seluruh Indonesia, karena ketahanan pangan identik dengan ketahanan negara, kalau krisis ekonomi itu kita mampu bertahan, kita bisa lewati, krisis kesehatan, covid 19 kita lewati, tapi kalau krisis pangan bisa berdampak pada lainnya, jadi kita harus betul - betul bersama - sama menjaganya," ungkap Mentan Amran.
Di kesempatan yang sama, Panglima TNI, Laksamana TNI Yudo Margono, mengatakan kegiatan ini merupakan upaya bersama dalam meningkatkan perekonomian masyarakat dan dukungan terhadap ketahanan pangan ditengah ancaman krisis pangan global. Ia berharap kerjasama dibidang pangan antara TNI dan Kementan dapat terus berjalan dan diperkuat.
"Mudah mudahan hari ini menjadi awal yang bagus, untuk diteruskan nantinya oleh generasi berikutnya bekerjasama dengan Kementan tentunya, untuk ketahanan pangan kita, dan kita laksanakan sesuai dengan kearifan lokal, saya sudah sepakat dengan Pak Mentan untuk bersama - sama membangun pertanian," terang Panglima TNI.
Sebagai informasi, dalam Kegiatan Gerakan Nasional Ketahanan Pangan ini, Wapres Ma'ruf Amin berkesempatan melakukan berbagai aktivitas pertanian seperti Tanam Padi, Penyerahan Bantuan Bibit, Berdialog dengan Petani diberbagai daerah, Peninjauan perkebunan kelengkeng, penggemukan sapi, tabur benih ikan lele, ikan mas dan ikan patin di embung, hingga peninjauan UMKM.
Usai tanam serentak dan berdialog melalui video conference dengan kelompok tani TNI di 384 titik seluruh Indonesia, Wapres Ma'ruf meminta agar Kementan dan TNI bersama seluruh lapisan masyarakat untuk bergerak optimal dalam pemanfaatan lahan tidur menjadi lahan produktif memperkuat ketahanan pangan negara.
"Gerakan nasional ketahanan pangan ini merupakan jawaban terhadap persoalan pangan yang dihadapi dunia, karena itu kita tidak ingin Indonesia ada masalah pangan, padahal kita punya banyak lahan, untuk itu kita optimalkan semua lahan tidur untuk dijadikan lahan produktif," terang Wapres.
Bekasi of Central Java [B2B] - The role of agricultural vocational education in Indonesia such as the the Agricultural Development Polytechnic or the SMKPPN to support Indonesian Agriculture Ministry seeks to maximize its efforts to produce millennial entrepreneur.
Youth Enterpreneurship And Employment Support Services Program or the YESS, to support Indonesian Agriculture Ministry seeks to maximize its efforts for the millennial entrepreneur.
Indonesian Agriculture Minister Andi Amran Sulaiman stated that the government´s commitment to developing agriculture, especially in the development of advanced, independent and modern agricultural human resources.
"The goal is to increase the income of farming families and ensure national food security. Farmer regeneration is a commitment that we must immediately realize," Minister Sulaiman said.
He reminded about the important role of vocational education, to produce millennial farmers who have an entrepreneurial spirit.
"Through vocational education, we connect campuses with industry so that Polbangtan graduates meet their needs and are ready for new things," Sulaiman said.