Kepala BPPSDMP Ajak KostraTani Gorontalo Dukung Program GratiEks
Indonesian Govt Encourage Agricultural Exporters to Increase Volume Export
Reporter : Gusmiati Waris
Editor : Cahyani Harzi
Translator : Dhelia Gani

PUBLISHED: Kamis, 06 Februari 2020 , 07:53:00 WIB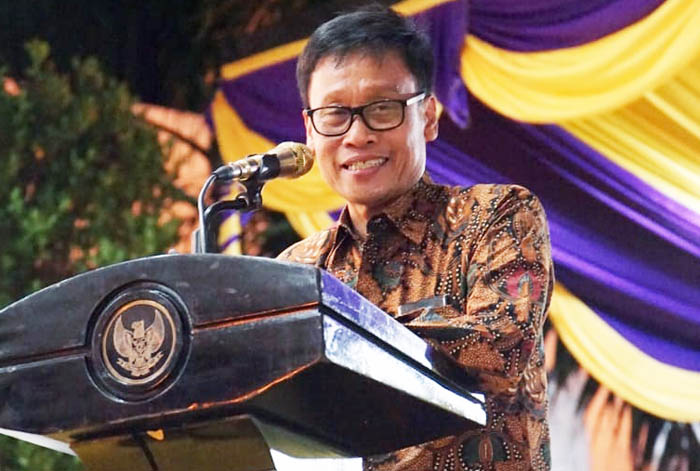 FORKOPIMDA GORONTALO: Kepala BPPSDMP Kementan, Prof Dedi Nursyamsi [Foto: Humas BPPSDMP]
Gorontalo [B2B] - Kepala BPPSDMP Kementan, Prof Dedi Nursyamsi tiada henti mengingatkan penyuluh pertanian Gorontalo untuk 'melek teknologi' dan sarananya telah tersedia yakni Komando Strategis Pembangunan Pertanian [KostraTani] yang digagas Menteri Pertanian RI Syahrul Yasin Limpo [SYL] untuk mendukung pencapaian pertanian nasional yang maju, mandiri dan modern.
"Mentan SYL membawa kabar gembira bagi seluruh penyuluh sebagai pegawai yang betul-betul diperlukan dalam menjamin produktivitas pangan nasional," kata Dedi Nursyamsi dalam sambutannya pada ramah-tamah dengan Forum Komunikasi Pimpinan Daerah [Forkopimda] di rumah dinas Gubernur Rusli Habibie di Kota Gorontalo, Rabu [5/2].
Dia menambahkan sesuai instruksi Mentan SYL maka KostraTani di Gorontalo dilengkapi dengan sarana dan prasarana teknologi informasi dan komputasi [TIK] era 4.0. "Namun yang lebih penting adalah meningkatkan kemampuan dan kompetensi penyuluh pertanian."
"Ayo mari sama-sama kita meningkatkan kemampuan penyuluh pertanian, karena selaku Kopassus sektor pertanian, maka kemampuan harus khusus. Harus di atas rata-rata sehingga mampu mendukung peningkatan ekspor hingga tiga kali lipat," kata Dedi Nursyamsi yang hadir di Gorontalo didampingi Kepala Pusat Penyuluhan Pertanian [Pusluhtan BPPSDM] Leli Nuryati.
Menurutnya, Gorontalo sebelum berpisah dari Provinsi Sulawesi Utara telah dikenal sebagai 'kabupaten jagung dan kelapa dan kini berhasil ekspor komoditas pertanian serta produk olahan dari tepung hingga briket arang.
"Segera bikin sebanyak-banyaknya pabrik tempurung kelapa menjadi briket arang, sesuai program Kementan ada Gratieks kita tingkatkan ekspor 3 kali lipat. Tingkatkan produktivitas, tingkatkan kuota produksinya."
Gorontalo [B2B] - The movement of Indonesian agricultural commodity exports must begin with the presence of exporters among the people, at the same time opening up employment opportunities widely, by increasing the movement three times exports [GratiEks] so GratiEks became part of the people's movement to show that Indonesia is a strong country in the agricultural sector, according to Agriculture Minister Syahrul Yasin Limpo.