Data Pertanian CSA, Kementan Koordinasi Petani dan Penyuluh Deli Serdang
Indonesia Irrigation Development the Target of Government`s Loan Program
Editor : M. Achsan Atjo
Translator : Dhelia Gani

PUBLISHED: Senin, 13 November 2023 , 09:20:00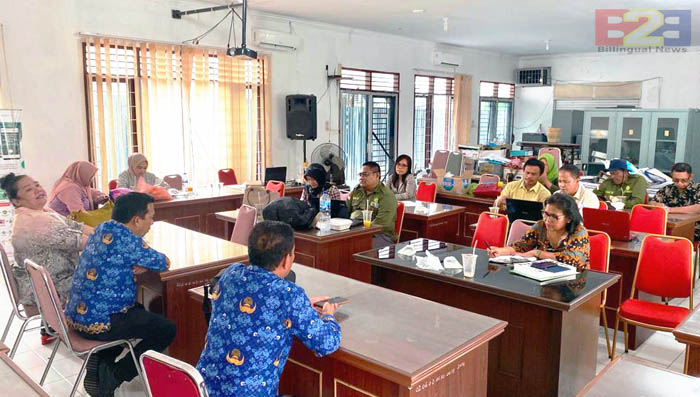 PROGRAM SIMURP: Kegiatan koordinasi PJ SIMURP Kementan dan pejabat terkait dari Dinas Pertanian Pemprov Sumut dan Kabid Penyuluhan Distan Pemkab Deli Serdang serta Koordinator BPP Jaharun, Rusianna Purba di kantor Distan Deli Serdang.
Deli Serdang, Sumut [B2B] - Pengembangan Pertanian Cerdas Iklim/Climate Smart Agriculture [CSA] di Kabupaten Deli Serdang, Provinsi Sumatera Utara mencapai kemajuan signifikan. Acuan utamanya, varietas padi tahan kondisi iklim dan hemat air hingga 20% terbukti mampu mengurangi pemakaian air irigasi di persawahan meski diintai El Nino tanpa mengurangi hasil panen.

Realisasinya tampak pada produktivitas 10,2 ton/ha gabah kering panen [GKP] dari hasil Hitung Ubinan atau setara 6,4 kg gabah kering giling [GKG] pada lahan Demplot Scalling Up yang dikelola kelompok tani [Poktan] Setia Budi di Desa Tumpatan, Kecamatan Beringin selaku salah satu Penerima Manfaat CSA dari Program Strategic Irrigation Modernization and Urgent Rehabilitation Project [SIMURP] di Kabupaten Deli Serdang. Begitu pula Poktan yang menjadi Penerima Manfaat SIMURP di Kecamatan Galang dan Pagar Merbau.

Capaian tersebut, salah satu dari sejumlah bukti signifikan CSA SIMURP bagi pengembangan pertanian Deli Serdang, mengemuka kegiatan koordinasi Kementerian Pertanian RI dengan Pemkab Deli Serdang.

Hadir Pj SIMURP dari Pusat Penyuluhan Pertanian BPPSDMP Kementan [Pusluhtan] dan Koordinator Balai Penyuluhan Pertanian [BPP] Jaharun, Rusianna Purba yang membawahi wilayah kerja di Kecamatan Galang dan Pagar Merbau, Deli Serdang serta pejabat terkait dari Pemprov Sumut.

Kegiatan koordinasi sejalan arahan Presiden RI Joko Widodo bahwa pembangunan sektor pertanian harus didukung partisipasi aktif penyuluh selaku pendamping dan pengawal petani meningkatkan produktivitas pertanian.

"Tidak bisa lagi kita biarkan petani ini berjalan sendiri. Harus ada yang mendampingi. Harus ada yang mengawal. Harus ada sebuah manajemen yang modern yang mendampingi mereka," kata Jokowi tiap kali jumpa petani dan penyuluh.

Hal senada dikemukakan Menteri Pertanian RI Andi Amran Sulaiman yang melakukan pembenahan besar-besaran untuk meningkatkan produksi dan produktivitas pangan Indonesia, sehingga dapat menjadi Lumbung Pangan Dunia pada 2033.

"Jika kita tidak bergerak cepat mencapai swasembada pangan, bisa saja kita mengalami krisis pangan. Untuk itu, kita harus berupaya terlepas dari ketergantungan pada negara lain dalam hal penyediaan pangan," kata Mentan.

Sorotan serupa dikemukakan Kepala Badan Penyuluhan dan Pengembangan SDM Pertanian Kementan [BPPSDMP] Dedi Nursyamsi menegaskan tentang manfaat teknologi CSA dari SIMURP untuk mengantisipasi dampak perubahan iklim global seperti fenomena El Nino, yang saat ini melanda Indonesia.

"Menghadapi musim kemarau panjang atau El Nino yang diprediksi mulai Juli hingga September 2023, Kementan mengimbau dinas pertanian provinsi serta kabupaten dan kota memanfaatkan sumber air yang ada," katanya.

Program SIMURP merupakan modernisasi irigasi strategis dan program rehabilitasi lintas kementerian dan lembaga yang melibatkan Kementan, Badan Perencanaan Pembangunan Nasional [Bappenas], Kementerian Pekerjaan Umum dan Perumahan Rakyat [PUPR] dan Kementerian Dalam Negeri [Kemendagri] dengan target lokasi Daerah Aliran Sungai [DAS].

Sementara Kapusluh BPPSDMP Kementan, Bustanul Arifin Caya bahwa teknologi CSA berupaya Pendekatan CSA juga meminimalisir risiko gagal panen, mengurangi emisi Gas Rumah Kaca [GRK], meningkatkan pendapatan petani, khususnya di Daerah Irigasi dan Daerah Rawa Proyek SIMURP.

"Dengan adanya SIMURP maka harus terjadi peningkatan ekonomi, peningkatkan penerapan inovasi dan adopsi teknologi yang efisien efektif, serta produksi telah dijamin oleh pasar," katanya. [timsimurpkementan]
Deli Serdang of North Sumatera [B2B] - The objective of the Strategic Irrigation Modernization and Urgent Rehabilitation Project [SIMURP] with Indonesia Agriculture Ministry is to increase production and productivity, increasing farmers´ knowledge and skills in implementing climate smart agriculture, reducing the risk of crop failure, reduce the effect of greenhouse gases, and increase the income of farmers in irrigated areas and swamp areas.

The target is to increase cropping intensity through irrigation rehabilitation, revitalization and modernization activities, the realization of a sustainable irrigation system through the revitalization of irrigation management, increasing institutional strengthening, as well as increasing the capacity and competence of human resources in irrigation management and increasing production and productivity.

Increasing farmers´ knowledge and skills in implementing climate smart agriculture, reducing the risk of crop failure, reducing the greenhouse gas effect and increasing farmers´ income in irrigated areas and swamp areas.

SIMURP locations in 13 irrigation areas and two swamp areas namely Banyuasin and Katingan Regencies and 17 districts in eight provinces.

The main objective is to increase motivation for agricultural extension workers, agricultural extension centers, farmer groups, women farmer groups and farmer economic groups in agribusiness-oriented farming.