Petani Era Milenial, 27 Teladan Sektor Pertanian Raih Penghargaan Mentan
Indonesian Govt Gave Awards to 27 the Best Farmers Across the Country
Reporter : Gusmiati Waris
Editor : Cahyani Harzi
Translator : Dhelia Gani

PUBLISHED: Sabtu, 18 Agustus 2018 , 01:08:00 WIB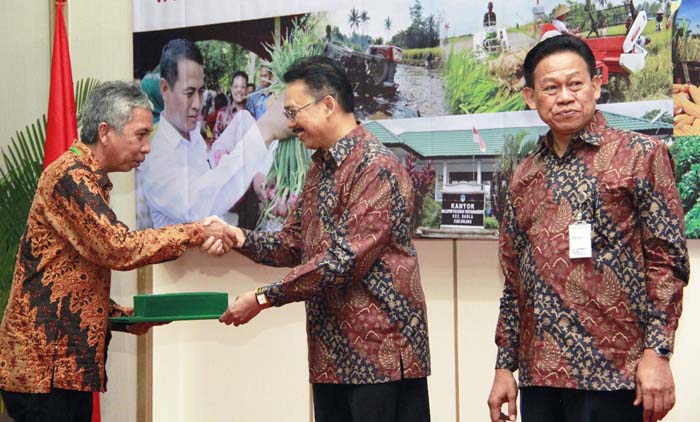 SOSOK TELADAN: Sekjen Kementan Syukur Iwantoro (tengah) didampingi Kepala BPPSDMP Kementan, Momon Rusmono (kanan) menyerahkan penghargaan kepada petani teladan 2018 (Foto: Humas Pusluhtan Kementan)
Jakarta (B2B) - Pemerintah RI kembali memberikan penghargaan kepada 27 sosok teladan dan berprestasi tingkat nasional di sektor pertanian, yang diserahkan oleh Sekjen Kementerian Pertanian Syukur Iwantoro mewakili Menteri Andi Amran Sulaiman, dengan harapan penghargaan tersebut akan memotivasi generasi muda di seluruh Indonesia untuk kembali ke sawah dan ladang menjadi petani modern di era milenial.

"Pemerintah menginginkan penghargaan yang diberikan setiap tahun dapat memotivasi pelaku pertanian, dan memikat generasi muda kembali bertani. Dalam 10 tahun terakhir, keluarga petani di Indonesia berkurang dari 31 juta menjadi 26 juta," kata Syukur Iwantoro mengutip arahan Mentan Amran Sulaiman di Jakarta, Jumat siang (17/8).

Menurutnya, para teladan dan berprestasi pertanian dapat menjadi motivator masyarakat perdesaan, khususnya generasi muda bahwa pertanian di era milenial tidak memiskinkan tetapi meningkatkan kesejahteraan, karena didukung mekanisasi pertanian yang menjadi kebijakan dan komitmen Kementerian Pertanian RI untuk mengembangkan pertanian modern.

Sebagaimana tahun-tahun sebelumnya dalam rangkaian peringatan HUT Kemerdekaan RI, Kementan tahun ini memberikan ´penghargaan tingkat nasional´ kepada 27 orang teladan dan berprestasi, atau masing-masing tiga orang terdiri atas: petani, gabungan kelompok tani (Gapoktan), kelembagaan ekonomi petani (KEP), penyuluh pertanian, balai penyuluhan pertanian (BPP), pusat pelatihan pertanian perdesaan swadaya (P4S), widyaiswara.

"Sosok teladan dan berprestasi diharapkan menjadi panutan dan motivator bagi petani dan generasi muda lainnya," kata Syukur Iwantoro mengutip Mentan.

Sosok Teladan
Para sosok teladan dan berprestasi berada di Jakarta sejak Rabu (15/8) dan sempat melakukan silaturahim dengan Kepala Badan Penyuluhan dan Pengembangan SDM Pertanian (BPPSDMP) Momon Rusmono dan para pejabat eselon dua di Badan SDM Kementan.

"Selama saya menjabat kepala badan, tidak akan berhenti menumbuhkan keteladanan. Saya harapkan pemilihan sosok teladan diadakan di tiap kabupaten, bahkan syukur-syukur sampai tingkat kecamatan pun ada sosok teladan, kalau makin banyak artinya sosok yang diteladani akan makin banyak," kata Momon Rusmono.

Pemerintah RI memberikan kesempatan kepada para teladan pertanian dan teladan dari sektor lain untuk menghadiri rapat paripurna DPR dan pidato kenegaraan Presiden Joko Widodo di Gedung DPR Senayan, pagi ini (16/8) dan malamnya mengikuti renungan suci di Taman Makam Pahlawan - TMP Kalibata.

Puncak kegiatan mereka adalah menghadiri peringatan HUT Kemerdekaan RI di Istana Merdeka pada Jumat pagi (17/8) dilanjutkan penyerahan penghargaan dari Menteri Pertanian RI Andi Amran Sulaiman. Kegiatan diakhiri silaturahim dengan Presiden Joko Widodo dan Wakil Presiden Jusuf Kalla di Istana Negara pada Sabtu (18/8).
Jakarta (B2B) - The Indonesian government once again awards 27 of the best figures and achievers in the agricultural sector submitted by the Secretary General of Agriculture Ministry, Syukur Iwantoro represented Minister Andi Amran Sulaiman so that the government award will motivate the young generation in millennial era back to paddy fields.

"The government wants the award to motivate farmers and the younger generation to return to farming. In the past 10 years, farmer families in Indonesia have decreased from 31 million to 26 million," Mr Iwantoro quoted Minister Andi Amran Sulaiman here on Friday afternoon (August 17).

According to him, the best farmers can be motivators of rural communities, especially the younger generation that agriculture in the millennial era will improve welfare, because it is supported by agricultural mechanization as a policy and ministry commitment to develop modern agriculture.

As is known, the Indonesian government annually awards the best farmers, the best agricultural economic institutions, the best agricultural extensionist, the best agricultural extensionist center, and the best agricultural lecturer after undergoing rigorous selection by the related directorates in the ministry.

"The best farmers and achievers are expected to be role models and motivators for farmers and young people," said Mr Iwantoro quoting Mr. Sulaiman.

The Best Farmers
The 27 recipients of the award in Jakarta since Wednesday (August 15) and made friendship with the Director General of Agency for Agricultural Extension and Human Resources Development (BPPSDMP) Momon Rusmono and second echelon officials at the ministry.

"As the director general, I will continue to look for the best figure in the agricultural sector. I hope the selection of the best figure is held in each district, even better at the sub-district level the best figure is selected," Mr Rusmono said.

Indonesian Agriculture Ministry invites the best agricultural figures across the country to attend the DPR plenary meeting and President Joko Widodo´s state speech at the parliament this morning (16 August) continued the pilgrimage to the graves of national heroes in Jakarta.

The highlight of their activities was to attend the commemoration of Indonesian Independence at Merdeka Palace on Friday morning (17 August). Their last activity is dialogue with President Joko Widodo and Vice President Jusuf Kalla at the State Palace on Saturday (8/18).